Rejoice universe, it is now possible to play the dungeon crawling retro classic Diablo 1 again, legally, with minimal set-up hassles. It's available on the GoG online store, with a $9.99 price tag. It has also been reported that Warcraft: Orcs and Humans, and Warcraft 2 will both be arriving on the store in a similar fashion at a later date.
While undoubtedly there will be some who oppose my usage of the term "retro" for a game that came out in 1996, personally I feel that 23 years is fair enough. Those of you who want to argue that point further may instead go back to arguing about how streamers ruined gaming and how Fortnite isn't a real game.
I say this with some sympathy, as I am often that person myself.
Regardless, this Diablo re-release has come with two versions that you may launch after you get the game – a classic, low-res version, which allows for LAN and online multiplayer, and an updated, higher-resolution version that fills your whole screen nicely but only allows for LAN multiplayer.
Aside from that, a few technical features have been fixed or debugged, but it's more or less the original title in all its glory. It does not come with the Hellfire expansion, sadly.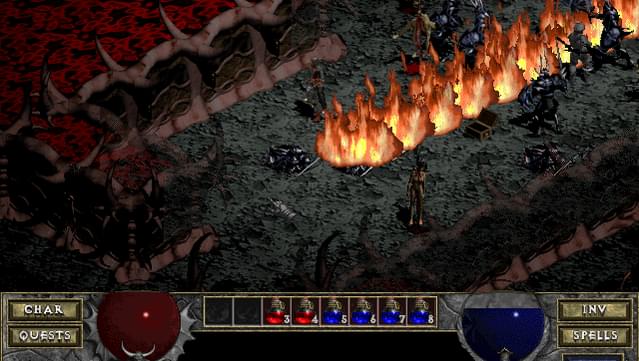 Playing it again reminds you quite quickly how different the game is from Diablo 2 or Diablo 3, and not just technically. You feel so much more vulnerable in this Tristram, and you inch forward through the dungeons, desperately hoping that the next mob won't be your end. This is a far cry from the devil-may-care way you blaze through an entire map on Diablo 3, leaving only corpses in your wake. You have three classic classes to choose from – Warrior, Rogue, and Sorcerer, and aside from the weapons and abilities they may use, there's not a lot of customization available beyond that. This Diablo reminds me more often of modern rogue-likes than the current generation of dungeon crawlers supposedly inspired by it.
The multiplayer looks quite nice, but I couldn't get the online version of it to work easily – something about the port settings on my router or some such. I looked at footage online and people in other countries were having a grand old time playing together in this version, so I'm happy for them. In practice, it should be easier to connect, but maybe it's just something about my ISP. It's a nice touch to have it included as a feature though, without any tedious set up required to get the Battle-Net functioning.
Anyone only familiar with Diablo 3 or POE will find it extremely hard to get into Diablo 1, being that it is such a different game. But if you loved it in the past, give it a go here. It's exactly the same as its always been, and easily available for the first time in years. Personally, I'm even more excited about the Warcraft re-releases – adding in Warcraft III: Reforged, that gives us basically a year of Warcraft to enjoy.
Fun times ahead, and thanks to GoG for preserving gaming history.