After seeing the movie poster and watching a trailer, I had reasonable expectations for Blacklight.
Throughout the 90s and 2000s, Liam Neeson built himself a solid reputation in Hollywood with films like Schindler's List and Silence in dramatic roles and then branching out to major action films such as Batman Begins. At that stage, anything with his name on it almost guaranteed money well spent at the cinema. So beloved was Liam Neeson and any character he portrayed, he received plenty of recognition within pop culture. One of the more well-known tributes includes a recurring skit from Key and Peele, where two valets proclaim their love "Liam Neesons."
However successful the first Taken film was, it was clear that by the 3rd film, the trope had worn thin. Be that as it may, we're now eight years on and everyone still wants to cast Neeson in the 'former spy' role. That's not too different here with Blacklight.
In Blacklight, Neeson plays the role of Travis Block, an FBI operative – an off the books agent so to speak – coming to terms with his sordid past. As he's nearing the end of his tether, he seeks out a more peaceful life and spends more time with his granddaughter. Unfortunately, for him, things quickly unravel when he discovers a plot targeting U.S. citizens. As he attempts to bring in one of the agents involved in the plot, who is attempting to release the story to a reporter, Mira Jones (Emmy Raver-Lampman), things don't go to plan. Having been taken under the Block's wing, he attempts to uncover the truth. As result, Block finds himself in the crosshairs of the FBI director, Gabriel Robinson (Aidan Quinn), a close friend, he once helped protect.
As an overall plot point, it's not half bad. The characters introduced, how they are connected and how it drives their motivations all make sense. However, on the story front, it's fairly thin. There are not a lot of surprises that transpires in the film. What's even more interesting is that while some plots can be seen a mile away, others are foreshadowed as well. I was surprised that the film was categorised as a thriller, as there was not much to be had in this regard. An action movie, yes. But thriller? Not so much.
That being said, there isn't an awful lot of action in Blacklight either. The opening act reveals Block as the go-to guy in a highly volatile situation. Called in to rescue an agent deep undercover, we get to see how his cool temperament is used to save other FBI agents' lives. There's a sprinkling of explosions and some gunfire and we're on to the next scene. This is a reoccurrence throughout the film.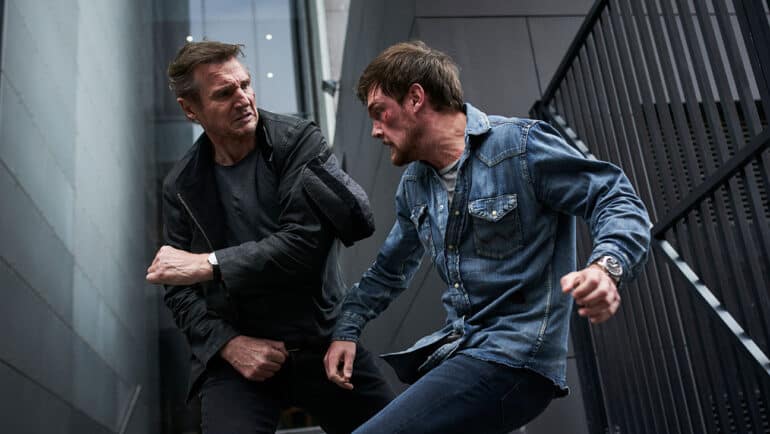 Perhaps, Liam Neeson's age is finally showing. It is very evident that Neeson's 69yo self is catching up to him when it comes to all things action. He does, however, manage to pull off the close combat fights as well as any gun action scattered throughout the film. He looks less believable as being active in the field, although his role is to extract and rehabilitate rather than run headfirst into any battles.
While many would've written off Blacklight before it even started, I still held out hopes for a suspenseful two-hour unwind in the theatre. Although the larger picture was predictable, my mind didn't wander too far off, as it was still quite engaging.
At the end of the day, Blacklight is still a relatively fun experience, even with all its shortfalls – much like Uncharted. And, to be honest, I'd rather watch the film 10 more times than any of the Fast and Furious films.
While there is still a large debate on release schedules between cinema and home theatre, Blacklight will probably be well-received once it reaches a streaming service after its theatrical run. Still, if this is your cup of tea, I'll encourage you to see it this opening weekend.
The Review
Blacklight
We've seen him do these movies a few times now already. That said, Liam Neeson fans will enjoy it!