It's a question fans have been debating about for years: Black Adam vs Superman, who would win?
At DC FanDome, Dwayne "The Rock" Johnson gave fans a little insight into what his movie, Black Adam will look like through animated concept drawings. The images were accompanied by Johnson narrating the anti-hero's origin story…
"Five thousand years ago Kahndaq was a melting pot of magic and powers. Most of us had nothing except the chains around our necks. Kahndaq needed a hero, instead, they got me. I did what needed to be done… and they imprisoned me for it. Now, 5000 years later, I'm free. And I give you my word… no one will ever stop me again."
While it was confirmed that the Justice Society of America characters Hawkman, Dr. Fate and Cyclone will be appearing in the film, alongside previously announced Atom Smasher (Noah Centineo), what got fans super hyped was the idea of Black Adam facing off against the Man of Steel.
During the movie's Q and A panel, Johnson was asked about which character he would like to see join Black Adam in an adventure. This prompted the actor to tease a team-up with Superman – although the last son of Krypton wasn't his first choice.
"The number one choice on who I would love to take with me on an adventure would be Wonder Woman, and I'll tell you why. No, I know what you guys are thinking, 'Of course you would Rock!' No, no, look Gal is my friend. She's a very good friend of mine, but the character of Wonder Woman is one that I have such a tremendous amount of respect for I've always thought that this combination of Wonder Woman and Black Adam would make an incredible pairing so this idea that we would go on an adventure together is something very cool."
But it didn't take long for The Rock to mention Superman and hint at an upcoming Black Adam vs Superman meeting.
"The other part to this answer is, you know, I always thought that it might be cool to hang out with Superman. That would be cool right? I mean we're kind of similar in terms of our powers, our strengths our speeds, because look at the end of the day you never know. Black Adam and Superman could become friends… or they won't."
While the showdown might not be happening in the first Black Adam movie, it could be a possibility in future projects.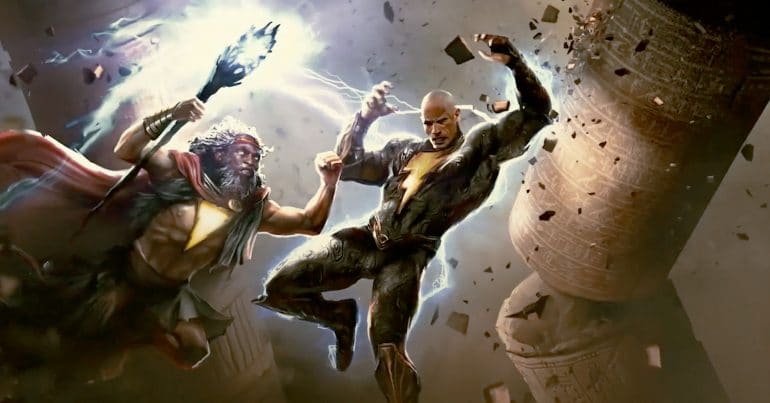 The Rock also had a message for existing DC superheroes Batman, Superman, Wonder Woman, Flash, Aquaman and Cyborg.
"Let them know something… Things will never be the same hierarchy in the DC universe, it's about to change."
Black Adam is scheduled for release on December 22, 2021.
What are your thoughts? Who would win in a Black Adam vs Superman fight? Let us know in the comments.