With a strange premise of a world filled with anthropomorphic fuzzy animals inhabiting a post-apocalyptic dying world, Biomutant is a game that doesn't shy away from going all out. And that's exactly what attracted many gamers to the title when it was first announced by THQ Nordic.
The game sees players taking on the role of a furry protagonist who sets out to save (or destroy) a post-apocalyptic world devout of humans. The tree of life, the one thing keeping the planet from dying, is slowly withering away because creatures called World Eaters are destroying its roots.
As the game's protagonist, you are sent on a quest to unite (or conquer) the warring tribes of the world and destroy these World Eaters.
One thing that immediately stands out right away in Biomutant is the game's narrator who pretty much recounts everything that unfolds.
As expected, this can be a quite divisive means of storytelling as some might find the narrator's continual intrusions jarring and even irritating. Luckily, the frequency of these interruptions can be toned down in the settings.
Further to that, Biomutant's can also feel a bit disjointed at times and seems to lack any sense of urgency.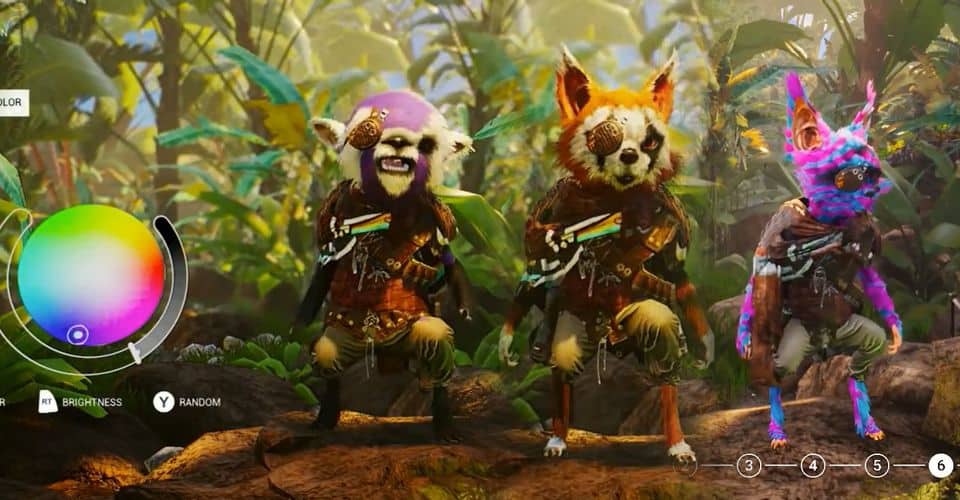 Customisation is king!
It's clear right from the beginning that Biomutant is an action RPG that values player choice.
Players start with creating their fluffy protagonist in a very unique way. By changing the stats (strength or intelligence) of your creature, for instance, your hero transforms in various ways. This means that a hero with a lot of points dumped into intelligence will have a huge head but a small body lacking in strength.
But it is really great seeing your character taking form in real-time as you tinker with the stats.
Along with customising your character's looks and stats, Biomutant also lets you choose a class. These include the Commando, who is all about blowing things up with guns, or the Psyfreak, essentially the game's version of a mage. Each class feels unique thanks to their varied stats.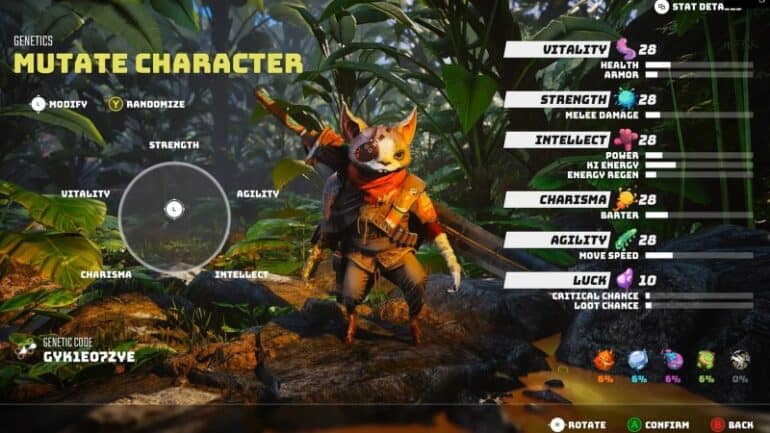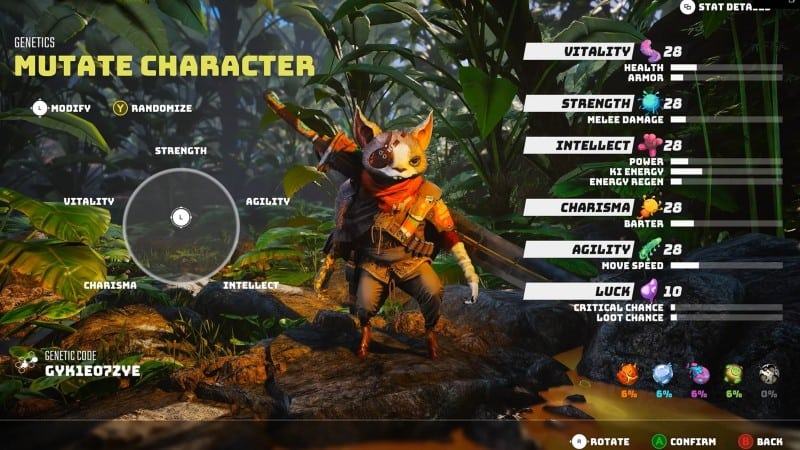 Although Biomutant has an overarching story, the game lets you choose how and when to take on these missions.
As is customary in RPG games, the world is littered with optional side-quests which reward you with some epic loot.
As players explore the world, they will find various loot and parts that can either help them craft brand new weapons or upgrade existing ones. Some of these parts range from the mundane, such as pointy blades, to the bizarre, a banana handle.
Of course, players can spend hours crafting their perfect weapon and, because of the depth of the crafting system, players will probably be continually looking for new loot. This turns out to be a great incentive to explore the game's world too.
Along with the upgradable weapons, players can also upgrade their abilities and skillsets as they level up. These range from your standard combo moves to more weird abilities – like summoning a mushroom to jump on or being able to envelop yourself in a bubble of mucus.
Combat in Biomutant revolves around combining your melee, ranged and ability attacks.
The game has a fun system that works well and rewards quick thinking and quicker reflexes. While switching between close and ranged weapons is done on the fly and allows combat to feel smooth and seamless, jumping, dodging and being smart is sometimes the only way to beat a difficult battle. There are, however, times when combat can devolve into smashing the attack button as much as you can until your enemy bursts into loot.
Helping you on your quest are various vehicles that you will unlock to defeat the World Eaters. These vehicles can be upgraded as well, which adds yet another level of customisation to the game.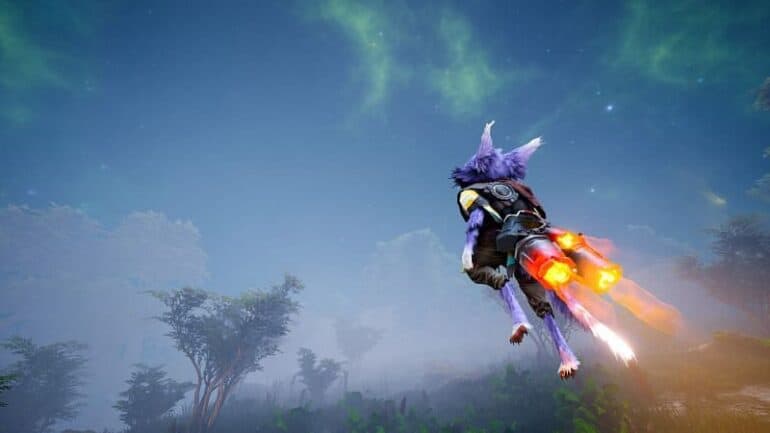 Kung-fu Furry
While the strange characters you'll meet along the way is one of the highlights of the game, it's the world itself that actually keeps pulling you into the experience.
The world of Biomutant is a mixture of a post-apocalyptic Mad Max world and a martial arts film. This might sound strange, but it works perfectly and isn't like anything we've seen before in gaming. In a word, it's refreshing.
That said, although the world is filled with side quests, dangers, and strange animals, it can feel empty at times. Sure, it does fit in with the post-apocalyptic theme, but you find yourself wishing there was just a tad more life in the gorgeous open world.
It's not all lush forests, however. There are also areas called dead zones. These contain some of the game's best loot but require players to find items such as gas masks or warm clothes in order to explore.
Biomutant also has a light and dark Karma mechanic in play. This basically boils down to how easily you will be able to interact with the world's denizens. If you tend to venture more on the light side, light-sided characters will more easily be influenced by you.
It's not a very deep system but it adds another interesting element to the game.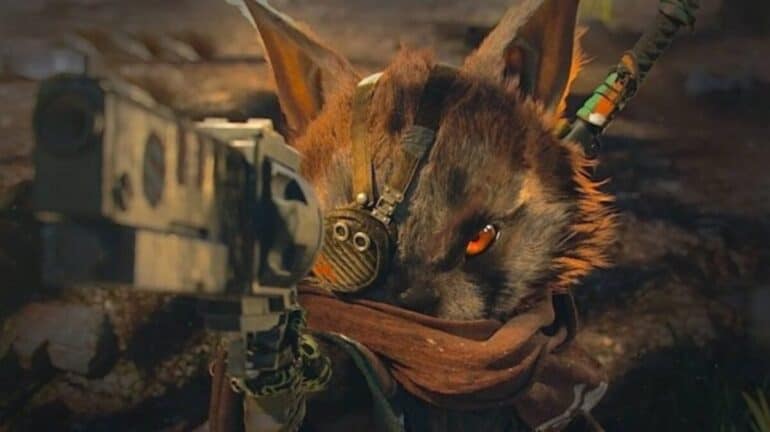 Biomutant turned out to be a pleasant surprise.
In an industry where games tend to all look the same Biomutant completely breaks the mould and gives us a fresh new world to explore. The promised customisation is prevalent throughout the game. From your weapons to your vehicles and even your fuzzy protagonist, you'll be sure to have your own unique character by the time the end credits roll. 
This is a title that has turned out to be one of my favourite games of the year so far. Not because it does everything right, but rather because of its unique and interesting world.
The Review
Biomutant
Even with its flaws, Biomutant is a game that tries a lot of new things and only fails at a few. Its vibrant and unique world makes it worth playing.
PROS
Weird and wonderful world to explore
Deep customization mechanics
CONS
Some mechanics does suffer from repetitiveness
Narrative can feel disjointed at times
Review Breakdown
Gameplay

0%

Graphics

0%

Replay Value

0%

Sound and Music

0%

Story

0%