In a world where new episodes of popular TV series are released every day, it is very difficult to pick what to watch. According to beyondthecharter's official website, it is very difficult for couples in a new relationship to find a compromise.
To avoid disputes and conflicts, we're bringing you a list of little-known TV shows that will be of interest to almost everyone. Here you will find both a light sitcom that will hook you from the first episode or breathtaking thriller—something for everybody.
Fleabag
When critics and the public love a TV show as much as they love Fleabag, you know it's going to be great. The numbers alone will convince you to put this British comedy-drama show on top of your "to watch list".
Fleabag, which was adapted from the award-winning play, was nominated for 11 Primetime Emmy Awards. It got 6 of them! Oh yeah, don't forget the Golden Globe for the best TV Series and the Best Actress.
The main character is a young girl (played by Phoebe Waller-Bridge) who lives in London. She's a little bit wild, but her heart is good. Sex is one of her favourite activities. Oh, and she can get really angry.
Those who are willing to give it a try will discover a really funny and heart-warming show.
The Leftovers
Another show that enjoyed praise from the critics is the supernatural mystery drama The Leftovers.
Imagine you wake up one day and your mum, or somebody else you love, is nowhere to be found. You start asking around but soon find out that others lost loved ones too. A lot of people vanished without a clue. Scary, right?
Now imagine yourself on the other side of that situation. One day you wake up, and you don't know where you are. You're not even sure that you're on Earth. Imagine the frustration and sadness.
With a 91% score on Rotten Tomatoes, The Leftovers is a must-see. Couples will love it.
Corporate
Corporate is so unknown that some of the main actors don't even have a Wikipedia page. Does that mean this show sucks? No, it's amazing. You'll get abs from laughing so hard.
Similar to The Office – one of the most famous TV shows ever – Corporate deals with the lives of Matt Engelbertson and Jake Levinson. They are employees of a big company that deal with many everyday problems.
With just 3 seasons (26 episodes), this is the type of show will stay in your mind for a long time – even after you've seen all the episodes.
What We Do in the Shadows
What We Do in the Shadows is a gem you have to watch.
It's so creative, funny, and amazing that it might become your favourite comedy, horror, mystery, and mockumentary show. Yes, it covers all of those categories. Will you really be scared? Depends on your opinion about vampires.
The plot is built around four vampires of different ages with very different issues. They are all a little bit crazy and unique.
You've never seen vampires like this.
The Terror
"TV shows can never be as good as books!". We've all heard those words from book lovers – which is probably true in most cases. However, The Terror isn't one of those cases.
Based on Dan Simon's novel from 2007, the first season starts by following the book fairly closely. Then, when everybody expects things to go wrong, something wonderful happens. The student surpasses the teacher. The Terror TV show picks up where the book stopped and continues building a plot. It's so dramatic (and scary) that you might just forget to blink.
The Good Place
For those who are curious about life after death, em>The Good Place might just be your cup of tea. While it won't answer your questions about the meaning of life, it will offer plenty of laughs and lessons. This is the perfect watch for those looking for something light and fun.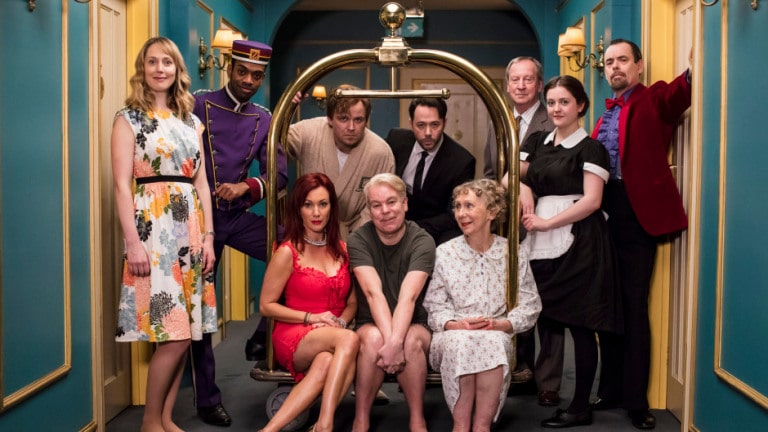 Inside No. 9
The only thing that beats a comedy is a dark comedy. And that can be only be beaten by a British dark comedy. Inside No. 9, which features many famous actors, is an amazing British dark comedy show – one of the best.
Start with any random episode and you're sure to be hooked.
Cuddle up with your loved ones and enjoy any one of these great shows. These are TV series every couple should enjoy.