A little more than a month ago, the Xbox app on my phone alerted me to the release of Forza Horizon 5. Following all the marketing and hype around the franchise, I was more than happy to download and pre-install the game on my Xbox to give it a try. However, having just started playing Age of Empires IV, I didn't expect to take too much time away from the strategy game. That was, until I started playing Forza Horizon 5.
With the game launching some three weeks ago, I waited until midnight on the day of release to play through an hour before heading off to bed. That same weekend, after a few more hours with Age of Empires IV, I gave Forza Horizon 5 another shot as a bit of an escape.
And, I've been hooked ever since.
Playing through the first few hours of Forza Horizon 5, I had no intention to follow any of the conventional story modes or even doing any of the races. Instead, I just drove around the first car provided to me and explored the large Mexican landscape. Before long, I had realised that I drove almost every road.
Soon after, I decided to complete that mini-mission in achieving that objective of driving the entire map in Forza Horizon 5 and unlocking that achievement. But still, I had no inclination to race.
And I didn't realise why until much later.
Me playing #ForzaHorizon5 is basically driving around and taking cool photos. Apologies, to the team putting the story and campaign together, but you can literally drive around for hours and do nothing else. 🙌🏽 @ForzaHorizon @Xbox @XboxZA @XboxGamePassPC pic.twitter.com/jIfSxm9JGK

— Evan (@evan_zar) November 17, 2021
As it turns out, simply driving around in Forza Horizon 5 reminded me of the past. With a family of four kids, things would always be hectic around the house. As such, my dad started a weekly tradition where almost every Sunday he'd take us for a drive down to the beach. Interestingly, we didn't always get out the car and hit the sand, it was more the journey than anything else.
The route was also almost the same, where we'd drive through town to a specific area where there was a steep decline and steep incline immediately after, giving you that weightless feeling in your stomach for a second or two. The one thing that was consistent was stopping at the local bakery for freshly baked bread and some chips/crisps to go with it (the evening snack).
These memories came flooding back in bits every time I'd turn on the Xbox Series X and loaded up Forza Horizon 5. And the reason I subconsciously chose not to do any races was that I didn't need. The game provided me a sense of relaxation – a Sunday drive if you will.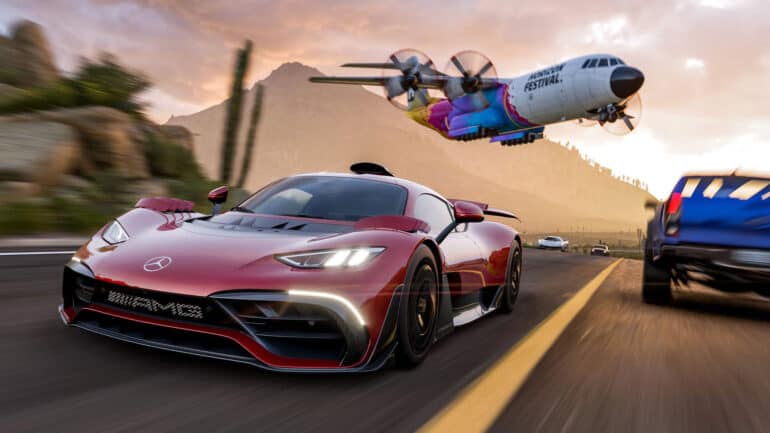 After unlocking that first major achievement in Forza Horizon 5, which was achieved by less than 2% of players at the time, I got bit by the bug. This lead me to looking through the accolades menu from the map and finding my next task.
At first, I'd accidently unlock a few of these, but when I started pushing for the bigger achievements, all the rest would follow with ease. And while pushing for these achievements, the XP would also start to rack up, allowing me plenty of free Wheelspins (and Super Wheelspins), which would provide the finances and cars I'd need to unlock the next achievement.
Having spent quite a chunk of time over the past three weeks with the game, I managed to unlock some of the rarest achievements in Forza Horizon 5, as per the Xbox Achievements list.
You can see of few of these in the below tweet:
After clocking 50 hours of #ForzaHorizon5, here's some of my rare achievements from the 11m+ drivers. Not too shabby. 🚘

More than 60% through the game now, but starting to enjoy the Season challenges. 💥
@ForzaHorizon @Xbox @XboxZA @XboxGamePassPC @PrimaInteracti1 @FortressZA pic.twitter.com/pkv2VwmbMp

— Evan (@evan_zar) December 4, 2021
This week, I finally managed to get into the seasonal challenges where you earn Forzathon Points from the Festival Playlist. Here, you're provided with a few challenges to achieve. Some of these would've been completed already, but the new objective would be to reach a specific time or use a different, more challenging car to achieve again. And once you've completed the objectives and gained your FPs, you can use it to purchase cars that aren't available from the garage with credits.
Further to this, I still spend some time driving around the Forza Horizon 5 map in search of the missing boards to complete that challenge. There are a total of 250 boards, mixed between various experience boards and the fast travel boards. Some of these were easy to discover and get to, while others are hidden with a few of those challenges extremely hard to reach via conventional means. I've managed to find and get to 235 of these without using the treasure map or online hints and will continue to do so until I've discovered them all.
There's a lot to do in Forza Horizon 5, even if you're not all about the racing.
I've not done many of the conventional races as I'm not very fond of them, especially the drifting races. More often than not, when racing online, I find my heart rate jumping up quite significantly as the battle is intense and any mistake will take you from the front of the pack all the way to last in an instant. Having had a few such moments, I don't frequently wish to relive them, even though those victories are all the sweeter when you do eventually get them right.
Whatever your reason for jumping back into Forza Horizon 5, it's sure to be enthralling in a world rich with beautiful scenery, great sound and the uniqueness of each car's handling, engine revs and driving style.
For me, Forza Horizon 5 is all about the Sunday drive. Thank you, Xbox!