A few years back, the world was introduced to Baymax as part of the Big Hero 6 film from Walt Disney Animation Studios. In 2022, Disney has officially released a new spin-off series, Baymax!, streaming on Disney Plus.
A Personal Healthcare Robot
We've seen a few spin-offs from the original film, including the Big Hero 6 animated series, over the years. Here, Baymax and co continued their crime-fighting action adventures as a recurring theme at large. However, the new animated Disney+ series, Baymax!, takes a look at the other side of the character — a focus on his original purpose as a personal healthcare robot.
That being said, Baymax is far from just a 'personal' healthcare robot. While his primary objective is to look after Hiro, he is also an integrated part of the community at large — the San Fransokyo community to be more specific. The new series explores these avenues and how he interacts with everyone around, often times providing health advice and assistance to many who don't often seek counsel. And this underlying engagement is where the series garners most of its comedic undertones.
As a result of the new approach to the series, we see it tackle quite a bit of modern topics and/or issues that we'd encounter in our everyday life. These themes include topics on loss, mental health, growing up as a kid and the likes. These topics may often be skirted around, especially when it comes to animated cartoons, mainly as a result of their focus on entertaining kids. But, Baymax! rises beyond just entertainment and humour, he sooths and comforts. This is, of course, his primary objective, and the series showcases this.
A Time For Growth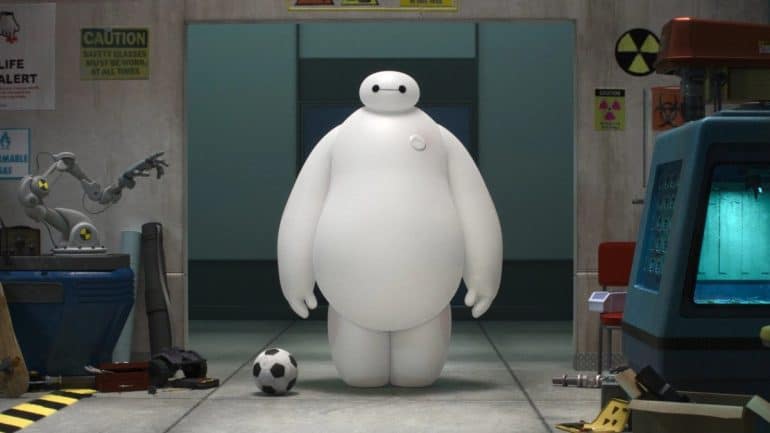 Baymax goes through a lot of growth in the series. Yes, he's still the same underlying character with basic programming but he has shown some new traits and characteristics from his previous adventures. Although, that being said, the loveable robot still has his approach to taking things literally or not understanding simple human interactions and social queues, something resembling child innocence. This is where we pick up most of the humour from the series.
The Baymax! series itself is only six episodes long, each of which spans around seven to eight minutes. So, fans can easily binge-watch this in the space of an hour. It does leave you wanting more but it's a great start to the ongoing adventures of everyone's favourite healthcare robot.
Great Visuals
In terms of the animation in Baymax!, it's smooth and crisp. It takes a similar approach as the original film, which differs from the other franchise entries. Each of the episodes also run as a standalone. However, they all tie in again with the season's dual-episode finale. In fact, upon rewatching the show, there are quite a number of Easter Eggs I missed along the way, which is a great indication of 'rewatchability' for fans.
The show is fun and entertaining while being largely minimalistic in its approach. However, it tackles a lot of deeper subjects as an underlying theme. It definitely has its place within the larger franchise and is easily recommended as a must-watch. All that's remaining now is awaiting the next season for additional episodes.
We Chat To Scott Adsit About Baymax!
As part of the build-up to the series launch, I was fortunate enough to interview Baymax 'himself', Scott Adsit. Having spent just a few minutes with him, you get an understanding of how much the character means to Mr Adsit, as well as Disney at large. There's an extreme care around the franchise, which adds a lot of authenticity to the role and the message they bring to both adults and kids. Ryan Potter and Maya Rudolph also return to the franchise as Hiro and Aunt Cass, respectively.
Baymax! is produced by Roy Conli and Bradford Simonsen. The series' episodes are directed by Dean Wellins (Eps 1, 2, 6), Lissa Treiman (Ep 3), Dan Abraham (Ep 4) and Mark Kennedy (Ep 5). Screenwriter is Cirocco Dunlap. Scott Adsit returns as the voice of Baymax. Voice talent featured in episodes includes Ryan Potter, Maya Rudolph, Emily Kuroda, Lilimar, Zeno Robinson and Jaboukie Young-White.
Baymax! is available to stream now (JUNE 29) on Disney+.
The Review
Baymax!
Baymax! is a well-thought-out animated series, converting real-world issues into fun bite-sized episodes of fun and entertainment. And, Baymax himself is as endearing as ever.