In Batman vs. Teenage Mutant Ninja Turtles, a clan of mysterious ninjas embark on a series of high-tech thefts in Gotham City, leading Batman, Robin and Batgirl to investigate the crimes. However, they aren't the only ones on the case who hope to bring the criminals to justice – so are the Teenage Mutant Ninja Turtles, who have tracked them from New York. The criminal ninjas, known as the Foot Clan, are led by the Turtle's long-time foe Shredder… but who is Shredder working with in Gotham, and what's the plan behind the crimes?
When the Teenage Mutant Ninja Turtles (Leonardo, Donatello, Michelangelo and Raphael) finally cross paths with Batman and his team, neither side trusts the other. Learning of Shredder's partnership with the legendary Ra's al Ghul, they're forced to work together in an awkward alliance. The Ninja Turtles and the Bat-family are about to be pushed to their limits, but can they battle the worst that Arkham Asylum can throw at them and save Gotham? And will Batman allow pizza in the Batcave?!
Confession time again: before this film came out, I had low expectations for it.
Don't get me wrong, I like the Teenage Mutant Ninja Turtles; over their impressive 35-year history, I've enjoyed plenty of their comics, cartoon incarnations and movies and still get a kick out of them. I like Batman too, but then who doesn't? But this particular crossover… this seemed like a bad idea. I knew it was going to be based on the comic books, but I was still dreading this adaptation.
I'm happy to say that I was wrong and my low expectations were way off the mark – because Batman vs. Teenage Mutant Ninja Turtles is fantastic!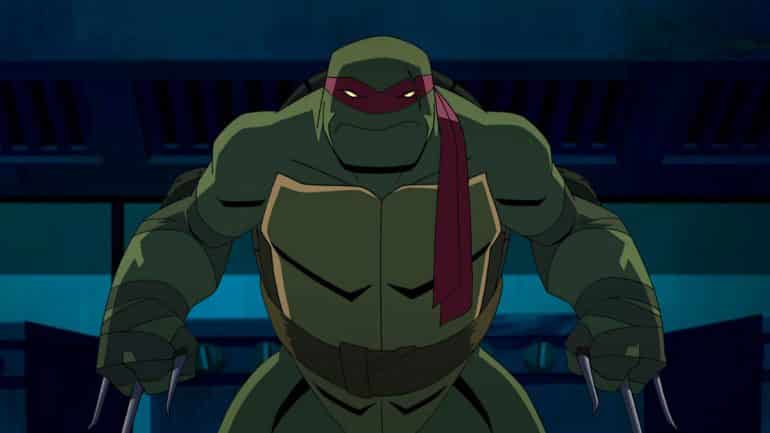 Honouring the legacy of both franchises, Batman vs. Teenage Mutant Ninja Turtles gives viewers the best interpretations of the characters as possible while making them able to fit together in a cohesive way. Just about every possible moment or potential character interaction that fans could want is given to the audience – and in a logical, fun way that flows almost seamlessly. Want to see Barbara Gordon and Donatello geek out over science together, or Michelangelo gets lectured by Alfred over his behaviour? It's here. Want to see hothead Raphael take on the arrogant Damian Wayne, or see how the Battle Wagon squares up against the Batmobile? It's here… along with a whole lot more you never even knew you wanted.
The animation is slick and stylish with great design work on display (especially on the Turtles), and the voice performances are equally impressive. Troy Baker's double-duty job of playing both Batman the Joker is astonishing, and you'd be forgiven for thinking it's Kevin Conroy and Mark Hamill in the roles, while Rachel Bloom brings a savvy playfulness to the voice of Batgirl. The writing manages to mix subtle jokes, off-the-wall zaniness and serious drama, allowing the action to never feel stale or sluggish. Meanwhile, there are plenty of sly in-jokes and surprising Easter eggs for even the most hardcore of fans.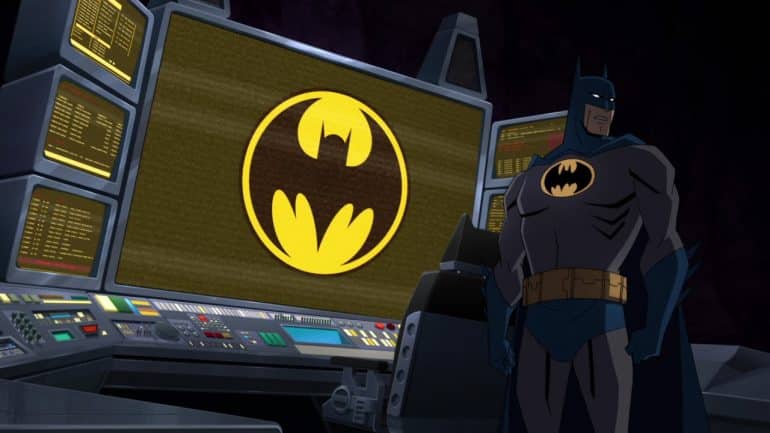 Of course, it isn't perfect and there are a couple of drawbacks to the whole thing. Despite Batman vs. Teenage Mutant Ninja Turtles's generously lengthy running time, at least the middle third of the movie is taken up with a sub-plot that's nothing but filler. Yes, it's an incredibly fun sub-plot that allows cameo appearances from many of the usual Batman villains. It's glorious, entertaining filler… but still filler, nonetheless. Technically, since it is entertaining, it could be said that it's doing its job; but when Ra's al Ghul and Shredder acknowledge it's little more than a distraction for Batman (and by extension the audience), you know deep down that it's a ruse just to pad the film out a bit – enough so that it feels somewhat disappointing.
Another odd touch is the naming of Ra's al Ghul. As fans will have seen countless times before, his name is incorrectly pronounced as "Raz" instead of "Raysh". Now, that's been a problem in various DC productions – notably including Nolan's Dark Knight trilogy; here, though, the error is compounded. Batman pronounces it both ways, Damian (who presumably knows better than almost anybody) pronounces it as "Raysh", while almost everyone else says "Raz" without ever being corrected. It may sound like nitpicking, but it's incredibly annoying to have some of the cast mispronouncing a major character's name while others get it right – and with no consistency either way.
However, aside from these and a few other minor problems, at the end of the day this is still a massively entertaining film. It should easily appeal to fans of either or both franchises, presenting a well-paced story that never feels forced or out-of-place. If you've got any reservations about watching this for any reason, put those fears to one side and just enjoy it. Batman vs. Teenage Mutant Ninja Turtles may not be the best Batman movie ever or the best TMNT movie ever, but it's definitely the best of both worlds.
The Review
Batman vs. Teenage Mutant Ninja Turtles
Fans get the best of both worlds from two legendary groups of heroes.