Batman: Nightwalker, the second title in the DC Icons series, is here. Continuing the trend of exploring the hero before the superhero, the story follows an 18-year-old Bruce Wayne in Gotham City.
After his lavish birthday party, the young playboy stops a criminal getaway but also ends up crashing his expensive car and disobeying police orders. As a result, he's sentenced to community service in Arkham Asylum (because Gotham) where he encounters some of the most dangerous criminals around and his future foes. There, Bruce also meets Madeleine, who has ties to the mysterious Nightwalker gang – and his name is next on her list of rich people to target.
Marie Lu doesn't bombard us with too much information about Batman canon and keeps the focus on this isolated story, with a variety of new characters for us to meet. While it was likely tempting for her to explore the Batman lore and introduce a bulk of the future rogues and recognised characters, she keeps it minimal and doesn't fall into the trap of fan service. What is a pleasant surprise, though, is how she subtly showcases Harvey Dent's turbulent past and abusive father, planting the seeds for Two-Face.
In many ways, Lu gets right what the Gotham TV series gets wrong. This is about a younger Bruce and a Gotham City bubbling with deranged criminals. There's an intriguing tale to explore there, without needing to bastardise canon or leapfrog the timelines for the sake of stuffing in as many characters as possible. Additionally, Lu's Bruce feels like a hero in the making – he's still young and unsure of where he belongs, like most teenagers, but he has the makings of someone who'll do the right thing. It's unlike David Mazouz's Bruce, who screams petulant child more than he does future protector of his city.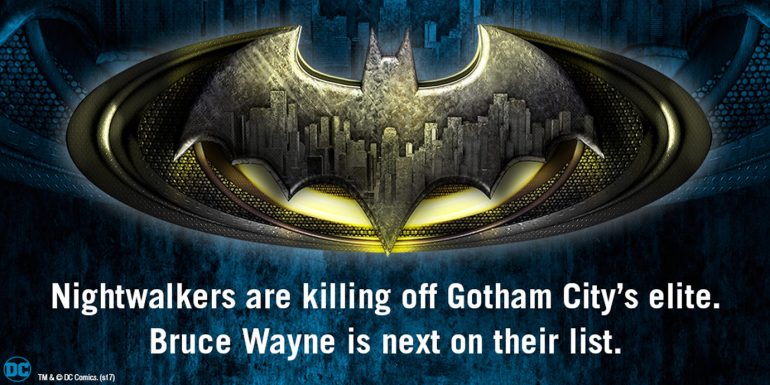 Lu's prose is elegant, fast-paced, and avoids flowery language. She sketches the outline of this Gotham, but leaves it for you to paint the rest. In terms of this specific world, it's a good approach, since people will view Gotham differently and want to imagine it in their own way.
The dialogue is another highlight, introducing us to a Bruce who cares for his friends and family but is equally capable of keeping silent and observing his environment. He's not the Dark Knight yet, even though that steely personality is lurking inside him.
Once again, the DC Icon series delivers. Batman: Nightwalker is entertaining and engaging, as it provides us with an original Gotham story. It's written for new and long-time fans and you won't need to know everything there is to know about the hero to enjoy the story. Check it out.