Most inter-company crossovers are really just about putting the two characters together for novelty value, but there's something wonderfully genuine about this one. It's fitting that 2000AD and DC should inevitably cross paths in stories, given the amount of highly talented artists and writers who started out at the galaxy's greatest comic before crossing the pond. And who better to represent the companies than their top characters, Judge Dredd and Batman? They're complete opposites and seeing them square off is a fanboy dream match-up. While there's no resolution regarding who's best, there's thankfully no forced buddy-buddy team-up either.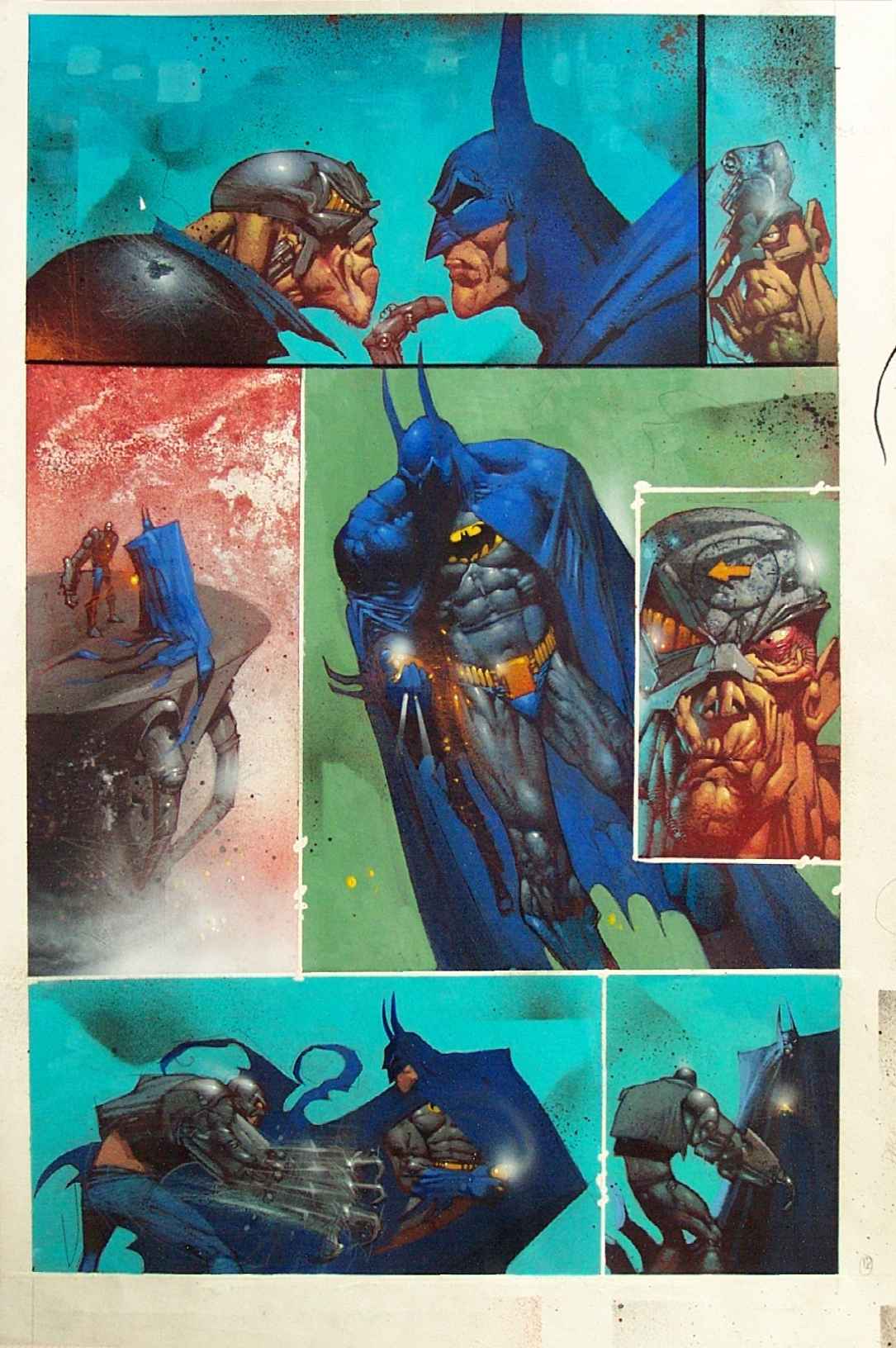 In Gotham City, a new evil arrives: Judge Death, an eternal bringer of death from an alternate reality's future. After a brief confrontation between the two, Batman finds himself teleported to Mega-City One. There he confronts the villainous Mean Machine before being arrested by the ultimate lawman: Judge Dredd – a man who has no time for vigilantes operating in his city. While Psi-Judge Anderson vouches for Batman's story and tries to help him, Dredd has no interest. Meanwhile, back in Gotham City, Judge Death finds an unlikely ally in the Scarecrow. Can Batman and Judge Dredd put an end to their plan to kill everyone in Gotham?
In the second crossover between 2000AD's lawman and DC's dark knight detective, Scarface and the Ventriloquist execute a plan of destruction in Gotham. However, Batman is sidelined by Judge Dredd, who has arrived in town seemingly to settle the score between them. However, it soon becomes apparent that there's more to Dredd's feud than meets the eye. Is he Batman's unlikely friend, or a new foe determined to stop his vigilante ways?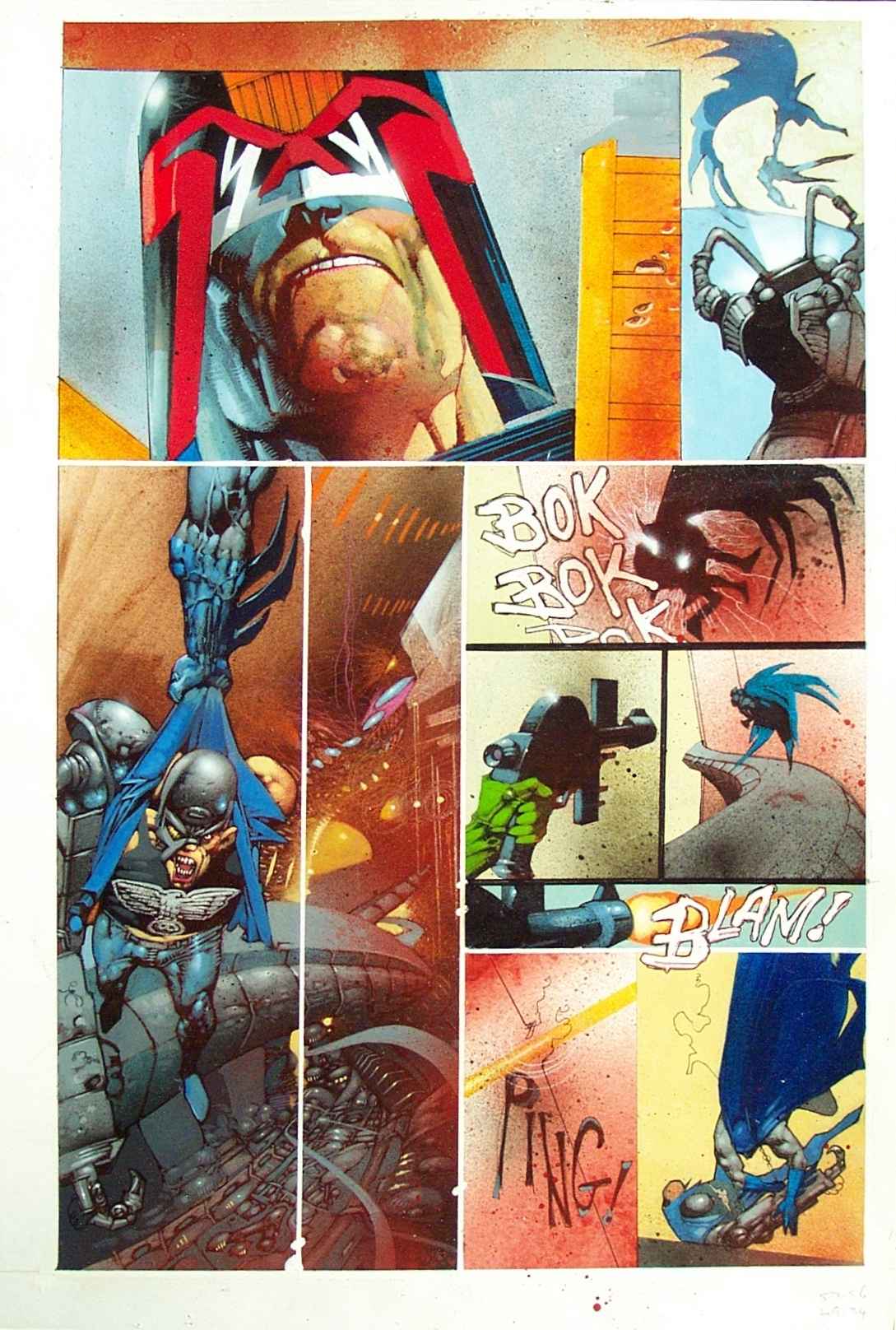 So what makes Batman and Judge Dredd so different?
Well, if Batman is classical music and jazz (true Batman fans know he hates rock), then Dredd is hardcore industrial metal and punk. Batman is a vigilante, and his core belief is that he doesn't believe in killing. Dredd is a fascist bully who rigidly follows the law, and has no problems killing bad guys. He doesn't give a crap if innocent people around him die in the crossfire, and he hates vigilantes. In fact, 2000AD progs are full of tales where he's beaten up and arrested superhero wannabes, even if their intentions were noble.
Needless to say, their first meeting results in Judge Dredd getting punched right through his helmet's visor, while Batman gets first-hand experience of police brutality.
Judgement On Gotham offers plenty of 2000AD's anarchic sense of humour and violence, with everything from Mean Machine gatecrashing a headbanging rock concert to the hilarious double-act of Death and Scarecrow… an unlikely partnership which sees Death overpowered by a fear of cuddly toys. Artist Simon Bisley, the master of visual mayhem, brings it all to life brilliantly and his work here is even more beautiful and chaotic than his art on Lobo and Slaine over the years. It's a visual treat and full of dark satirical comedy.
Vendetta In Gotham is easily the weaker story of the two, with countless pages of Batman and Dredd literally getting into a school playground fight. It's a simpler plot too, the writing doesn't quite seem to flow and the comedy doesn't feel as cutting. Still, seeing the Ventriloquist's terror tactics fail because of Scarface's speech impediment is funny no matter what, while Cam Kennedy's art is highly underrated.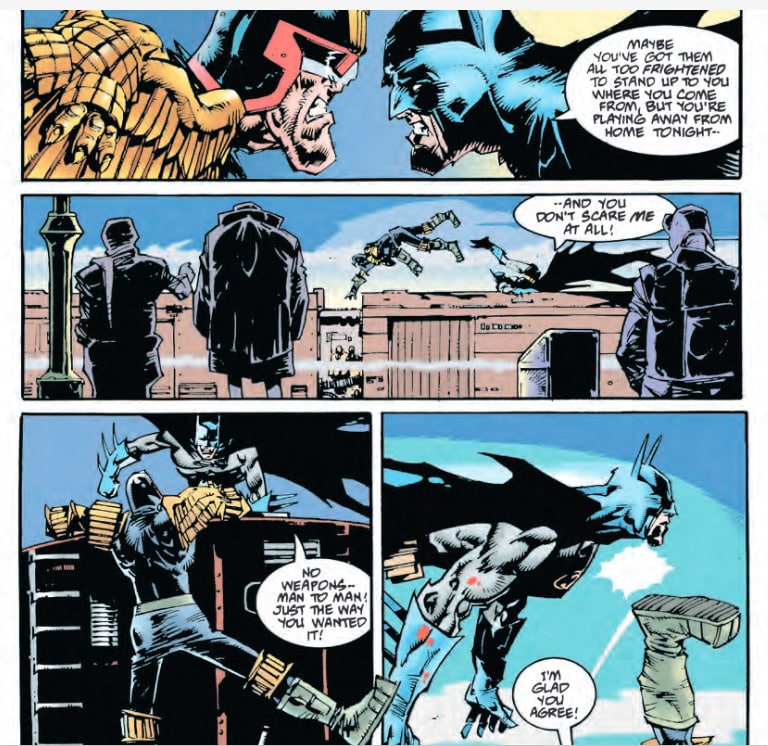 This volume containing Judge Dredd and Batman's first two crossovers is an absolute treat to see back in print. While the second story feels more like a bonus feature and isn't as good as the classic Judgement On Gotham, that first is legendary and even as a stand-alone it would be worth the price. So together, they're great value for money. What more could anyone ask?