Depending on your point of view, DC's latest animated feature, Batman: Death in the Family, is either brilliant or disappointing.
Batman's second Robin, Jason Todd, was always a headstrong young man. But the rift between them resulted in a pivotal moment: Jason's death, brought on after a confrontation with the Joker. While that would have normally ended that chapter of Batman's life, instead it set in motion a chain of events resulting in Jason's resurrection, evolving into the vigilante known as Red Hood. But… what if things had been different?
Meanwhile, elsewhere in the DC Universe, Sgt. Rock sets out on his first mission with his new World War II platoon the Creature Commandos; intergalactic adventurer Adam Strange hits rock bottom as he mourns the loss of his beloved, while stranded in a deep space mining colony; in a time of free love, the mysterious Phantom Stranger tries to save the life of a young runaway girl on her way to join a cult; and Sandman's sister Death encounters a struggling artist who's desperate to create a masterpiece…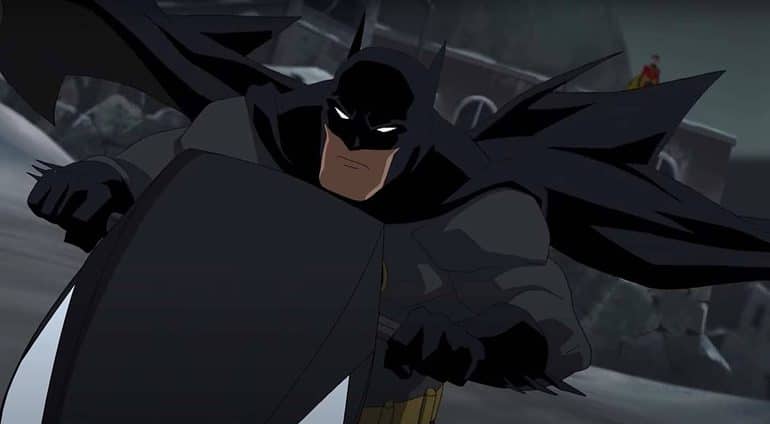 Who doesn't love Choose-Your-Own-Adventure? Uh… honestly?
Okay, so maybe those old gamebooks were a bit simplistic – Fighting Fantasy and Lone Wolf were far better and a whole lot more involved, after all – but the concept worked and the name of the brand became synonymous with interactive storytelling. And while this isn't the first time it's been applied to the world of TV and movies, DC Showcase: Batman: Death in the Family is still noteworthy.
Just not for the reasons you may expect.
Now, a quick heads-up for anybody who mistakenly believes they're getting an all-new feature-length Batman movie here: you're not. Not really.
What this actually is, is a collection of DC Showcase animated stories of various lengths – four of the five having nothing to do with Batman and Robin at all. The title on the box, along with a majority of the advertising, is both true and somewhat misleading if you're not paying attention; it's one story amongst several. So caveat emptor, okay?
The Batman: Death in the Family story itself is a pre-worn Batman animated "feature" sourced primarily from 2010's Batman: Under the Red Hood. It's now tarted up with some bells and whistles, but if you already own that particular film then it's debatable if the gimmick here is worth the cost.
To be fair, Under the Red Hood was one of the best full-length Batman animated films made. So, while Batman: Death in the Family's tweaks don't make it any better, there are also far worse films to revisit.
However, the biggest issue here (aside from the quality itself) is… why? Yes, this CYOA format is meant to imitate the now-legendary "vote" that comic book readers made back in the '80s to decide the fate of Jason Todd; the problem is that the original vote meant something, the choice had consequences and the ramifications changed the course of Batman comics.
Here, since any choices don't really affect the canon in any way, it's hard to disguise that it's still just a gimmick layered on a retread of an earlier product.
So what is it that makes this so noteworthy then? Well, it's the Showcase stories in their entirety. Batman: Death in the Family is a fantastic companion piece to DC's earlier Shazam!/Superman Showcase collection, and for anybody who's enjoyed their short one-shot animated episodes over the past decade then this is a must-have set… although, again, these have also featured elsewhere before.
This time around there's a fun, albeit throwaway, weird war tale with the all-too-absent Sgt. Rock, here voiced by Karl Urban. If nothing else, it proves that DC really should be taking more advantage of its classic characters and long history. There's also an incredibly touching and tragic Adam Strange tale, which shows the man of two worlds in a new light. While the adventure itself isn't the most original of stories, it's really just background stuff for the more mature, heart-wrenching trauma that DC's cosmic journeyman is going through.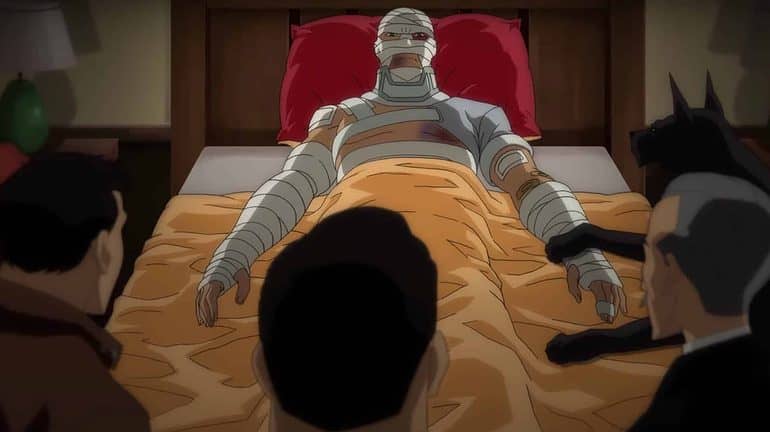 The best of the set has to be the emotionally overwhelming tale of Death. Featuring possibly the best writing of any DC production to date, this simple story is a treat for the eyes and ears, beautiful, artistic and poignant. It's hard to sum up how much of a moving experience this is, but keep the tissues on standby just in case.
If there's a weak link here, sadly, it's The Phantom Stranger. It's hard to know where this one went wrong; from the weird Manson cult/Scooby-Doo parallels of the kids to the Phantom Stranger's hammy voice, the whole production feels off. Unlike the earlier Showcase, The Spectre, this tale of DC's more mystical elements is neither thrilling nor chilling. It's impossible to take it seriously and hard to imagine new DC fans latching on to the character from this experience. Meanwhile, those who are already fans may hide their heads in embarrassment.
If you're a Batman fan then you may feel a bit cheated, but there's still gold to be found here… even if it's not in the most obvious of places.
The Review
Batman: Death in the Family
As an entire set and for fans of the DC Showcase series itself, this is a great addition which helps to show the broad scope of the DC Universe beyond the usual characters. It's unfortunate that Batman himself had to be used to generate some buzz about this, but the Batman: Death in the Family feature doesn't negatively impact the whole thing and is still entertaining enough.