Yes, there's more improvement in the latest issue of Batgirl and the Birds of Prey, both in terms of art and storytelling. In fact, some parts of it really solid and worthy of genuine praise… but then, almost predictably, it all comes crashing down with a rather dull and chaotic thud.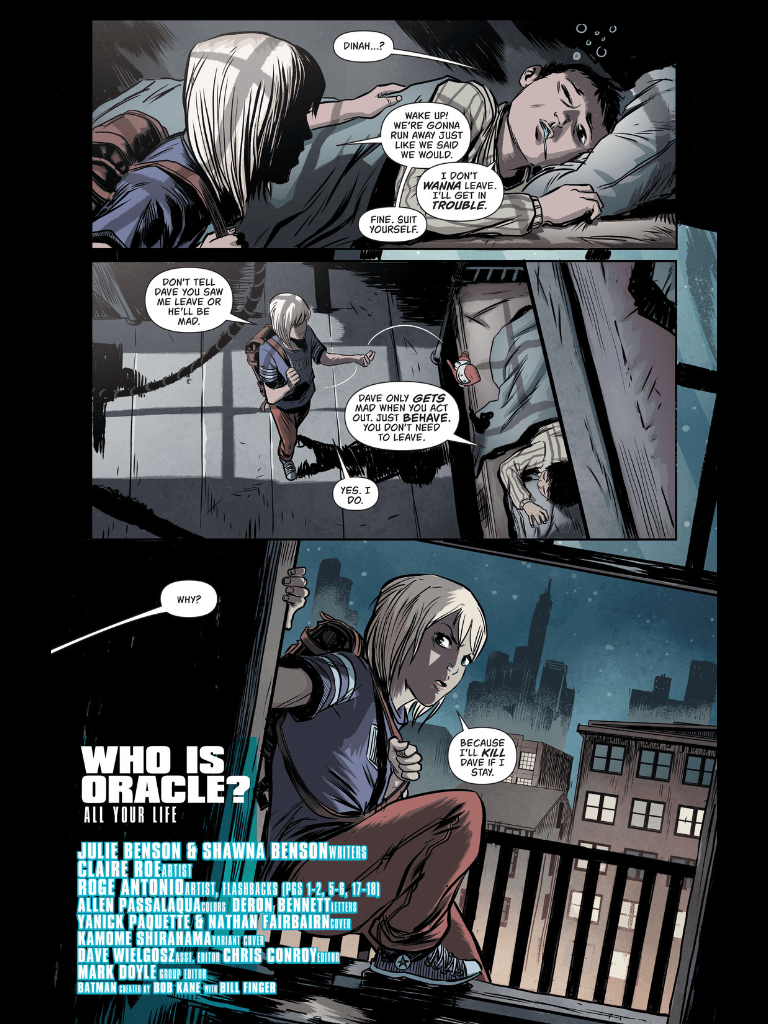 [dropcap]W[/dropcap]ith a little bit of help, Batgirl, Black Canary and the Huntress believe that they've learned the identity of the latest target of Fenice and Oracle's hit list. Since the target in question is a mob boss enjoying Taco Tuesday, convincing him of their good intentions isn't easy. When they realise that the person they're protecting isn't the actual target, there's more than a little embarrassment. While Black Canary's childhood is explored, the Birds of Prey need to race to the real target, where the life of Commissioner Gordon is on the line…
To begin with, the Taco Tuesday scene leads to one of the funniest one-liners this series has ever produced in any incarnation. Likewise, barring one noticeably jarring transition, Black Canary's childhood is solidly handled and it's good to see some attention being paid to that, even if it doesn't appear to affect the story in this issue in any way. Credit has to go to guest artist Roge Antonio who handles the flashback sequences well. It adds to a genuine step up this time around. Except then the final act of this issue kicks in, and it's a bit of a mess.
Sadly, the blame has to once again lie either with regular artist Claire Roe or the Bensons as writers for not describing the action scene properly in their script.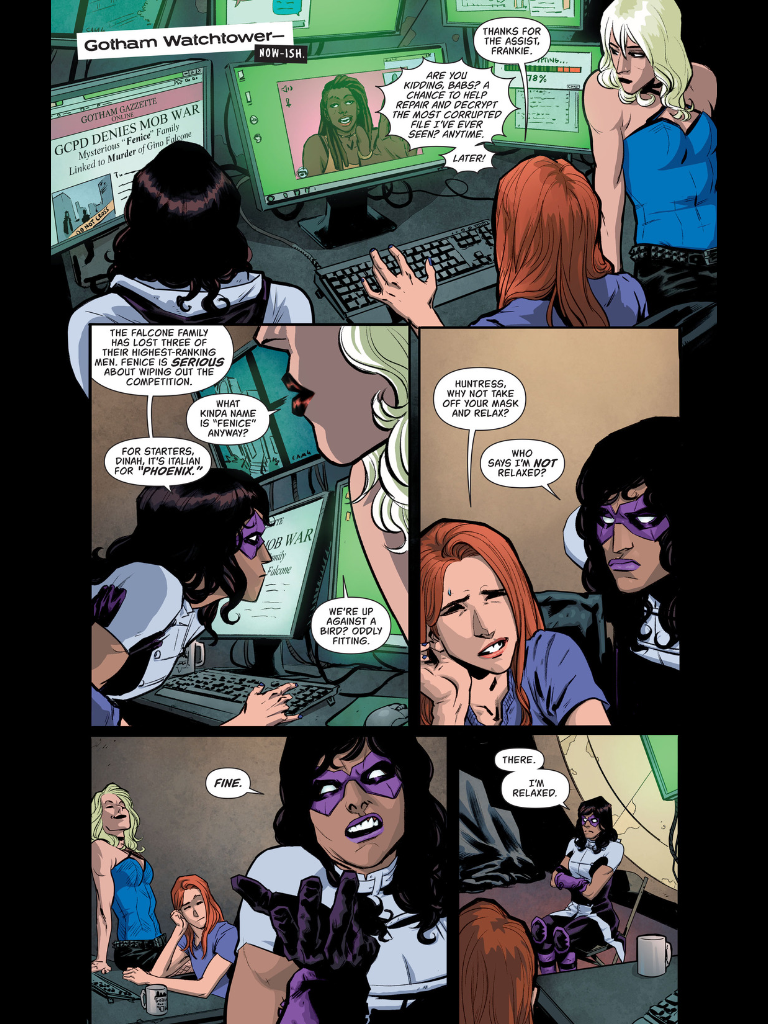 Proving that the more isn't always the merrier, a ludicrous fight breaks out between the Birds of Prey and their snake-themed adversaries. Clearly the theory there is that this should be exciting, an amazing struggle between the forces of good and evil. Instead it's confusing, once again featuring characters appearing from nowhere in panels and with no sense of fluid movement. The action – such as it is – boils down to each of the Birds of Prey performing one fighting move, and Huntress's isn't even shown.
In fact, how all of the Birds of Prey enter the room is questionable, as is the complete darkness when Black Canary shatters the lights – despite there being a roaring fire in the room, and in one panel there's clearly light seen coming through a formerly-broken window which magically becomes intact again. Maybe it's the same magic window that Commissioner Gordon peers through, holding the curtains back… and then forcing open the blinds, which don't actually exist in any other shot of the windows?
Then again, given how Commissioner Gordon tells his safehouse "guest" to stay away from the windows in order to avoid becoming a target, perhaps it was foolish for an officer with so many years of experience to leave all of the curtains in the room open? If the assassin was a sniper, it would be an absolute gift!
Come on, Birds of Prey team. I know that you can do better than this.
So… Batgirl and the Birds of Prey #3 is an improvement in some ways. Unfortunately, it also has huge flaws which need to be urgently addressed. As such, I still can't recommend this title and it's looking like a dud from DC.