Having spent some time reviewing the Bakugan Battle Arena and getting to grips with the game itself, I actually found myself beginning to develop a deep interest in the Bakugan universe. So, I was very excited to get my hands on the Bakugan Dragonoid Maximus And Dragonoid Figures for review.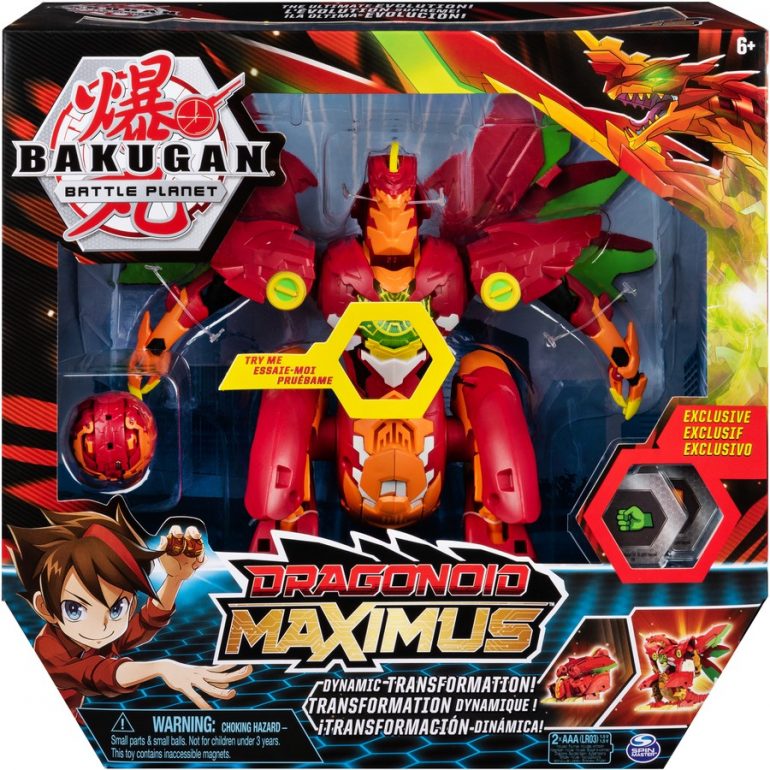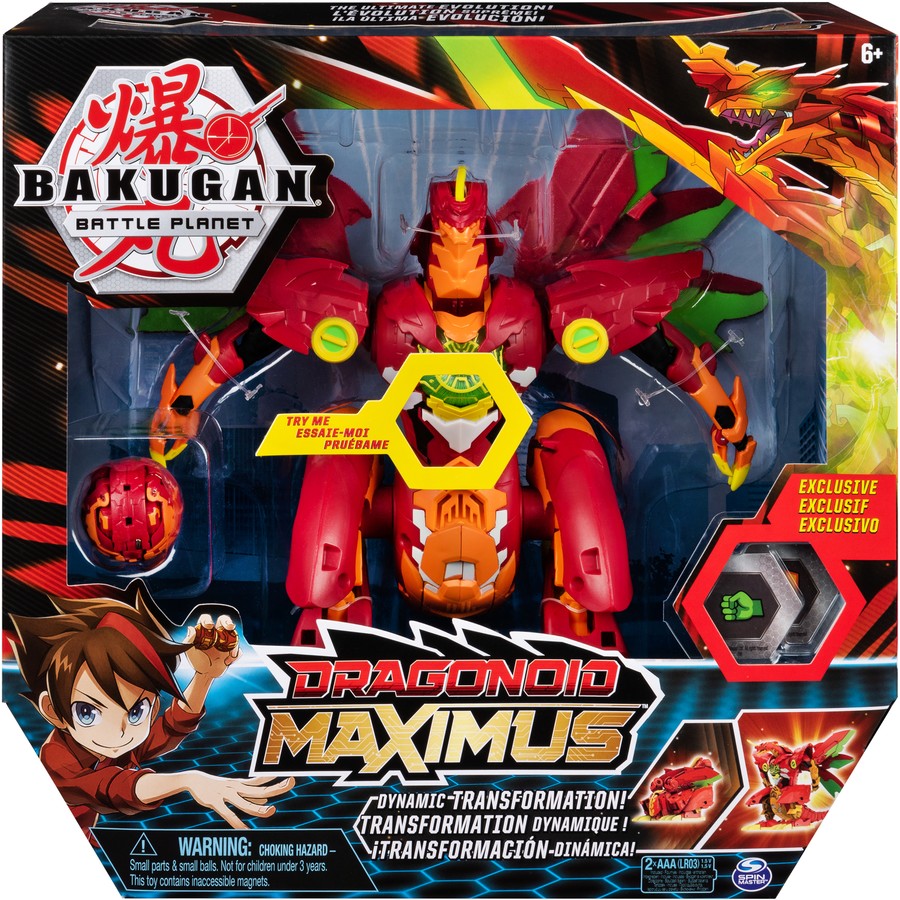 Based on an animated TV series, Bakugan sees kids battle it out using biomechanical creatures. Each of these creatures has its own unique look, strengths and weaknesses. As with most of these universes where creatures are used to wage battles, Bakugan can also evolve into more powerful versions.
The first of the figures I received was the 8-inch Dragonoid Maximus, a Bakugan who evokes terror in his enemies just by the way he looks. It's an intimidating figure for sure.
Unfortunately, although the figure looks great, it doesn't have much articulation. This is mainly due to the toy's transform feature. Basically, there is a bit of articulation in the tail, feet, legs and mouth, but it is very limited.
Articulation aside, the figure is well painted with almost no overlapping visible. The striking colour scheme will make sure that this fella strands out on your display shelf.
Another great feature of the figure is its ability to let out a mighty roar. By pressing a well-hidden button on the front of his chest, the Bakugan lets out a roar as its chest lights up.
One of the main features of the figure is its ability to "evolve". Included with the 8-inch figure is a smaller Titan Dragonoid, the Bakugan that evolves into Dragonoid Maximus.
By folding up Dragonoid Maximus, players can activate its transformability by dropping the smaller Titan Dragonoid on its back, which will see Dragonoid Maximus unfold, transform and let out another roar. It's a great addition to the figure and adds an element of emersion.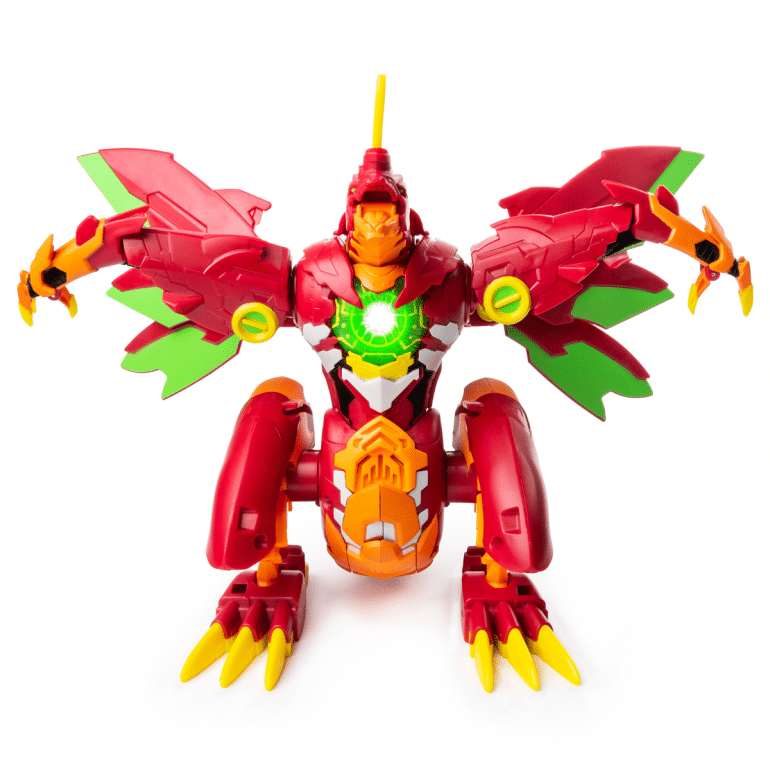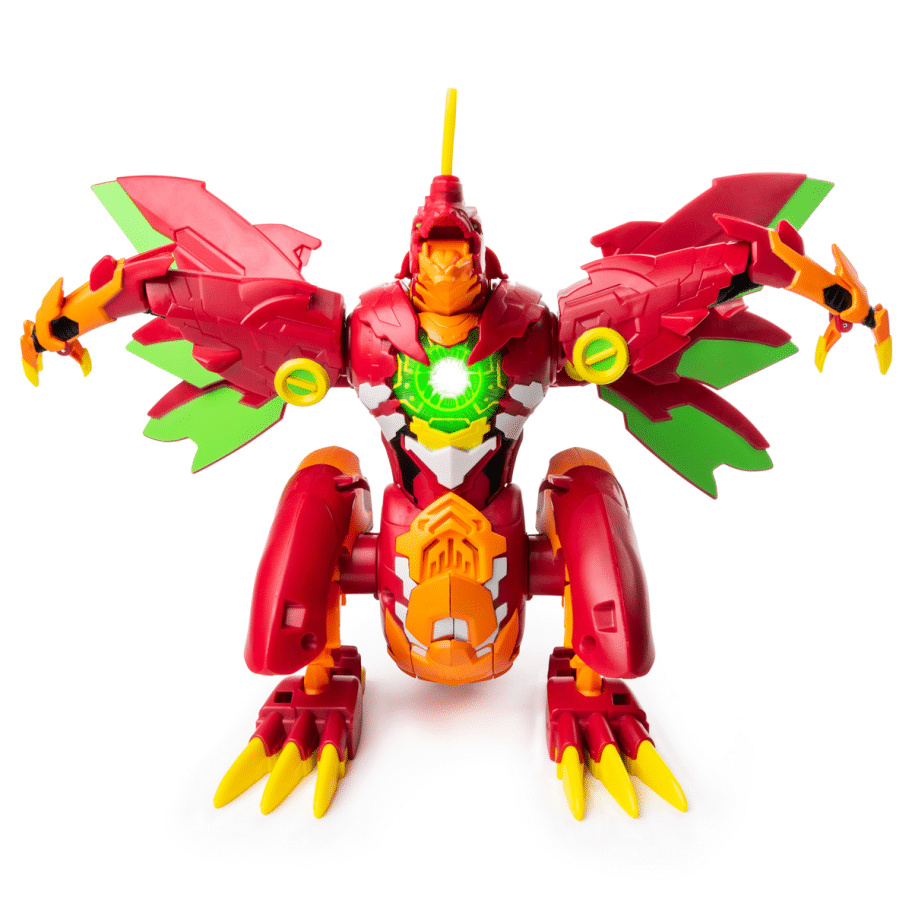 The second figure is the Deka Bakugan Dragonoid – basically a larger version of the smaller Dragonoid.
More of a display piece than an actual part of the game (due to its large size), the figure is an exact replica of the smaller Dragonoid used in the Bakugan game.
Like its smaller counterpart, the figure can transform into a ball. The larger Dragonoid can also transform back into its creature form by rolling it over the tile, just like the smaller Bakugan do.
The Deka Bakugan Dragonoid figure is well painted and surprisingly durable and, thanks to its larger size, it is easier to transform into a ball than the smaller Dragonoid.
I was pleasantly surprised by both figures. As a fan of Dragonoid, having a large version to display next to my smaller Dragonoid is great.
Overall, both figures will make a great addition to any Bakugan collection. Both look good enough to display but are also sturdy enough to play with.
The Bakugan Battle Planet figures are both available to purchase at www.justfun.co.za
The Review
Bakugan Dragonoid Maximus And Dragonoid Figures
Both the Bakugan Dragonoid Maximus And Dragonoid Figures would make a worthy addition to any Bakugan collection.
PROS
Lots of detail
Transform functions
The lights and sounds (Dragonoid Maximus)
CONS
Dragonoid Maximus can be tricky to fold into its "unevolved" form
Limited articulation
Review Breakdown
Packaging

0%

Durability

0%

Paintwork

0%

Detail

0%

Features

0%

Fun Factor

0%