Move over VelociPastor. Bad CGI Gator is the latest and greatest shamelessly no-budget creature comedy-horror film to hit the market. And in all honesty, it actually looks like ridiculous fun.
RELATED: The Live-Action Invincible Movie Needs One Director to Succeed
Full Moon Features, the film production and distribution company, has released a trailer for their next horror-comedy film, Bad CGI Gator. B-movie veteran Charles Band heads the company. It is known for its direct-to-video series like Puppet Master, Trancers, and Subspecies, Castle Freak and its upcoming Barbenheimer release.
Bad CGI Gator is their next schlock masterpiece. A synopsis of the film reads, "Six college grads on Spring Break get a cabin in the swamplands of Georgia. Once there, they decide to throw their school laptops in a backyard lake in an act of youthful defiance, which unknowingly turns a lurking alligator into the dreaded and insatiable… Bad CGI Gator!"
You read that right! A laptop turns an innocent alligator into a CGI-rendered mutant. Bad CGI Gator writer Zalman Band, director Danny Draven, and Full Moon Features say they are making fun of the incredible amounts of bad CGI in films featured on streaming platforms.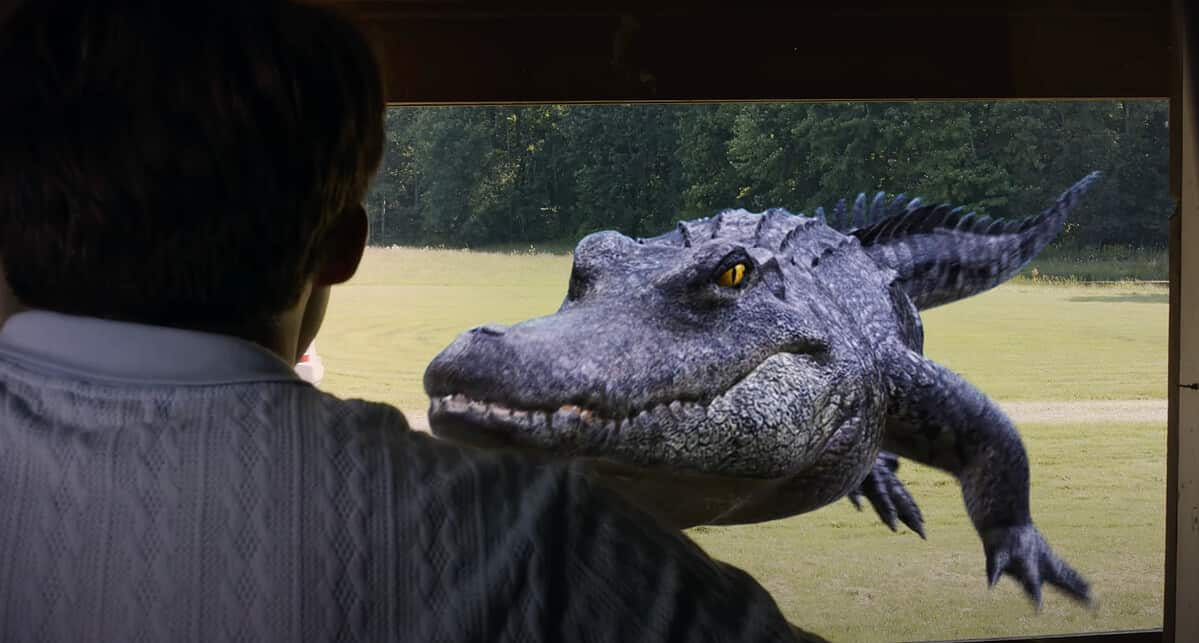 The creators mention films like Sharknado, Slither, Eight Legged Freaks and Piranha as ridiculous films saturating the market, which feature extra-large monsters wreaking havoc while having poor CGI.
RELATED: AppleTV+ Just Released This Amazing Dark RomCom That Has Just A Little Body Horror
Head of Full Moon Features Charles Band says, "I've long been against the overuse of CGI in genre films, and in many ways, this movie is a fun, tongue-in-cheek antidote to that. When done right, CGI is a great tool to accent special effects. When done wrong, well, we get Bad CGI Gator!"
So Bad It's Good
The glut of B-movies with terrible CGI is exemplified by the Sharknado phenomenon from a few years ago. Films like Sharknado and Piranha are examples of the 'so bad it's good' category of B-movies. Only some utilize CGI, but Bad CGI Gator and Sharknado can fit into a subcategory within the genre. The particular focus on cheap CGI sets these films apart from other masterpieces of bad filmmaking like The Room featuring Tommy Wiseau, Trolls and Plan 9 From Outer Space.
These B-movies need no introduction to lovers of terrible films. What sets them above the rest is the sincerity and lack of awareness of the filmmakers, especially filmmakers like Tommy Wiseau and director Ed Wood of Plan 9 From Outer Space, who genuinely were attempting to make a good film but ended up making awful masterpieces.
RELATED: Chuck Norris Is Back to Save Cinema
The clash between sincere filmmaking and poor execution hit a sweet spot that made them compelling to watch: their substandard storytelling, inferior character development and low production quality repelled audiences, but at the same time, the lack of awareness and commitment to telling a genuine story pulled viewers back in.
Bad CGI Gator and Sharknado are new kids on the block compared to other older, bad-film masterpieces like The Room and Plan 9 From Outer Space. Compared to these older films, their CGI-heavy counterparts lack sincerity and are too self-aware, but the bad CGI and preposterous gags make up for it.
Hopefully, Bad CGI Gator can join the ranks of Piranha and Sharknado and become another bad CGI classic.
RELATED: Hulu Quietly Dropped 2023's Best Murder Mystery On Halloween
Bad CGI Gator will be released on Amazon Prime Video and fullmoonfeatures.com on November 24 2023.
TL;DR
Full Moon Features has released a trailer for their next comedy horror called Bad CGI Gator.
Six college grads on spring break encounter a monster alligator with dire consequences and terrible CGI.
The film pokes fun at the amount of films like Sharknado with poor CGI on streaming services.
What do you think about the trailer for Bad CGI Gator? Let us know in the comments.