After making his debut on Star Wars spin-off The Mandalorian, Baby Yoda instantly became a worldwide phenomenon.
Not only did the force-wielding tiny-tot find a place in the heart of the titular character, he also weaved his way into hearts of millions of viewers across the globe.
Fans of all ages found his cute, innocent appearance endearing. And who can blame them? Baby Yoda is the cutest thing since Baby Groot.
But the creative process can be tricky, and sometimes downright ugly.
Some early designs for Baby Yoda in 'THE MANDALORIAN' have been officially released. (Source: https://t.co/I9UeMiDPx5) pic.twitter.com/P3XORbrREl

— DiscussingFilm (@DiscussingFilm) May 29, 2020
According to showrunner Jon Favreau, Baby Yoda was no different. The team had a difficult task ahead of them when it came to crafting The Child. Not only was he modeled after the most iconic character in the entire Star Wars franchise, he also had to be appealing.
So it took a while for The Mandalorian team to perfect Baby Yoda's final look. He even admits that some of the early concept art was rather frightful.
During the latest episode of Disney Gallery: The Mandalorian, Favreau explained the lengthy process that went into creating Baby Yoda.
"We got lots and lots of drawings. Some of them were too cute and some of them were too ugly. Some of them were the wrong proportions. Finally there was one image that Chris Alzmann did that had him [Baby Yoda] wrapped up in what looked like a piece of a flight jacket. His eyes were a little weird and he looked a little out of it, there was something a little off with it. But we found it charming, and that became the rallying image that we said, 'This is good.' And it developed from there."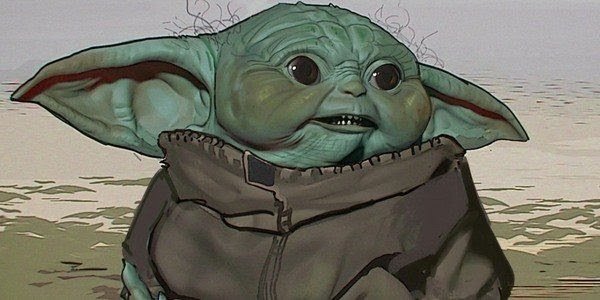 Fortunately, Favreau and the team found the perfect balance somewhere between impossibly adorable and absolutely terrifying. And the rest, as they say, is history.
Fans of Baby Yoda can catch him on season one of The Mandalorian, which is currently streaming on Disney+.
A second season has been confirmed for this year. But it's still unclear if production will be affected by the ongoing coronavirus pandemic.