Babalas was a movie with a lot of publicity in South Africa this year, featuring the acting debut of Jack Parow, and the promise of antics by the Kalahari Radio Orkes guys, also known from their highly popular Castrol ads some years ago. In fact, that's directly what the films about. At the very least you can't say it didn't stay close to its comfort zones for the actors involved.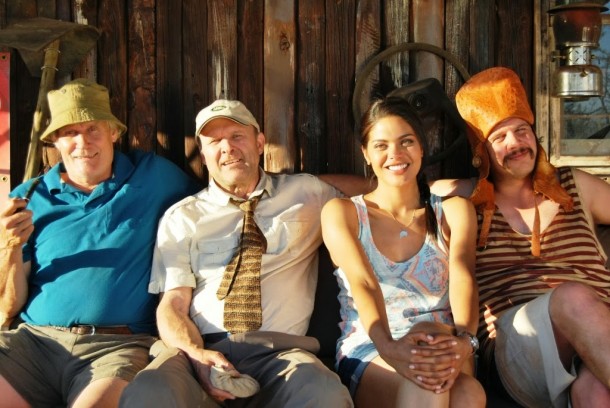 Many years on, life finds our heroes much as they always have been, in their comfortable spots in their small-town wilderness homes. One day, a sexy ad exec (who doesn't even deserve a name on the back of the DVD, as all she is is sexy) arrives and tells the guys that they are to be honored for their legacy at Emperor's Palace. A road trip ensues. Antics ensue. We all know where this is going, for the most part. Notable is the absence of Moegoe, played by Fats Bookholane, as the actor had sadly passed away before filming was to begin. Newcomer Jack Parow takes his place amongst the team, and while the thought might have been good, to put one person who makes fun of a "kommin" lifestyle with those who fill a different form of it, his presence does seem to clash somewhat with the older personalities, and the effect is to be rather disjointed in the end.
Babalas seems more like a collection of skits than a cohesive movie, with everyone just acting as the same thing they've done with years now. The joke is that low-class things are funny, and while I get that, it doesn't necessarily make a compelling movie. I didn't really laugh while I watched this; maybe I'm not the target audience, but at the same time, it does feel just a little bit lazy. I think it could have been better with a tiny bit more effort, but that everyone found it too hard to leave their comfort zones, which is a shame.