If you want to be successful then you need to practise, do the same thing over and over… Well then… This second Avengers film is going to be VERY successful.
It's definitely the funniest, wittiest of all the films. You are thrown straight into the action; S.H.I.E.L.D vs Hydra and a brilliant team repartee. The first 15 minutes make you feel like you have missed something. So be sure to be up to date with all your Avengers movies, or you will be a little lost at the start. There is enough conversation, terminology and name-dropping in the beginning to satisfy those who have been following the saga in details, including the TV-series "Agents of S.H.I.E.L.D". The mention of Hyrda's "Enhanced" is a nice touch, and a great segue for introducing the new villains.
Again Tony Stark is in the middle of the action, as if he didn't have enough glory-time in his 3 solo films? Themes of his emotional turmoil from Iron Man 3 overflow into this plot, which is tiresome. All the characters maintain their quintessential forms from before. Captain America is still an old man in a young man's body, Thor is cool, collected and charming and likes to play with his hammer, and Hulk… well… Hulk smash. Natasha Romanov does her usual flirty thing and moves onto the next available man in the team. Maybe this one will love her back this time?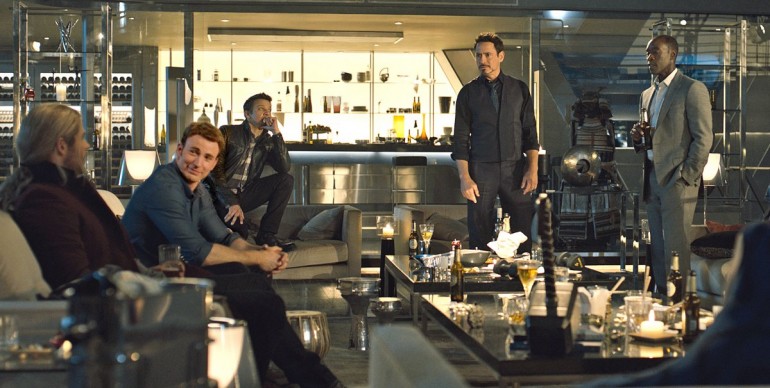 The whole thing is a hodge-podge of Marvel characters but the familiarity of the loved characters and the addition of some extra interesting new flavours keeps the whole thing alive, bearly. The upbeat first 45 minutes is a great build-up to the dead drop when adversity strikes, and suddenly everything is serious, especially the South African scenes of Johannesburg CBD getting ripped to shreds, it's very entertaining.
For your mental well-being (don't waste time trying to figure this out during the film) note that the voice of Ultron is James Spader. That guy from TV's Boston Legal and The Blacklist. He does an excellent job, and a very convincing job, in bringing ultimate evil to life with the help of a very witty and real script, with the right amount of creepy puppet mastery (But not as much as the trailer alludes to).
Director Joss Whedon once again does his thing with the female characters playing final and pivotal roles. This time Black Widow is joined by a psychokinetic and telepathic redhead; Scarlet Witch (Elizabeth Olsen). She is basically a Jean Grey replica. Which would make sense, since this universe is the same universe as The X-Men, sort-of. The character and the cinematic effects of her power is pretty sick, one level cooler than X-Men The Last Stand. Speaking of which, Marvel fans, and at the very least X-Men movie fans, will immediately recognize one of the new villains; the speedster, Quicksilver, played this time by Aaron Taylor-Johnson. These two new characters' features add some fresh style to the good vs. bad fun, but the script lets them both down.
Olsen and Taylor-Johnson recreate their failure (or misfortune) from 2014's Godzilla and ruin everything with their lack of on-screen cohesion and believability. Their talent is lacking, as is their poor attempt at Eastern European accents. Why oh why don't producers, casters and directors use authentic people if they want it to be believable. Surely when the two are talking alone they would speak their native tongue? Definitely not broken American English. Silly, and frankly… lazy.
With so many hundreds of comic books to source plots from, surely they could find an original one and not a mushy mixture of repeated story segments. This level of cinema is supposed to transport you, transcendence into nerd nirvana, but you might be left hanging. Don't count on the 3D content to blow you away either.
But there are still epic parts and dreams come true with the introduction of another league of interesting Avengers and a wicked new version of Stark's virtual assistant Jarvis, and the story of Infinity Stones moves along nicely.
So having said all of that… It's very entertaining, and you'll probably watch it no matter what you hear about it. It's really fun and seriously funny. The banter is hilarious and the 3 boys; Rogers, Stark and Thor really hold it all together.
Avengers: Age of Ultron is good but not great.