Taking one look at Atomic Heart, it's clear the developer Mundfish found inspiration in first-person games such as BioShock and Half-Life. Aesthetically, it's one of the most ambitious and visually pleasing games that gamers will play in 2023, but what about its other elements? Let's find out!
RELATED: The 5 Best Games Coming Out In 2022
What's the story?
Atomic Heart takes place in a dystopian alternate reality where the USSR is at the forefront of science and technology. Humans and robots work together in building an advanced society. The player takes the role of Major P-3, a curmudgeon Soviet soldier who possesses an AI glove known as CHAR-les. Expectedly, something goes wrongs and the robots break bad, turning this harmonious society on its head and thrusting P-3 and CHAR-les into the throes of mayhem à la Terminator.
A lot has been said about P-3's prickly personality and demeanour, but the Duke Nukem a-hole vibe is actually entertaining in the grand context of the game, since it is written with a tongue-in-cheek comedic approach. Sure, he might not be the most likeable person in the world, but there is a character arc here and he does soften as the game progresses. For heaven's sake, there's a sex-mad refrigerator in Atomic Heart that keeps trying to seduce P-3, so keep that in mind here.
RELATED: Netflix's Arcane Characters: Every League of Legends Champion
Atomic Heart is one of the most gorgeous PlayStation 5 games
The level of detail applied to this game is jaw-dropping, to say the least. From the light's reflection on the water to the intricate, stylised designs of the expansive world, there's no doubt the five years of development went into nailing down the visuals of Atomic Heart. What's more impressive is how the aesthetic continues to develop and get wilder as the game progresses — not just in the one-and-half hours of cutscenes. From a programming point-of-view, Mundfish has ensured the transition from environments remains smooth and consistent, without noticeable drops in the framerate or loading times. Throw in the Mick Gordon score and it's like candy for both your eyes and ears.
However, there is one glaring issue picked up in Atomic Heart. Early in the game, there are sentient forklifts racing around and wreaking havoc. It's possible for P-3 to grab and climb onto these vehicles; however, the graphics freak out if one does so, as it's evident this shouldn't be something the player should be allowed to do. It's a major glitch in the game, and something that isn't up to the same standard as everything before and after it.
Atomic Heart is difficult — maybe too much so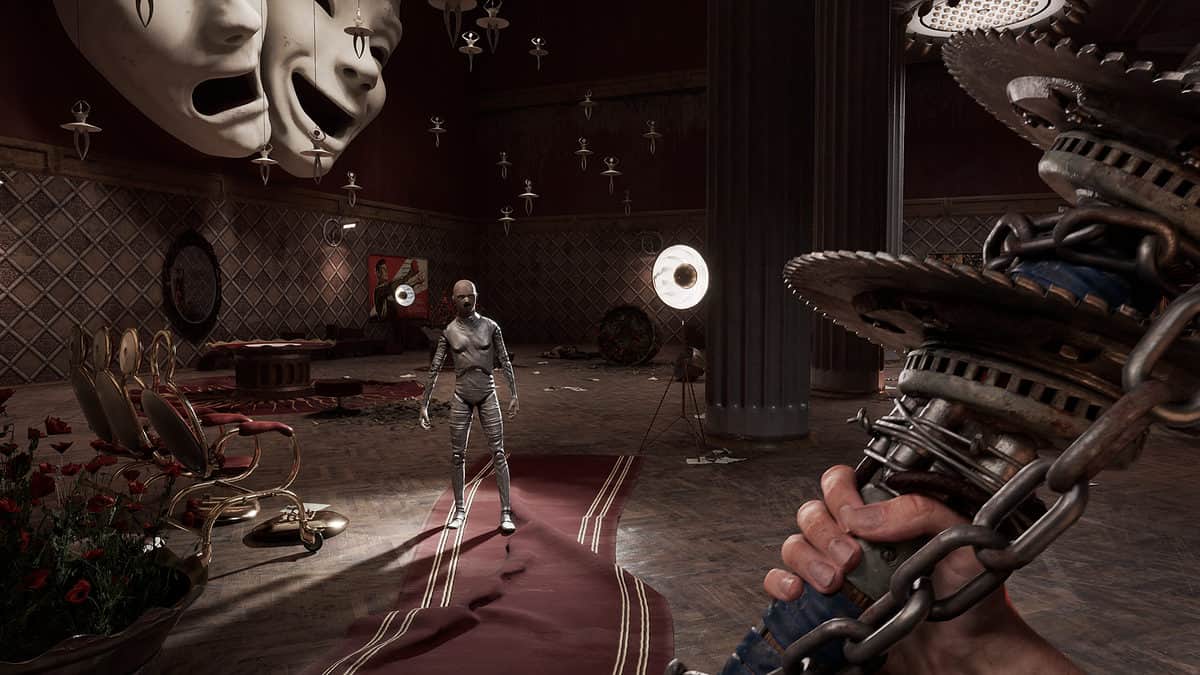 Atomic Heart allows for a two-hand combat system. CHAR-les has certain abilities that can be executed by the player such as electro blasts, shields, and more, while the other hand is for armed and melee weapons. Of course, a player can update the skills tree and learn/buy new skills throughout the game, as well as unlock new weapons as they progress.
While the combat system is innovative, this game's difficulty level is unforgiving and punishing. Even at the easiest level, it feels as if the enemies are overwhelming and a player dies too often. There are two reasons for this: Ammo is scarce in this game, so prepare to use melee weapons against robots that seem to be cloned with ninjas. And two, Atomic Heart doesn't ramp up the player in an organic way. There is no easing in or teething period here, as P-3 is thrown into trouble and it's a sink-or-swim scenario. Simultaneously, the in-game tutorials and explanations on how to use weapons or skills are poor. There is information on screen, but it feels like an afterthought more than an importance detail.
A difficult game should never be the reason for a player quitting. However, compounded with Atomic Heart's frustrating tutorials, there is a good chance that some gamers will peace out before reaching the meaty part of the story.
RELATED: Wild Hearts Review – Taming the Wild Beasts
But is it good?
While Atomic Heart's story isn't as original as it perceives itself to be, the superior graphics and sound elevate it to a whole other level. Again, this game's combat system is incredibly difficult and frustrating, but if someone wants a serious challenge, Atomic Heart will reward you in the end.
The Review
Atomic Heart
Atomic Heart is highly stylised and imaginative, but its controls may force many gamers to rage quit before the FPS gets interesting.
PROS
Outstanding graphics
Mick Gordon score
CONS
It's way too difficult
In-game tutorials suck
Review Breakdown
Gameplay

0%

Graphics

0%

Replay Value

0%

Sound and Music

0%

Story

0%