ASUS has done a great job of pushing the boundaries of technology across its various collections. It has seen a shakeup of its laptop range with the Zebbook 17 Fold OLED, the smartphone market with the ROG Phone 06, and even the mobile gaming scene with the ROG XG Mobile. Each of these brought a new and unique feature to make other brands sit up and notice. The brand itself has taken this a bit further with the newly-launched ASUS ROG Ally handheld console (which is coming to South Africa soon).
RELATED: ASUS ROG Phone 06 Review – The Peak of Smartphone Gaming
Next-Generation Gaming Performance
Republic of Gamers (ROG) has announced the ASUS ROG Ally console. It's a powerful new handheld device supporting Windows 11 gaming at your fingertips. The unit will be powered by an AMD Ryzen Z1 series processor. This includes RDNA 3 graphics to bring next-level gaming on the go.
Fans of the brand are expecting never-before-seen levels of gaming performance in a device this small. Users will be able to play plenty of AAA games with excellent graphics and no cutting corners.
Under the hood, the console will keep heat to a minimum with its Zero Gravity thermal system. This features a dual-fan approach with ultra-thin heatsink fins and high-friction heat pipes. All of this together will ensure optimum gaming in cool temperatures.
In terms of its visuals, the unit will support 120Hz gaming in Full HD (1080p) and FreeSyncTM Premium support. This will bring with it visuals with no tearing or stuttering, or FPS drops. The screen produces 500 nits of brightness, allowing you to game in the open in daylight.
RELATED: ASUS ROG XG Mobile Radeon RX 6850M XT Review – Powerful Mobile Gaming
The ASUS ROG Ally Is A Fully-Fledged Gaming Rig in the Palm of Your Hand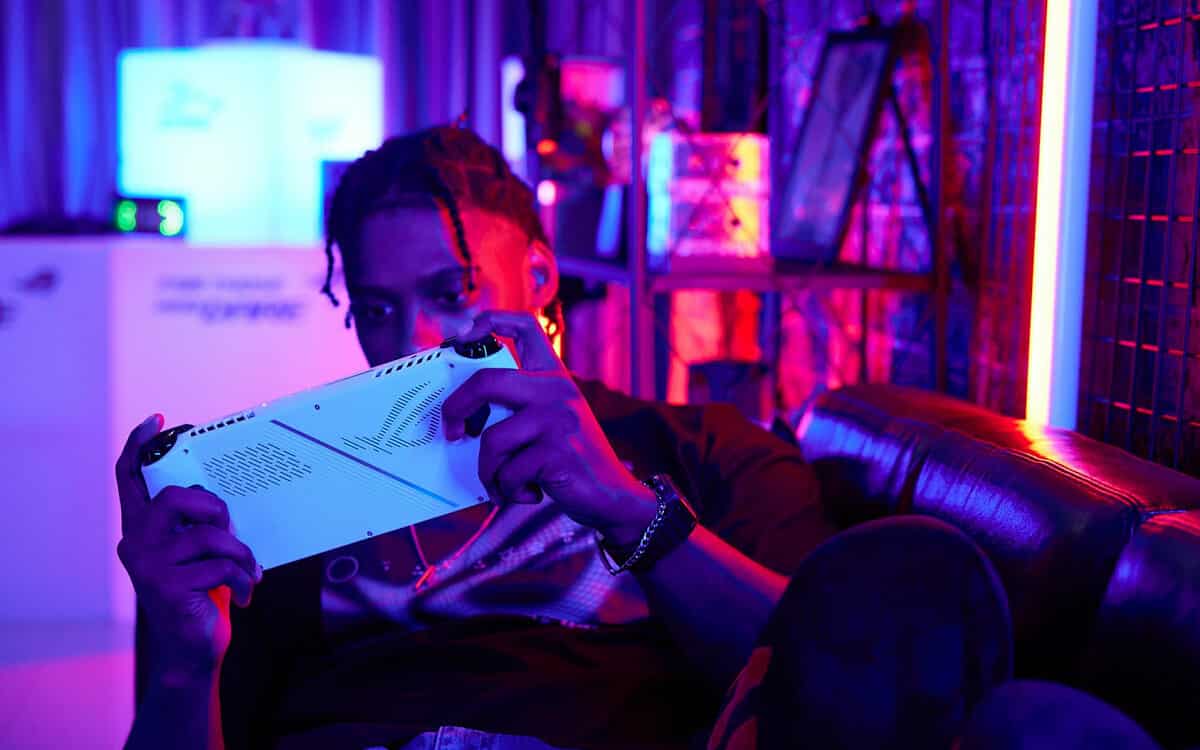 It may be compact but it is powerful. The ROG Ally runs the full Windows 11 OS. This means that gamers can access all their favourite gaming clients to bring with them their entire gaming library. This also includes all your game streaming services. As a result, gamers will always have the latest games available to them at their fingertips.
At the same time, navigating through the Windows desktop is a breeze. Users can either use the joysticks and buttons to navigate or simply select using the touchscreen panel.
As with most of its Windows 11-powered devices, the ROG Ally supports a special edition of Armoury Crate. It allows you to customise quick performance toggles and provides a game launcher, in-game monitoring software, Aura Sync support and much more.
When purchasing your ASUS ROG Ally, you will also have access to a 90-day Xbox Game Pass Ultimate trial. This gives you instant access to hundreds of games from the Xbox library from the moment you boot up your device.
Aesthetic and Ergonomic Design
When it comes to handheld devices, it's important to get the design and ergonomics right. The ROG Ally brings a lightweight and aesthetic design to the fore, supported by an ergonomic design. Its engineers developed countless prototypes to painstakingly etch out the perfect machine, which allows users the ability to carry and play all day long.
The ROG Ally weighs just 608g (1.34lbs) and can be carried around in your pocket, backpack or even in your hands without fuss. This brings tons of uninterrupted gaming in comfort.
The design features don't end there. The ROG Ally features ergonomics on the handgrips, adding a unique triangle texturing on the rear. It brings with it a firm grip on the device from any angle. This also prevents accidental slipping of your hand or fingers while gaming. Lastly, it includes ROG styling throughout, making it a quintessential ROG device.
RELATED: ASUS Zenbook 17 Fold OLED Hands-On – First Impressions Last
Pricing and Availability in South Africa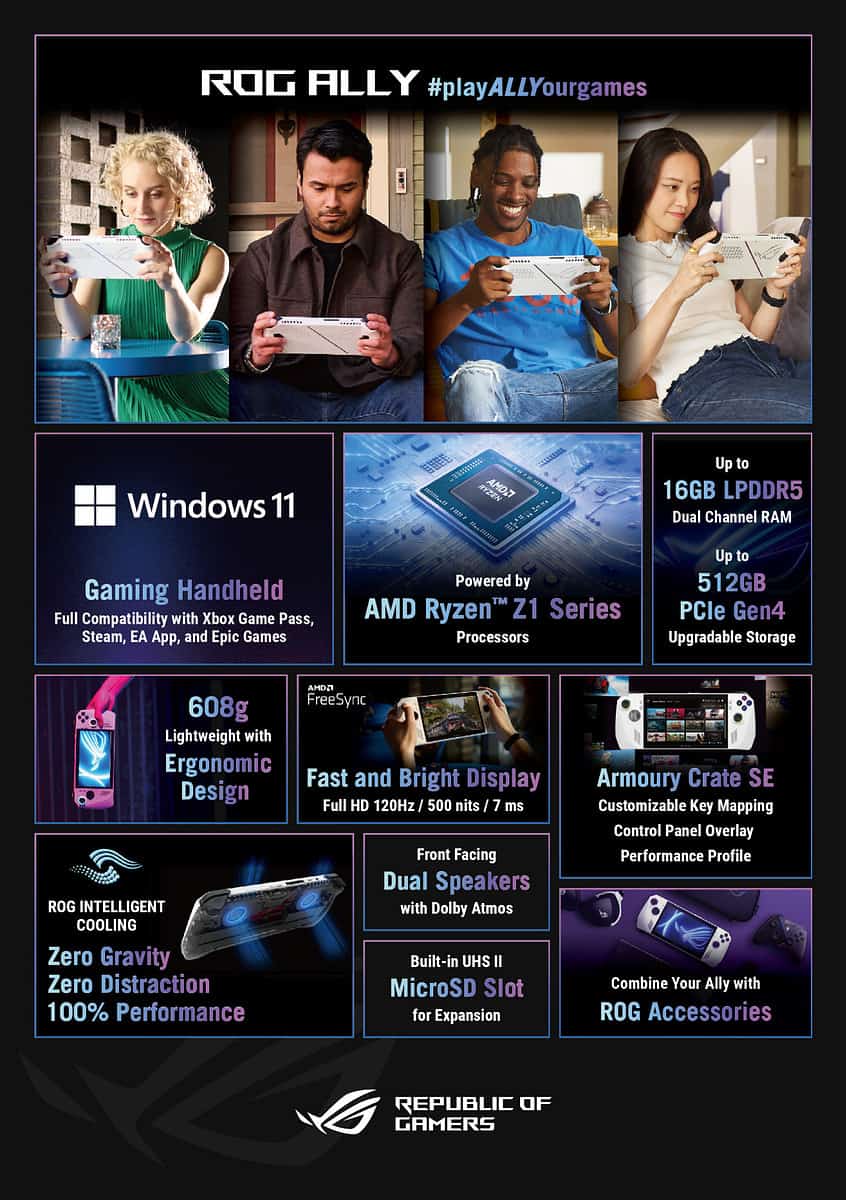 With the official launch of the ROG Ally in South Africa, preorders have now also gone live. Potential buyers can visit the official website, which will be shipped over the next week. The release date available in retail stores is 15 June 2023, with the 512GB variant available for R15,999.