For most PC gamers, choosing the best graphics card can always be a tricky and daunting task. Probably the most difficult. Too low a priority on the overall budget and you're left with a GPU that isn't really future-proof. Too high and you may be out of pocket, sometimes impacting the rest of your PC build.
On paper, having just two major OEMs for GPUs, AMD and NVidia, may seem to make for an easy decision, but things become exponentially more varied when you consider the generation of GPU, the various categories, the standard or overclocked versions, memory allocations and then if that wasn't hard enough, every manufacturer developing their own variants of each of the models mentioned above.
In recent years, AMD hasn't been trying to compete with NVidia when it comes to offering the most powerful GPUs, but instead a middle ground between great value in terms of performance against your budget.
I recently tested the ASUS ROG Strix AMD Radeon RX 5500 XT OC 8GB. It may be quite a mouthful, but offers great performance that won't leave your pocket empty.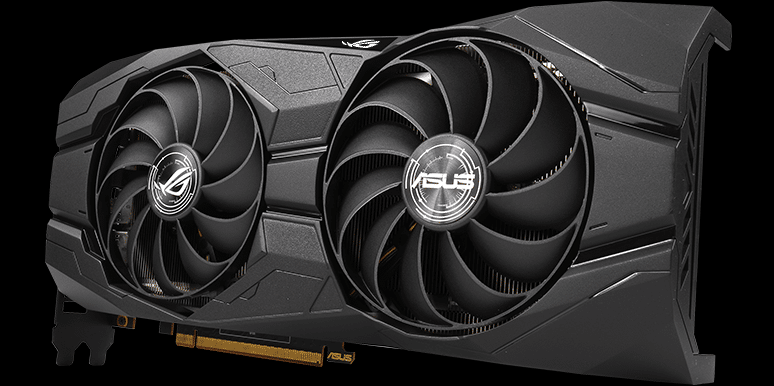 ASUS ROG Strix AMD Radeon RX 5500 XT OC 8GB Build and Design
Straight out the box, you'll notice how large the form factor is. The unit measures in at 280x127x58mm. To put that into perspective, it will take up three slots (or 2.9 according to the specifications).
In terms of the design, the ASUS version of the RX 5500 XT is a lot more sleek-looking. It offers a few angled lines and seems a few more curves than the standard squared approach of many other cards.
As with pretty much all modern cards, the unit is an all-black, matter finish, covered in plenty of plastic. ASUS has fitted a nice-looking backplate. Both looking good and serving a purpose, preventing any unnecessary touching of the sensitive components.
AMD's Navi generation of cards don't offer CrossFire support, which means there's no slot for it on the unit. To be fair, there's an ever-decreasing number of dual-card users in the market, an even smaller group when it comes to mid-range units.
There are two large fans to assist with cooling. The heatsink piping runs across the entire underside of the unit, but its hidden behind the backplate. The card makes use of eight connector pins, with it requiring roughly 225W of power draw from the motherboard. In addition, there's another 4-pin connection, known as FanConnect II, which allows the fans to sync with that of the case fans to make for more optimal cooling.
Lastly, the unit offers two types of display connectivity options, which is standard for modern cards. These are the x3 DisplayPort 1.4a and x1 HDMI 2.0b ports.
ASUS ROG Strix AMD Radeon RX 5500 XT OC 8GB Software
As with all Strix devices across the ASUS range, the Radeon RX 5500 XT OC offers RGB LED lighting. Having an ASUS gaming rig, it was easy to sync up all the lighting effects using the Armoury Crate software.
ASUS also uses the GPU Tweak software to monitor their graphics cards. Users can check fan speeds, VRAM, clock speed, temperature and other performance requirements on the application. It also allows users to overclock all from the same interface.
Performance and Benchmarks
While the design and software may offer some peripheral luxuries, but they're mostly cosmetic. When it really comes down to it, the GPU performance is where it can make or break how good it is. Having an ASUS AMD Radeon RX 580 OC, it makes for a great comparison. I tested a host of games using the same setup, which includes an AMD Ryzen 5 CPU with ASUS Strix B350 motherboard, 1TB m.2 SSD and 16GB DDR4 RAM. Each of the games were tested using the highest graphics settings available:
Game
Resolution
Radeon RX 5500 XT OC
Radeon RX 580 OC
Battlefield V
1080p
93 FPS
82 FPS
1440p (2K)
69
64
2160p (4K)
39
36
Borderlands 3
1080p
48
46
1440p (2K)
33
31
2160p (4K)
17
16
CIV VI
1080p
74
64
1440p (2K)
57
49
2160p (4K)
36
31
Shadow of the Tomb Raider
1080p
75
71
1440p (2K)
49
47
2160p (4K)
24
23
Horizon Zero Dawn
1080p
72
72
1440p (2K)
64
58
2160p (4K)
34
28
In terms of power consumption, the RX 5500 XT OC is one of least power-hungry cards on the market in its category. While I wasn't able to test out all the below stats myself, there are a number of sources available to get the power consumption for pretty much all the leading GPUs on the market today. Here's a quick overview of the power utilisation against 30 other leading cards:
| State | Radeon RX 5500 XT OC | Comparison (lower is better) |
| --- | --- | --- |
| Idle | 4W | 3rd |
| Multi-monitor | 18W | 20th |
| Media Playback | 10W | 5th |
| Gaming (1080p) | 117W | 6th |
| Gaming (4K) | 129W | 7th |
| Sustained Testing | 152W | 8th |
In terms of overall fan noise, the RX 5500 XT OC runs a lot quieter than the compared RX 580 OC. It also runs lower in terms of temperature across each of the benchmarking tests. Again, in comparison to the list of 30 cards, the fan sound places first when it comes to noise levels on idle and under load.
Conclusion
With the ASUS build of the card, it also offers one of the most customised option for the specific card, both in terms of what ASUS themselves have added and optimised, as well as what it allows you as the end-user to customise and manage further.
The AMD Radeon RX 5500 XT OC is also very well-priced, retailing around R6,299. The biggest issue with the card is the standard, non-OC version of the card, which costs anywhere between R500 and R1,000 cheaper. Overall, however, the OC version provides anywhere between 5-10% performance improvements across the various games when optimised accordingly. So, unless you're going to be pushing the card using the overclocking capabilities, it may not be your cup of tea.
Otherwise, if you're comfortable with tinkering, not just on the OC support, the card is definitely a worthwhile choice over the base model.
The Review
AMD Radeon RX 5500 XT OC
The ASUS ROG Strix AMD Radeon RX 5500 XT OC 8GB is a very well-balanced card. It offers great performance across all resolutions, low-power consumption, while also allowing users to push performance by means of the overclocking.
PROS
Quiet performance
Expert cooling
RGB lighting
Asus FanConnect II attaches fans to the GPU
CONS
Higher priced than standard RX 5500 XT
3 slots required
Review Breakdown
Ease of Learning

0%

Ease of Use

0%

Design

0%

Performance

0%

Enjoyment

0%

Value for Money

0%