It's been quite a bit of time since the last full-size keyboard review I completed. Over the past year, I've reviewed a number of compact keyboards. This includes the ASUS ROG Falchion 65% and Redragon K530 Draconic 60% units. A few years back, ASUS launched the first ROG Claymore gaming keyboard. The brand has now updated this in 2021, launching the ASUS ROG Claymore II.
The updated unit comes with a bunch of new features and enhancements over the previous iteration. It also allows you to customise your experience, especially when it comes to how you game, while also factoring in both left and right-handed gamers. Although, there is one significant caveat you'd need to overcome before getting your hands on one.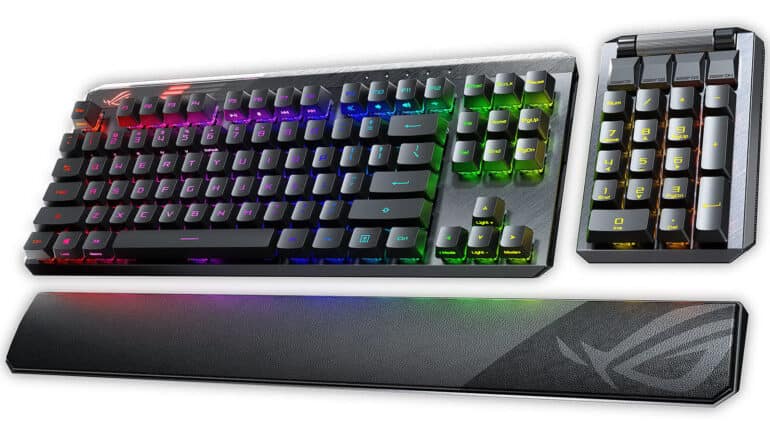 ASUS ROG Claymore II Build and Design
While the ASUS ROG Claymore II is a full-sized keyboard, it's also modular. It comes standard with a removable Numpad, which can be attached as required. And if you do wish to attach it, you also have the choice of where. ASUS has added slots to either side of the main keyboard, to which the Numpad easily attaches into place.
In terms of the dimension, the unit measures in at 461x155x39mm. The weight is around 1.15KG. These stats, however, include the add-on Numpad. Without the attachment, it reduces the width by around 90mm to 373.13mm. It also takes off about 100g to 1.06KG.
The weight is quite hefty overall, with or without the additional Numpad. To put that into perspective, that's nearly the weight of some Ultrabooks, which are around 1KG.
The unit looks and feels great. It oozes premium quality with its metallic finish, both on the bottom and top plate, with the keys finished off in plastic. The main keyboard is also solid, very solid.
However, its solid build is compromised slightly once you attached the Numpad. That's not to say the Numpad itself isn't solid, too, but the connection isn't strong enough to keep its rigidity when lifted. It won't just fall apart but doesn't leave you with confidence that it will hold in place for too long. That said, once you've positioned your keyboard and started gaming, there's no real need to be lifting and moving the keyboard around much.
Overall, its angular design may not be for everyone, but if anything, it looks and feels premium.

Keys and Layout
When it comes to the keys themselves, as mentioned previously, they're made of a plastic material. This would likely be ABS plastics, which although doesn't look out of place, does take away from the premium touch just a tad.
Each of the keys has RGB backlighting, which is almost a given when it comes to ROG units, or pretty much any other gaming keyboard. The plastic keys have a double-shot moulded finish which allows them to provide bright LED lighting.
In terms of the switches, the keys have the ROG RX red/blue optical-mechanical switches in place. Because they're somewhat proprietary, you can't just swap out the keys for any others on the market. This adds to the overall expense of the unit, which won't please many buyers.
In addition to the detachable Numpad, it also comes with a detachable wristrest. It isn't as easy to connect to the ROG Claymore II as with the Numpad, even though it uses a combination of clips and magnets. Personally, I'm not a fan of many wristrests, and this doesn't do much to change my mind.
There's also the addition of the volume wheel. This gives you easy access to the volume controls, making it super easy to increase or decrease while in-game, without taking too much attention and effort away. Additionally, the wheel can be customised to assist your in-game performance. This is quite useful for some games that require toggling of certain functions.
Below the wheel is another set of four customisable keys for good measure. By default, they're set up to be used for music – skipping tracks and the likes. However, this would be a great advantage for games where you can programme a few macros and shortcuts.
Setup and Connectivity
As with most modern peripherals, the ASUS ROG Claymore II isn't all that difficult to set up and start using. There are two options in place, both as easy as the next. The first of these is via the braided USB Type-C cable. Simply plug this into the rear of the keyboard and connect it to your PC, laptop or console.
The second option is wireless. Included in the contents is a 2.4GHz wireless dongle, which plugs into a USB port. The keyboard will then detect this and connect automatically. And that's pretty much it.
Obviously, there are additional considerations for the unit given its detachable items. The first is to select whether you want the Numpad connected to the left or right-hand side of the keyboard. It slides into position from top to bottom on either side and is then kept in place by a combination of a clip and some magnets.
Then there's the wristrest, which connects to the bottom of the keyboard in a similar fashion. It's worth noting here though that I'm not particularly fond of wristrests to begin with. So, the one used here didn't do much to change my thoughts on that. It'll get the job done, but nothing more than that.
Features and Performance
When it comes to the performance of the ASUS ROG Claymore II, it really does deliver on all fronts. Starting with the keys, it makes typing so much easier and quicker. It feels smooth and accurate as you hit key after key. As a result, it also makes playing games a lot better.
Measuring the travel, it doesn't take much to register the keystroke. After about 25-30% of the key depression, it will register accordingly. This means that there's quite a bit of extra travel remaining. This provides the effect of a full-length stroke while also delivering some tactile feedback.
The keyboard's battery lasts about 45 hours when not connected via the USB cable. This is more than sufficient, lasting close to a full two days of continuous use. In the real world, this is closer to five or six days. The keyboard goes into sleep mode when not in use, but doesn't require the conventual keystroke and a period of waiting before it registers. After the first touch, you'll be good to go on the second keystroke.
It's worth also noting that the battery life can be extended even beyond this mark, if you turn off the RGB keys and detach the Numpad. You'll be able to extract a further 100 hours as a result. That's quite impressive to say the least. And once the battery has been depleted, it takes about two hours to fully charge. There's also fast-charging support, which provides close to a day's worth of charge in just 30 minutes.
Speaking of RGB lighting, each key can be customised with an individual colour. This will obviously take quite a bit of time and not sure why anyone would want to, but the option is available. For the more conventional, there are a number of colour themes and presets to make use of.
Another cool feature is the USB passthrough. On the rear of the ROG Claymore II, you'll notice two USB ports – one Type-C and one Type-A. The Type-C is used for power, whereas the Type-A can be used to connect your mouse or other USB peripherals, which will then connect to your PC as well. It's simple and efficient.
As with most ASUS peripherals, the ROG Claymore II is customisable via the Armoury Crate software. It enables you to set up features, change lighting and much more.
Should You Buy the ASUS ROG Claymore II?
There's a lot to unpack with the ASUS ROG Claymore II – it's a lot of keyboard rolled into one device. From the features to the build quality, the keyboard has an overall premium feel about it. There's no mistaking that this is the brand's flagship keyboard. It will, without a doubt, improve both your daily productivity, as well as your gaming prowess.
As mentioned in the introduction, there is one giant caveat to overcome. Most often than not, that is the price, and with the ROG Claymore II, that's no different. Although there isn't a tied-down local pricing just yet, it's expected to retail in the region of R6,000. And that's not an easy pill to swallow when you consider that just a few extra Rands will buy you an Xbox Series S console.
While I will definitely recommend the keyboard to anyone who's able to afford it, it's a hard sell for the general consumer just looking for a gaming keyboard.
The Review
ROG Claymore II
If you're looking for a keyboard with all the bells and whistles, the ASUS ROG Claymore II is a sure bet. If you can get over the steep pricing of the unit, you won't be left wanting for features, performance and overall quality.
PROS
Great set of features
Awesome build quality
Mechanical keys are impressive
Detachable elements
CONS
Numpad isn't sturdy when attached
Not a fan of the wristrest
USB passthrough only available in wired mode
Expensive
Review Breakdown
Ease of Learning

0%

Ease of Use

0%

Design

0%

Performance

0%

Enjoyment

0%

Value for Money

0%