Earlier this year, ASUS Republic of Gamers (ROG) presented their latest showcase which featured the new range of ROG Rise Beyond gaming laptops. One of the standout products from the announcement was the ROG Zephyrus Duo 15, notable for its dual-screen support, featuring a second screen to expand the possibilities of your gaming.
The ROG Zephyrus Duo 15 was designed and built for serious gamers, streamers and professional creators. The unit integrates two screens into an ultra-slim frame to create a new dimension in how you use your laptop. Offering great versatility, it offers unique features without sacrificing on its gaming performance, which has become a defining aspect of the ROG range.
To power users into the future, the ROG Zephyrus Duo 15 includes a mix of novel features along with high-performance hardware. Key features of the unit include:
ASUS ROG Zephyrus Duo 15 – Two Screens are Better than One
The ROG Zephyrus Duo 15 has a 15.6" primary screen, which is Pantone Colour-Calibrated, offering a high-resolution 4K UHD display. The display covers 100% of the Adobe RGB colour space to provide a wide gamut and accurate colours. This not only brings your games to life, but also allows content creators to produce work at the highest levels. In addition to this, the primary display also features Nvidia's G-Sync technology to provide the most engaging experience.
Then there's the ROG ScreenPad Plus to unlock endless possibilities. ASUS has packed in a second, 14.1″ screen (with 3840×1100px resolution) while keeping the design ultra-slim, even more impressive for a gaming laptop. For the most comfortable multitasking, the screen tilts up at an angle of 13° to make for better viewing and easy touchscreen interaction, even when in the most intense of gaming situations.
The second screen can be used in many ways while gaming. Users can play with overlayed apps from Overwolf to let you see real-time stats, build recommendations and much more. For more advanced gamers, the second screen can double to keep you in touch with team chats, streaming controls, patch notes, browser windows or anything else your imagination can conceive. For the designers, the screen opens up additional workspace by allowing you to move layers, contextual menus, commands and more.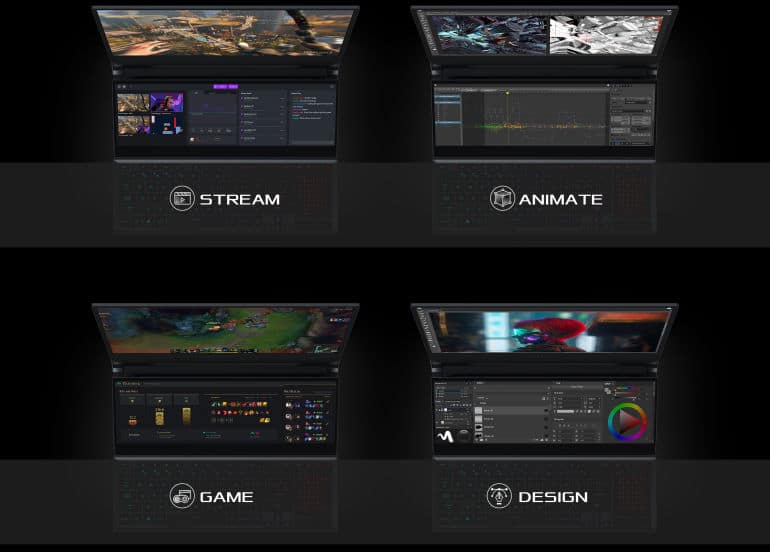 ASUS ROG Zephyrus Duo 15 – High Power, High Performance
If you're looking for high-end hardware, the ROG Zephyrus Duo 15 has you covered. The laptop features the latest 10th-generation Intel® Core™ i9 CPU with clock speeds up to 5.3Ghz on a single core, with up to 16 parallel threads with Hyper-Threading technology to make multitasking a breeze. The device also supports up to 48GB DDR4-3200 RAM (combined onboard and SO-DIMM memory). It also features two NVMe PCIe x4 SSDs run in RAID 0 to provide high-speed storage options.
To power your gaming needs, the Duo 15 sports the NVIDIA® GeForce® RTX 2080 SUPER™ GPU for fast and fluid graphics. The Turing™ architecture support on the GeForce RTX series provides great visual realism, with lifelike lighting, shadows and reflections for 4K gaming.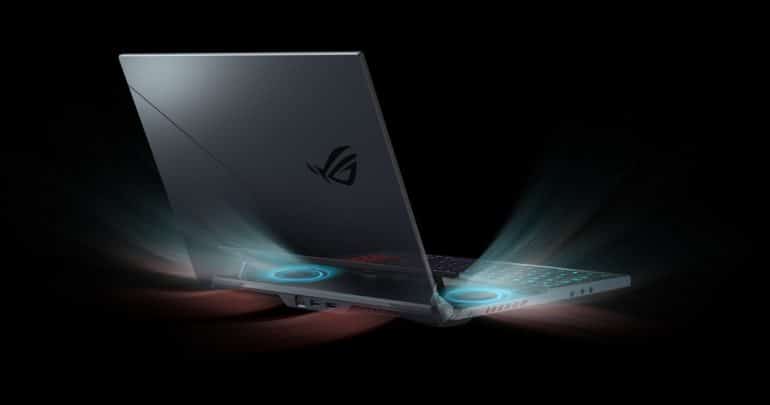 Keeping it Cool
The ROG Zephyrus Duo 15 provides improved cooling technology with the CPU coated in the Thermal Grizzly's liquid metal compound instead of traditional thermal paste, which will feature across ASUS's entire 10th-generation Intel Core lineup.
To provide the optimum levels of cooling across the laptop, the cooling module strategically snakes five heat pipes around the CPU, GPU and surrounding power circuitry to keep heat to a minimum. Each of the heatsinks include ultrathin fins to maximise surface area to dissipate heat and decreasing the resistance to airflow. The design manages to fit 83 blades per fan thanks to the dual n-Blade fans, made from a special liquid-crystal polymer. The technology allows for an increase of 17% better airflow compared to more traditional designs.
Game for Longer
The unit features a high-capacity 90Wh battery, which supports charge via USB Power Delivery. This means users can keep the laptop powered via USB Type-C for the ultimate in on-the-go convenience.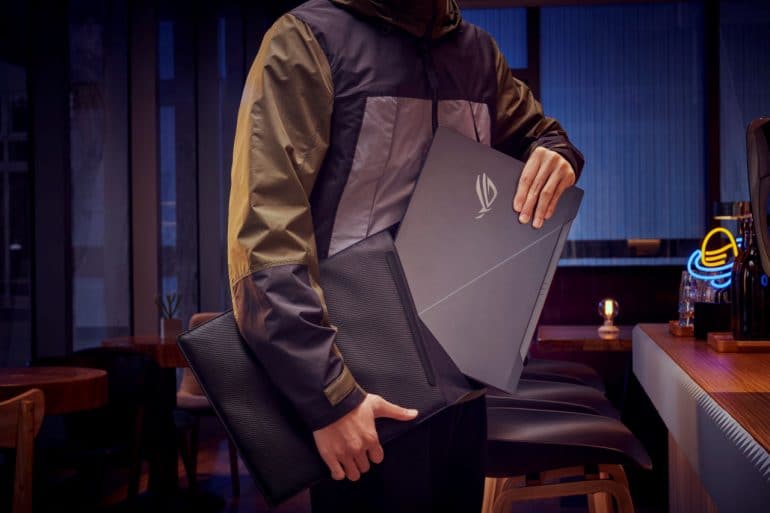 Ultra Portability
Unlike many other gaming laptops, the ROG Zephyrus Duo 15 is very lightweight, weighing just 2.48KG. In addition to this, the unit is fairly compact at 20.9mm thin.
The build features premium quality finishes, including the sleek magnesium-aluminide chassis for an all-metal construction.
When it comes to connectivity options, the device features a wide range of ports and wireless connection options. These include the USB 3.2 Gen 2 port with Thunderbolt 3, DisplayPort 1.4 (to connect a G-SYNC desktop monitor), HDMI 2.0b, x3 Type-A USB, WiFi 6 (802.11ax), ESS Sabre DAC support, Bluetooth® 5.0 and more.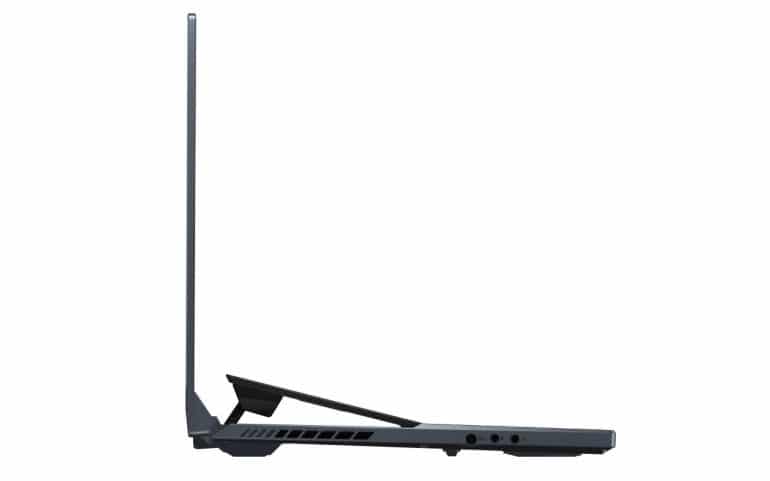 The ROG Zephyrus Duo 15 officially launches in South Africa today (30 July 2020) and retails at a price starting at R89,999.
The laptop will be available online at Evetech.co.za.