In today's world, it's important to offer flexibility in terms of your product design and support. This is true for many modern headphones, especially when it comes to emerging brands. The ASTRO Gaming A10 is a pair of headphones looking to offer just that, flexibility in terms of its support while still keeping the price as low as possible for mass appeal.
ASTRO Gaming is a fairly new brand in the South African market. Having originally launched in 2007, it was one of the leading eSports brands across the globe over the next decade. It was then purchased by Logitech in 2017 and has since been licenced and manufactured under their banner. The ASTRO Gaming A10 by Logitech isn't the first device to land in the country but having reached our shores in March, has been doing quite well.
The A10 is actually the second generation of the product, officially listed as ASTRO Gaming A10 (GEN 2). In a product landscape drenched in variety, performance and price is key to standing out from the crowd when competing against other leading brands. So, how does the new-generation A10 hold up?
Build and Design
The ASTRO Gaming A10 (GEN 2) has a very streamlined-looking design. It's very basic. However, not in a bad way. Its complexities are derived mostly from the earcups, which appear to protrude from the headband as a separate piece. The rest of it has a simpler approach.
What this means is that you don't get any RGB lighting or anything else seen as over-the-top additions. That doesn't mean it doesn't have a few tricks up it sleaves. The device weighs just 246g, making it supremely lightweight. Pair this with the ultra-cushioned cups and you have a very good combination for hours of use without any discomfort. After a few minutes of having it cupped around your ears, you'll almost always forget that they're on. You can go on for quite a few hours while gaming without any issues noted. The cups are also quite large, so I can imagine that they'll also be reasonably comfortable for anyone wearing earrings.
Undoubtedly, its biggest drawcard in the design is its literal flexibility. The construction material is mostly rubber and plastic, which makes it bend quite easily. You can bend the earcups outward – for those with larger heads – pull them a bit longer or even twist them all around – although I'm not quite sure when this will come into any usefulness but illustrates the point.
The left-hand side earcup of the ASTRO Gaming A10 houses the boom microphone. Unlike many other gaming headphones, they don't detach. However, they do fold away neatly to the side when not in use, so they won't irritate you too much. They also offer the same flexibility as with the headband, in case you need to position it at a different angle.
There are a few variants of colours for the A10, with four landing in South Africa – black, white, grey and lilac. Overall, however, they do tend to feel very plasticky. Given its low-cost approach and design simplicity, I wouldn't have expected a lot more in the way of a premium feel, so I didn't feel short-changed here at all.
ASTRO Gaming A10 Setup and Features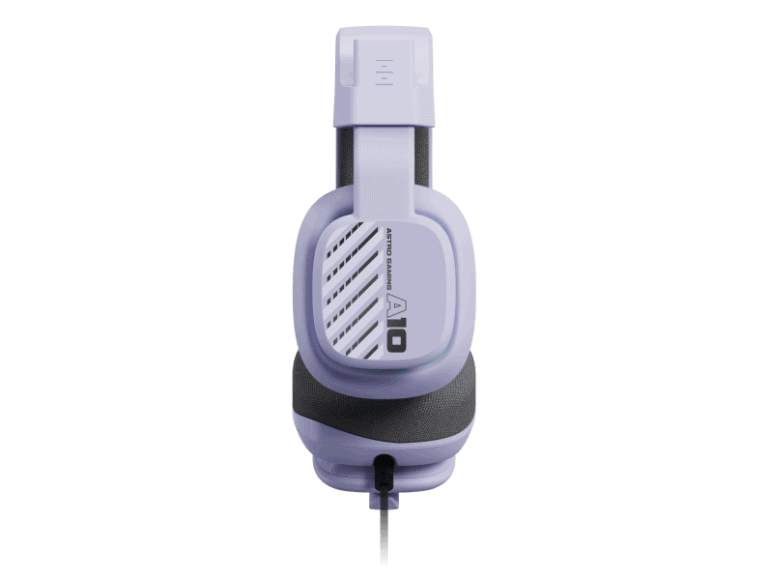 The ASTRO Gaming A10 is compatible with all the leading consoles and PC. This includes PS4, PS5, Xbox Series X|S, Xbox One, Nintendo Switch and even your smartphone. This is one of the reasons the brand was popular in gaming spheres, with its ability to be utilised across different platforms. Its compatibility with multiple platforms is largely thanks to its wired-only approach. With the additional connectors, users can switch between their favourite platforms with a simple plug-and-play.
Delving deeper into the nitty-gritty, the ASTRO Gaming A10 is an analogue headset. This is the key to its underlying compatibility. However, this is also its weakness. As a result of its analogue design, it doesn't offer any modern digital enhancements, such as virtual surround sound and the likes.
The main cable is 2m long, which is long enough for most gaming setups. While there is a big move towards Bluetooth and wireless options in this space, if you're going to go with the wired approach, you better ensure a long-enough cable. And, that's exactly what ASTRO Gaming has provided here.
The cable uses the standard 3.5mm jack to connect, which means that it can plug into almost any device. The wired setup also means that you don't have to worry too much about settings and combability when it is connected. The cable also houses a volume controller for your convenience. It's pretty much the only form of buttons or the likes to add as a reference on the design.
ASTRO Gaming A10 Performance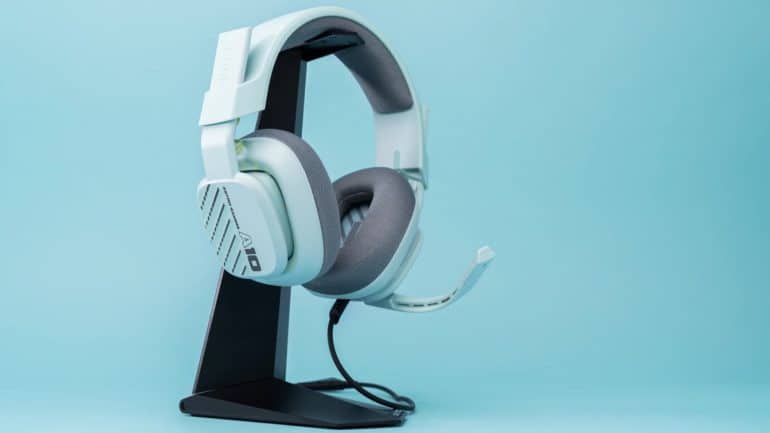 As mentioned in the previous section, the ASTRO Gaming A10 (GEN 2) is an analogue, stereo headset. It is powered by a 32mm neodymium magnet driver in each earcup. Other key specifications include:
Frequency Response: 20 – 20,000 Hz
Distortion: < 3% at 1 kHz
104dB +/- 3dDB AT 1 kHz
DC impedance 32 ohms
When it came to gaming, the sound was clear and precise. You could hear the clarity of gunshots when playing first-person shooters, along with some directionality when it came to enemy fire or footsteps. While it's not as precise as other gaming headsets, the ASTRO Gaming A10 does the job pretty while.
Its stereo sound can be enhanced touch with the likes of a surround sound card, such as on your PC's motherboard. Here, you can enable DTS or Dolby features to offer some virtualisation, which makes it a little more accurate when it comes to the direction of sound in-game. For console gaming, you can also enjoy some of the virtualisations with the simulated spatial audio offered in most modern gaming controllers. However, you may want to tinker with a few sound options before being satisfied with the result, as often the default settings for virtualisation leaves you with faint audio.
When it came to music, it also offered a strong performance. Most of the gains came through the lows with a lot of heavy bass songs being perfectly suited for the ASTRO Gaming A10. The mids and highs, on the other hand, delivery reasonable performances overall. When they're all playing together, the lows will definitely pull through the strongest. However, when listening to some solos on various instruments or voices, you can clearly hear those defined notes in isolation. This means that it switched to a more balanced audio quality when playing all together while adjusting to the specific note as it is played individually.
It does tend to distort somewhat at higher volume levels, especially when listening to music, so you may need to keep it at a maximum of around 75%.
Lastly, there's the microphone. It, too, delivered clear audio. It offered crisp voice notes with a touch of noise cancellation from outside sounds. When these tend to get a bit louder, it will be picked up by the mic but your voice clarity still remains pronounced. It also doesn't pick up any heavy breathing, such as when you're in an intense game and doesn't distort too much either when you get louder.
Conclusion
The ASTRO Gaming A10 (GEN 2) is a very simple pair of headphones. It gets the job done well, without throwing too much in the way of features that would overcomplicate it use or inflate its pricing. It's a well-balanced audio performance, both in terms of gaming and music. However, it's really strength lies in its compatibility with any platform with a 3.5mm jack thanks to its analogue design.
The headphones aren't too badly priced either. At an RRP of R1,199, they're reasonably affordable. With its flexible approach to its performance, it's definitely worth the price.
The Review
ASTRO Gaming A10 (GEN 2)
If you're looking for a well-round but affordable pair of headphones, the ASTRO Gaming A10 (GEN 2) is a solid option, whether you're a gamer or just listening to music.
PROS
Flexible design
Well-balanced audio
Multi-platform compatability
Good bass
CONS
Analogue audio loses some digital enhancements
Distortion at higher volumes
Review Breakdown
Ease of Learning

0%

Ease of Use

0%

Design

0%

Performance

0%

Enjoyment

0%

Value for Money

0%