Taking cues from post-apocalyptic and monster-raising anime, with Astral Chain, PlatinumGames remind us why they are the masters of stylish and satisfying combat that takes place in strange and unique settings.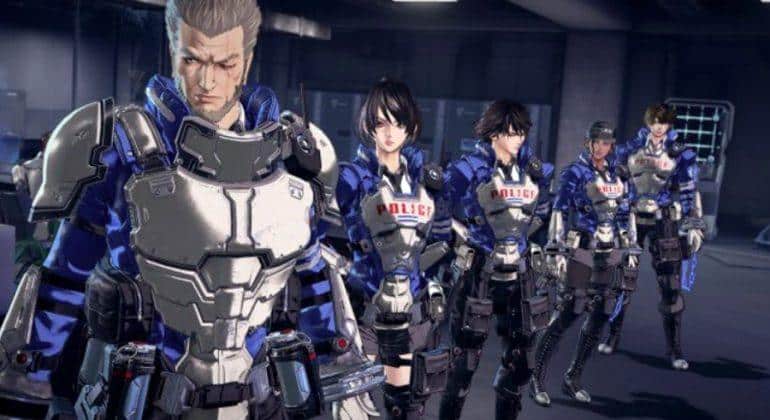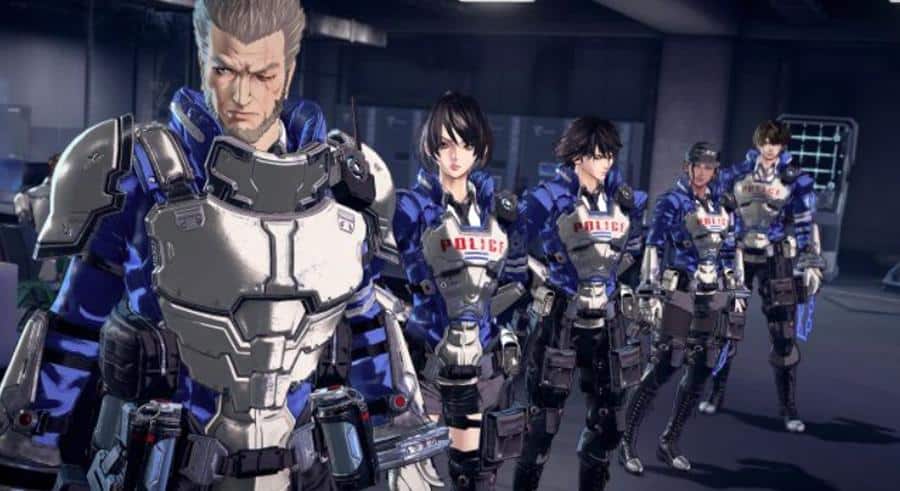 Astral Chain is set in 2078 on a floating construct called the Ark, mankind has abandoned the surface of the Earth because of Chimeras – strange beings from an alternate dimension on the astral plane that spread red corruption and turn humans into infested ghouls. However, despite their best efforts, the Chimeras have begun making incursions into the Ark itself in recent years. Ordinarily, most humans cannot see the Chimeras, making it even harder to combat them, but an elite police force called NEURON has begun to make use of Legions to strike back.
Legions are Chimeras which have been tamed and bound under the control over the officer wielding them, and the officer and Legion act in tandem together in combat to attack Chimeras. This link between the two is symbolised literally and physically by a chain (the astral chain) that connects the Legion and the Officer. You play as a new member of the NEURON team, who joins alongside your twin brother or sister (depending on your character choices).
The physical connection between you and your Legion forms the cornerstone of most of the gameplay. You can recruit several Legions throughout the game, each with their own abilities, strengths and weaknesses, and you can level them up and customize them in appearance to some extent. For example, you have the general-purpose Sword Legion, the defensive Arm Legion, and the long-range Bow Legion. You are able to switch between them on the fly with a button press, and each one has certain field abilities you can make use of outside of combat.
Your Legion will follow alongside you most of the time, but if you hold down the L button, you can control the Legion manually, sending it out to specific points. However, the distance between you is restricted by the length of the Astral Chain which connects you. Controlling the movement of your Legion is how you handle jumping, which is not something you do yourself – rather, you send out your Legion to a particular point, and press another button, and your Legion tugs on the chain connecting you, pulling you through the air towards them. Also, if you wrap your chain around a character, by moving your Legion fully around them in a circle, it will bind them in the chain for a quick stun – applicable both inside and outside of combat with NPCs and enemies.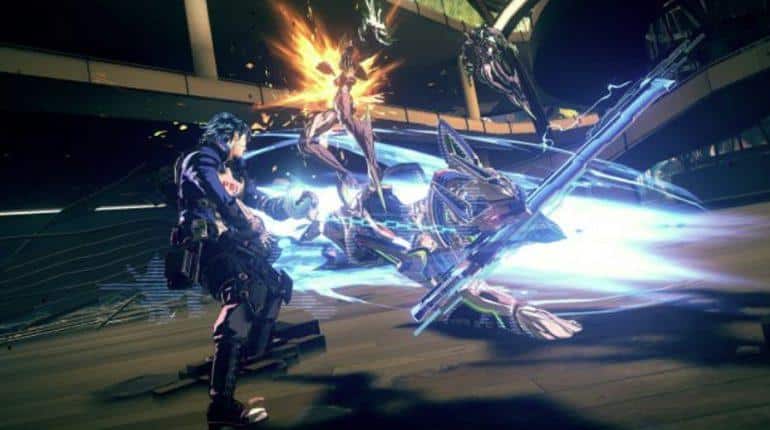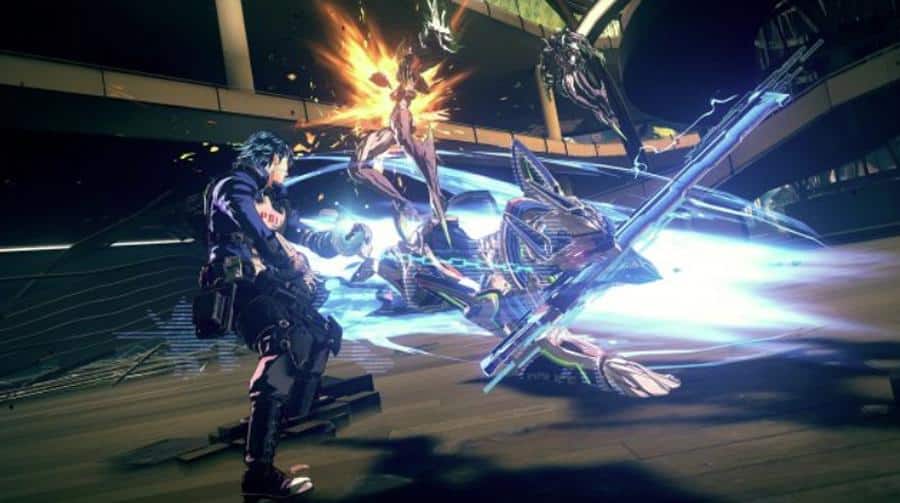 In combat, your Legion will attack automatically whichever enemy is nearest to it, and you are still free to manually move it to another as you wish. There is a feature in the game where another human player can use one of the Joy-Cons to control the Legion while you control the human officer, and this is a very pleasant use of co-op in my experience, eliminating much of the stress you get from when your Legion might run off in the wrong direction and attack the wrong enemy.
Aside from two special moves, you can activate on your Legion, mostly you will worry about your own fighting. Your officer has three weapons they can switch between on the fly: a light sword, a heavy greatsword, and a pistol for long-range. As you level up your weapons, you will unlock more combo potential and moves, but essentially you rely on one attack button, which you combine with a dodge button and analogue stick movement for specialized combos. You have a combo system with your Legion, where certain attacks or movement techniques you do will cause a brief flash on the screen.
If you tap the L button at that moment, you will engage in a more powerful combo with your Legion. The essence of combat is, therefore, positioning yourself and your Legion appropriately, and triggering expert combos with your Legion, while dodging appropriately. When you get it right, you look incredibly stylish and impressive, and it feels oh so satisfying. It's not a very difficult combat system to master, in my opinion, it's easier to do advanced tech than in Devil May Cry, but it does have a surprising amount of depth, and perhaps more than you might feel when you first start the game.
Astral Chain is split into main chapters, called Files, and each File follows a similar routine. You start at your NEURON HQ, which you can explore and engage with all of the humans there, upgrading and buying gear and perhaps doing a few small sidequests. Once you leave for the field, you will find yourself in a specific location, where civilians will probably need your help or there will be a larger problem to investigate. You are, essentially, a fancy policeman, and the citizens need help. These can involve fighting monsters or other more mundane sidequests that are presented in fun ways, like tracking down hooligans or replacing a child's lost icecream.
There is an investigative aspect in the game, where you collect keywords that count as clues and piece them together at key points of the cases, but generally you are not punished for doing anything wrong, but instead just receive a lesser reward at the end of the File. Your Legions can do things like track clues, heal NPCs, or eavesdrop, and you use them in interesting ways in the cases. There are also a number of collectables in each File, each leading to certain rewards.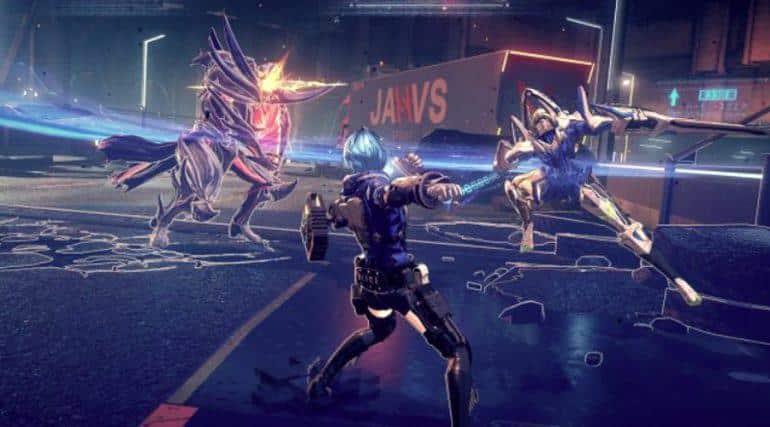 Once you have finished the preliminary investigations, things usually go wrong in some bad way, and you are generally pulled into the Astral Plane at some stage. The Astral Plane looks very alien, very red and geometric, with shifting platforms under you, but it isn't very different each time, and by the middle of the game you will be very familiar with what's expected of you each time you enter, which generally involves either fighting a bunch of monsters or platforming a bit and then fighting a bunch of monsters.
The overall art style and aesthetic are very anime-esque, all the way from your team members' pink and purple hair to the way the monsters are designed. It's definitely not cutesy Anime and has its disturbing moments, but it works well for the subject matter and story being told if you don't mind the tropes on display. I enjoyed how detailed and fleshed out the world felt, but I did feel like the game ended with a lot of questions still unanswered in the plot, and I hope they get resolved at some later stage. It felt like you were engaged in a smaller part of a greater story rather than resolving a big story in its own right. The game is also not the longest one, but provides a solid 8-10 hours for a complete run, with a lot of emphasis being placed on doing missions again on higher difficulties with new Legions unlocked so you can access more areas and content than the first time.
There are four difficulty settings, and the first two are extremely easy. If you want any sort of challenge, then you had better start from PT Normal difficulty, but it's nice that it does cater to both casual and very hardcore players alike.
There are a few irritations which keep this game from reaching the great heights of near-perfection action games in my mind. For example, jumping and platforming can be very fiddly and unpredictable, and you do a lot of it in the game. Secondly, when the action gets intense, if you are anywhere near to a corner the camera will just give up trying, which is quite sinful in a precise action combat game. Also, the setting of the Astral Plane is not that interesting, and yet you spend a lot of time-fighting in it.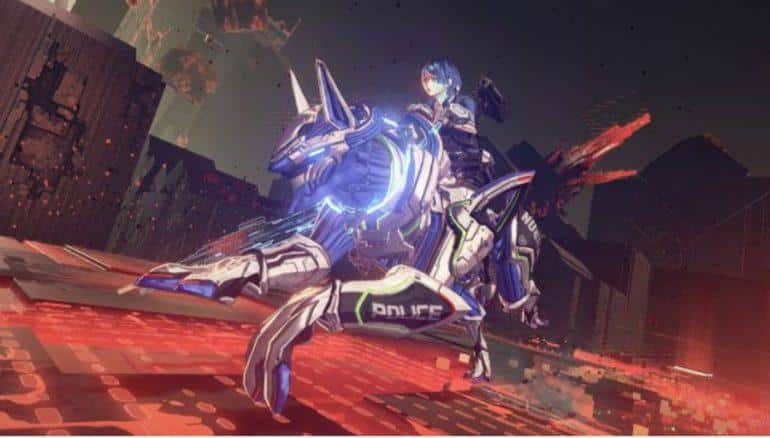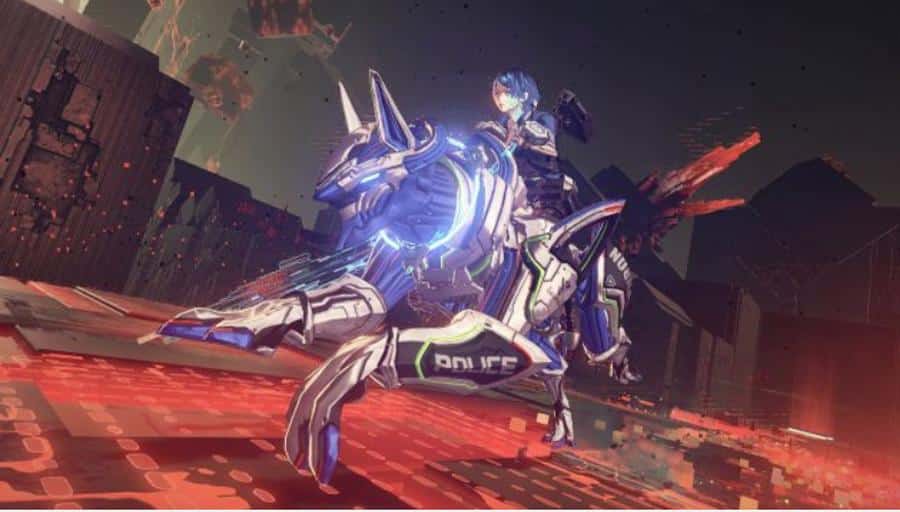 However, on average, Astral Chain is a great new IP, filled with the same kind of wacky flair that Platinum Games have become known for. It has a lot of great ideas, and I hope they are able to make a sequel because so many of those ideas are begging to be expanded upon and refined.
The Review
Astral Chain
Astral Chain is exactly what you would expect from a Platinum Games developed game. It's over the top, fast-paced and loads of fun.
PROS
Satisfying, fluid combat
Innovative method of controlling two characters in combat
Interesting world and setting
CONS
Platforming can be iffy
Camera gets confused sometimes
Some plot points are left unresolved
Review Breakdown
Storyline

0%

Gameplay

0%

Graphics

0%

Replay Value

0%

Sound and Music

0%