Let's be clear, Assetto Corsa Competizione revolutionises the franchise.
When I first got my hands on an Assetto Corsa game, I wasn't sure what it was trying to be. Was it a sim? Or was it supposed to be arcade fun? Still, I loved the fact that I could race in the GT series, then move across to drag racing and spend a bit of time drifting my 1989 BMW M3, then race a classic and finish my session in an F1.
Truthfully, Assetto Corsa was just trying to be a good racing game. And it was.
Also, what I do really appreciate about 505 Games is that they don't feel the need to do an annual release. I do find it a bit frustrating reviewing annual release games, especially racing games because you can pretty accurately predict that every other year is going to move the post forward, while the intermediate one is going to be more of the same. Inevitably I will ask the question, "Is it worth paying good money for what is essentially last years game with a few superficial changes?" The answer is almost always 'No'.
Not so with Assetto Corsa Competizione. We waited a long time for this and then they dropped it on us. Quite honestly, I wasn't even aware it was being developed.
Also, this game could not be more different from the original. Assetto Corsa Competizione is now a super focused GT series racing sim. That's all you can do: race in GT 3 and GT 4. No more drag racing, no more drifting and, I must say, it has been a blessed subtraction.
So what did they do exactly?
For starters, they did an Apple move and ditched trying to develop their own game engine and adopted the Unreal Engine. Good move.
Second, in Assetto Corsa Competizione, they chose to focus on one racing category and I think the GT series was a great decision. GT racing is by far the most visceral racing series out there. I am a huge F1 fan, but GT racing still has that dangerous feel about it. It's loud, the cars are beasts and they are sexy.
Assetto Corsa Competizione actually demands you be good, to the point where you will not be allowed to move on until you have your training sorted. So if you don't get your first practice lap in a representative time, you won't be allowed to move to the next level, which is, do two laps at similar times. Your reward? A practice session for your first race. It could be at night. It could be raining. Suck it up, this is motor racing!
Get that right and you get your first racecar (a Lamborghini Huracan) and you get to race in an actual race. But don't think now you've arrived, the game monitors your on-track behaviour and, if you become erratic or you crash too often or bump other cars too many times, it remembers. If the AI sees fit, you will not be allowed to participate online. How ballsy is that?
Now, it's not quite as sinister as that. The system works on Behavioural Warning Points. A bit like Super Licence points in F1 where consistent reckless behaviour can get you a race ban.
All the usual modes are present in Assetto Corsa Competizione: Single Player, Career, and Classics. It is a racing simulator, so there are a lot of setup options, but nothing like F1 2020.
With Assetto Corsa you could always download liveries for your cars. There is still a huge mod community creating liveries and cars, which is a testament to how good the game is that you have people still doing that. But in Assetto Corsa Competizione, you can actually do it in-game with some pretty cool tools. I think that is a nice touch.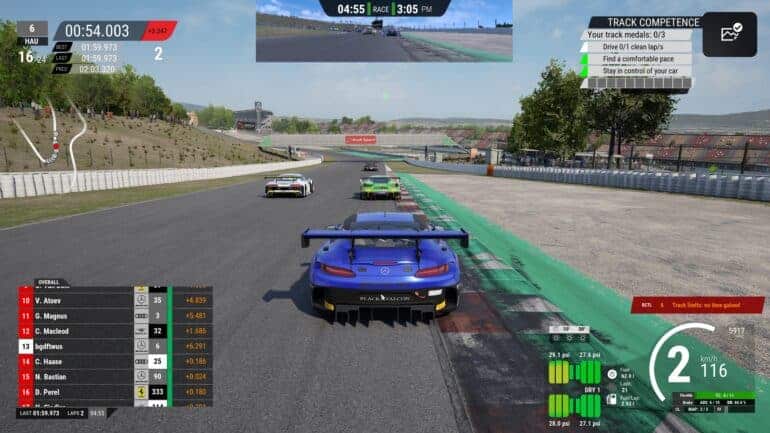 Obviously you expect a huge improvement in graphics when it's been 5 years between releases, but the way everything looks in Assetto Corsa Competizione is just plain beautiful: the tarmac looks real, the cars (inside and out) are spectacular and the sound…
Assetto Corsa Competizione is the best sounding racing game I have ever played, partly because the cars are absolutely monstrous, but mainly the sound fidelity. I played it with my 5.1 surround soundbar and it sounds as good as when I watch the GT races for real. Truly spectacular.
If it isn't already, I think Assetto Corsa Competizione is going to be an e-Sports phenomenon. Because it isn't an 'official' game authorised by the governing body, it may not get the kind of attention something like F1 2022 or the like, but it will attract a lot of very serious racers.
The Review
Assetto Corsa Competizione
It is just a lot of fun -- like playing dodge ball is fun. It has a very serious edge to it.
PROS
Assetto Corsa Competizione is a far more focused, serious racing sim than its predecessor
Looks and sounds brilliant
Some of the best racing physics I've ever experienced
CONS
The unforgiving nature of the game
Had an issue or 2 getting my steering wheel to work
Absolutely a next-gen console game
Review Breakdown
Gameplay

0%

Graphics

0%

Sound & Music

0%

Replay Value

0%