These days DC fans have their pick of toys to choose from. Visiting a toy store, you're bombarded with action figures, memorabilia, statues, Funko figures, miniatures, LEGO sets and at least a dozen more products. Whether you're the average fan or a serious collector, there's a good chance that you'll find something or another that you'll like. For me, personally, it's been Metalfigs, a new line of 100% die-cast figurines that come in various sizes.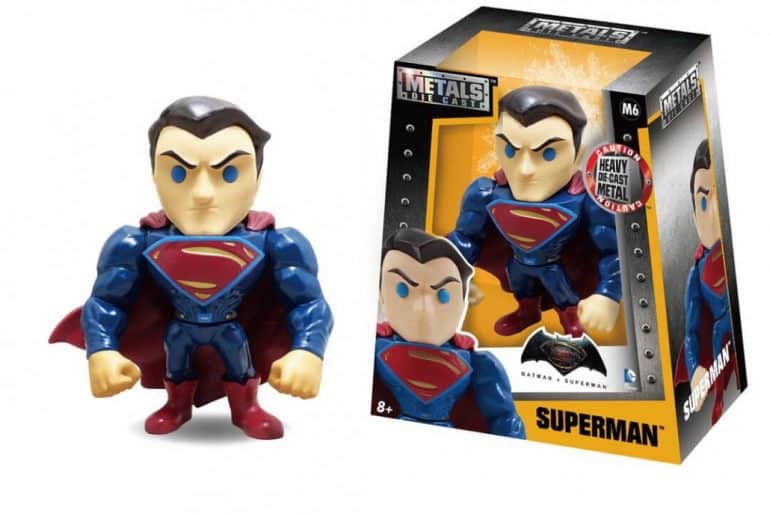 If you're a collector on a budget, these highly detailed, well-painted, heavy metal figures are perfectly suited for your wallet. They are fun, affordable, dependable and, most importantly, they cover a wide range of properties, including DC, Marvel, Harry Potter, Street Fighter, Disney, Pixar, The Walking Dead and many others. Plus, the expansive line comes in various sizes, including 1.6″ (one of the smallest collectables on the market), 2.5", 4", and 6".
The first thing you'll notice when holding the bigger Metalfigs in your hands is just how heavy they are. When the packaging says it's 100% die-cast Metal, they really mean it. The figures are solid, to the point that they could actually be dangerous in the hands of someone like Chuck Norris or Jean-Claude Van Damme.
With that said, you have to wonder if these were made with kids in mind. Their brightly coloured paint and distinct cartoon-like shape are a little misleading as the figures seemed to point towards being a collectable rather than a toy. This is possibly the case as there is a stand sculpted to the bottom of the feet and hardly any articulation to the figures either, which means they're meant to be displayed rather than fiddled with.
The Nano Metalfigs, of course, are a little different. They're tiny in comparison (small enough to carry in a pocket) and are less likely to cause harm during playtime. But don't let their sizes fool you, these glossy micro collectables are still full of detail and often are authentically styled to their movie or comic book counterparts. Plus, they come with awesome Nano Scenes, which are basically playsets modelled around the characters to showcase collections. For example, the Batcave (which has a light up Bat symbol) or the Gryffindor Tower.
One thing you've got to give Jada Toys, the company that manufactures these figures, is that they have really managed to inspire a "I've got to get them all" mentality in collectors. With so many different pint-sized characters to choose from (which come in various costumes and colourways), they really look great when displayed on a shelf or desk. They make a great gift for DC fans young and old.
Are Metalfigs the next must-have collectable toys? It certainly seems so.
Enter our Prima Toys competition to stand a chance of winning some of these awesome toys.
Prima Toys is the sole importer and supplier of a wide range of Metalfig Die-Cast products in South Africa.