Netflix is quickly becoming home to some of TV's best supernatural horror series. Stranger Things, Midnight Mass, and The Haunting of Hill House all went on to attract record viewership for the streaming giant. Now, their latest found-footage horror TV show, adapted or "loosely inspired" from a series of podcasts of the same name and executive produced by The Boys' Rebecca Sonnenshine and horror legend James Wan, is hoping to deliver suspense, jumps and thrills to those same viewers. But does Archive 81 live up to the hype?
What is Archive 81 about?
Lost tapes and horror go together like copy and paste. And that's something you'll sense a lot as you binge the eight episodes of Archive 81. The show borrows a few tropes and story ideas from familiar sources, like The Ring, The Blair Witch Project, The Shining, Rosemary's Baby and perhaps even James Wan's own Malignant. You've seen this before, but it's nicely blended and worked into one pot.
Archive 81's story is split into two timelines. One story (set in the present) follows Dan Turner (Mamoudou Athie), a video archivist who is hired by a mysterious millionaire to restore VHS tapes damaged in a fire. The other story is set in the '90s and follows New York University student Melody Pendras (Dina Shihabi), who films her supernatural experiences (and those of her sketchy neighbours) at The Visser, an apartment complex with a creepy backstory.
As Dan restores more of Melody's tapes, he realises that there was something sinister behind the fire and the deaths of the apartment residents. But even more than that, it seems like Dan's own personal story of tragedy is linked to the events too.
Will restoring the tapes bring about a personal restoration or push the archivist over the edge?
Is it scary and should you watch it?
As the story unfolds, Archive 81 throws everything and the kitchen sink at its viewers in order to remain "creepy". There's a sense of dread as we witness cursed artwork, possessed children, abandoned ruins, cult gatherings, apocalyptic prophecies, hellish figures, mysterious murders, bizarre historical events and the works. It certainly packs a punch, with each chapter building on the horror of the previous episode.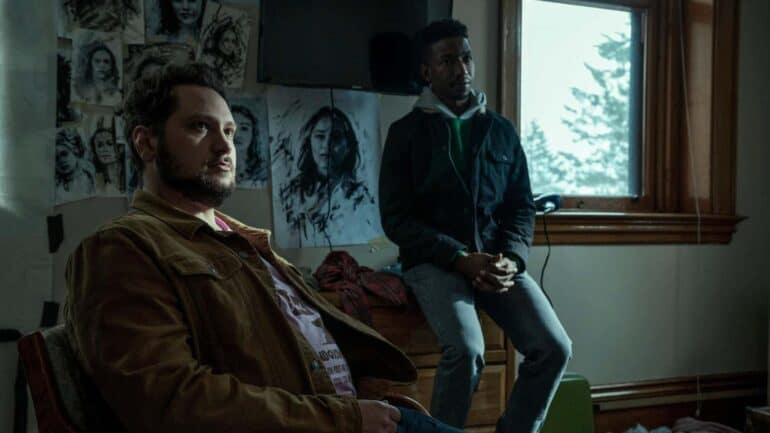 But that's not to say it's incredibly scary either. There aren't jump scares around every corner. Most of the episodes are really slow and only build towards horror moments in the last 10-minutes or so. It's an uneasy horror rather than a terrifying one.
To put it another way, you probably won't need to sleep with your lights on after viewing.
Instead, what Archive 81 does well is deliver haunting character-driven mysteries. This is solidified by really good sombre performances by the show's leads. Although Dina Shihabi's character is far more interesting to watch, you can't help but feel for Mamoudou Athie's Dan.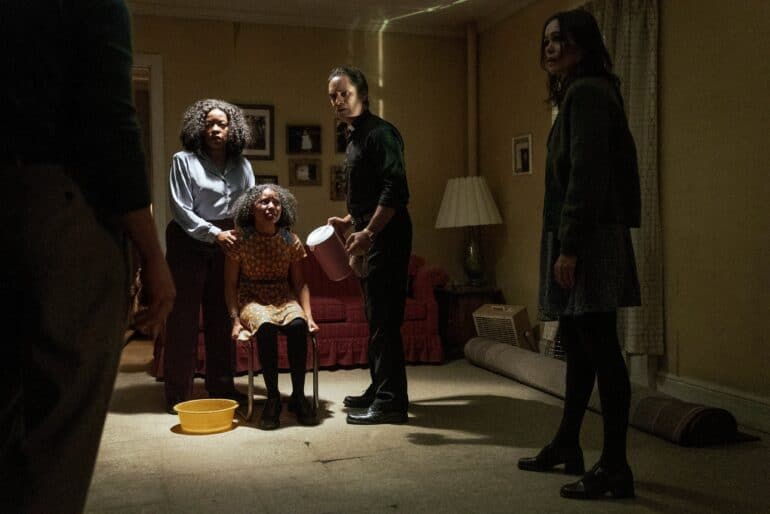 Further to that, the show's production is top-notch. The haunting visuals of dimly lit hallways and haunted-house architectural staples are well shot and help immerse the audience into the chilling world.
But, overall, Archive 81 (which drops on Netflix on January 14) requires a lot of patience. It's long, drawn-out and there are occasional missteps. Those who are willing to invest the time will be rewarded with an engaging story that unfolds like a good horror novel. Those who aren't will quickly find themselves bored.