In a world where Marvel and DC fans argue over some nonsense or the other, Archie Comics quietly builds its reputation as one of the most consistent publishers in comics. Founded in 1939, the company has shown its resilience and ability to merge the past with the future—something other publishers have struggled to do.
Classic Archie Comics
When you think of Archie, those super-thick digests are what likely come to mind. You know, those bite-sized tales of Archie Andrews, Jughead Jones, Betty Cooper and Veronica Lodge and all their adventures in Riverdale that you spent hours poring over. While those digests continue to be published to his day, Archie Comics understood there was a need for a new direction with its main line of comics.
Now, redesigns and reboots are never popular among readers. Archie wasn't exempt from the outrage either, as many fans reacted negatively to the new look and direction of the comic book. It was an American dynasty, after all. The publisher rode the wave of outrage and let the book do the talking. Written by Mark Waid and Fiona Staples, Archie modernised Riverdale's teenagers for a new generation. The book contained all the heart and relationship drama that Archie had been known for, but made it feel more relevant for modern-day teenagers.
It didn't stop there, though, as Archie Comics continues to produce some of the most outlandish concepts that simply work. Things like Vampironica, Jughead's Time Police and Archie vs. Predator capture the spirit of classic American comics and how anything is truly possible in the medium. It's fresh, bold and something different from everything else out there.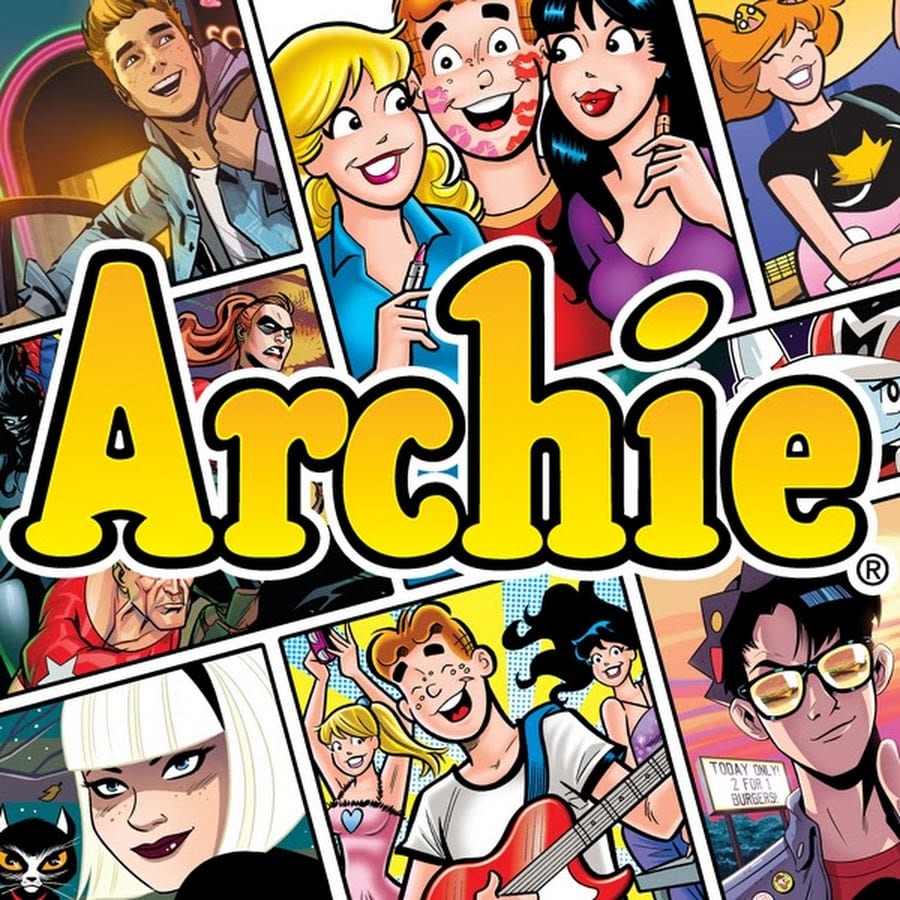 Of course, you cannot ignore the strides that Archie Comics have made in television as well. Riverdale continues to be one of The CW's most beloved series, turning the cast members into superstars, while Chilling Adventures of Sabrina is a firm favourite on Netflix. Katy Keene is a newcomer on The CW network, but it has already received the order for more episodes and has successfully expanded the Riverdale Universe.
While Archie Comics isn't competing in the same financial playing field as Marvel and DC, it's shown it can remain relevant throughout the ages. To this day, publishers grapple with how to satisfy the older fans while attracting new ones, but Archie has already cracked the code a long time ago. Make no mistake about it, the ginger, freckled teenager from Riverdale has earned his place in the pantheon of comic book legends, alongside the likes of Superman, Batman and Spider-Man.
Riverdale Rising: The Creative Turnaround of Archie Comics
When I was a kid, I read a lot of Archie comics. They were parent-friendly, cheap and most of all, easily available on the shelves of CNAs, supermarkets and Greek-owned corner shops everywhere.
Like most people, I stopped reading when I got little older and got tired of same storylines and one-dimensional characters. A new generation should have sprung up to replace me, except it didn't. Supermarkets changed and corner shops started disappearing. Even the CNA no longer had piles of digests to choose from.
Suddenly, Archie's biggest problem wasn't that he couldn't choose between the two hot girls chasing after him – it's that the world had moved on without him. Once, Archie used to sell hundreds of thousands of books. Nowadays, not so much.
What do you do as a publisher when people stop caring about your most iconic character? The obvious answer is to modernise, but this is Archie we're talking about. Barring the odd visit from the Punisher or turning Jughead into a time cop, it's never been one to tinker with a decades-old formula.
Except that's exactly what it started to do. It started small, with a few unusual crossovers where the gang met KISS and Archie started dating Val from Josie and the Pussycats. Nothing too outrageous, but they sure did make for pretty alternate covers.
And then Kevin Keller arrived in Riverdale and got his own book. Now his was genuinely surprising: a gay character in Riverdale, the very picture of wholesome family values straight out of the '50s? Weirder still, he wasn't just some token one-shot character there to deliver a preachy message about prejudice and score cheap progressiveness points before disappearing forever. The world of Archie was starting to shift in a tangible way.
Then there was Life with Archie, the miniseries that dispersed with the eternal tug of war between Betty and Veronica and showed us what would happen if he married either of them. The eternal teenagers of Riverdale finally got to grow up and face adulthood, disappointment and even death.
The weirdest twist in the Archie tale was still to come. Who could've predicted that there would one day be an Archie horror comic for mature readers illustrated by Franco Francavilla? Take a second and marvel at the fact that we live in a world where an Archie comic features the gory deaths of main characters, overt incest and marriages to elder gods.
The existence of books like Afterlife with Archie and Chilling Adventures of Sabrina, hammer home the extent to which the publishers are willing to experiment with their beloved characters. These books work, and sell, so well not despite the setting but because of it. Seeing the hokey characters you've grown up with get given actual depth is incredibly satisfying.
Archie's never exactly been your typical comic book, where publishers turn to events, reboots and deaths of major characters. This has made the latest announcement, where the main Archie line will be relaunched, all the more shocking.
Until now, most of Archie's development has taken place in alternate timelines. The relaunch will change all of that, rewriting a 75-year old status quo. This is like tweaking the formula of Coke itself.
The most exciting part is the talent involved: Mark Waid. Fiona Staples. Adam Hughes. Chip Zdarsky. Are you kidding me? These creative teams are a statement from the Archie Books that these are no longer the cheesy, old-fashioned comics you used to buy in the corner shop.
I Have A Dark Secret: I Used To Read Archie Comics
Yes, amongst all the superhero comics I could get my hands on, I'd pick up some issues and those smaller collected digests of Archie comics. My sister liked them too, even if she's not really a comic book fan, which was cool. I liked their humour, which was cool too. I liked Jughead and Moose, loathed Reggie, thought Betty was the perfect girl next door I'd like to be with and I had a major crush on Veronica Lodge. But I liked Archie, even though he was a bit of a goof. Hey, I was a kid, what did I know?
Actually, I knew it wasn't really all that funny. I knew Jughead was a slacker with an eating disorder, and that crown he wore on his head was ridiculous. I knew that Betty was too good to be true and that Veronica would be what's now considered as high maintenance. I definitely knew why Archie had a problem choosing between Betty and Veronica, even if the answer should have been obvious. I also knew that I got them because they were harmless fun and were some of the only comic books easily available at the time here in South Africa.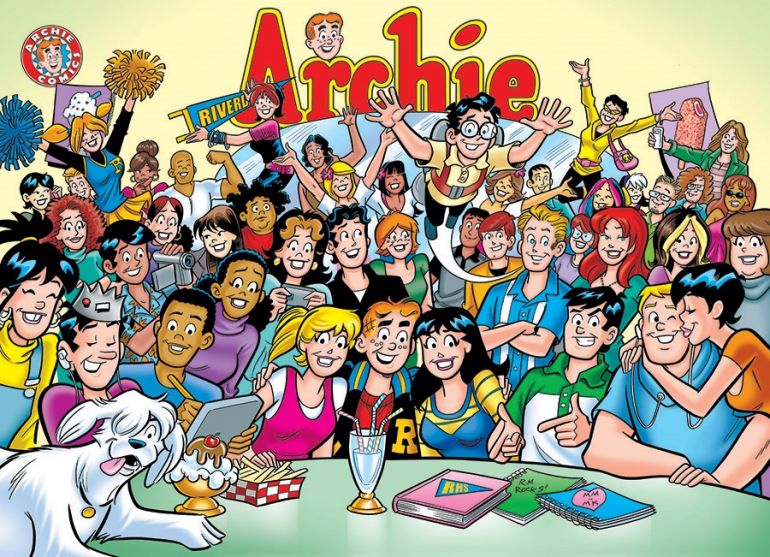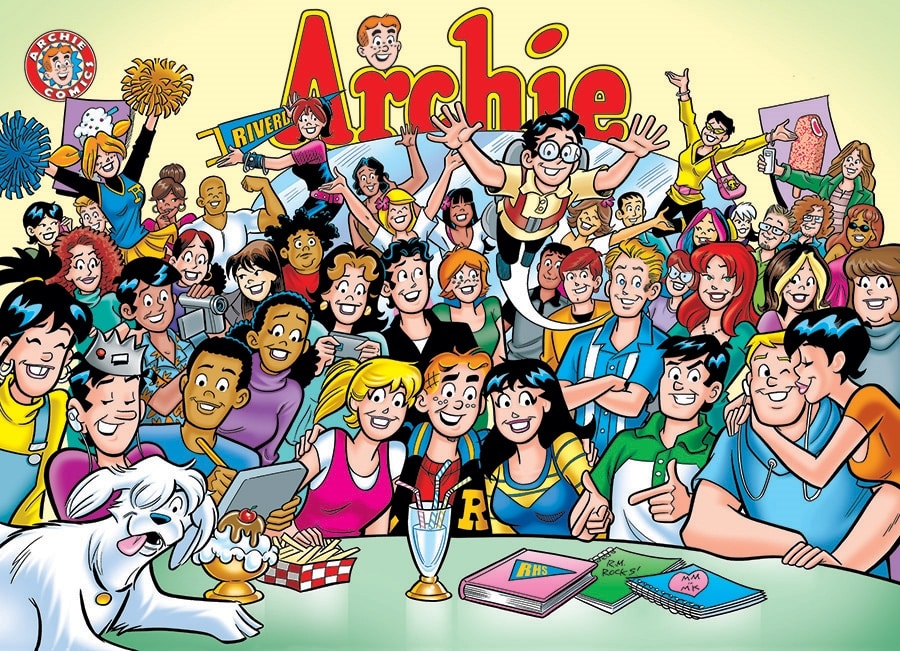 Over the years that changed. I outgrew Archie Comics quickly. Superhero comic books were slowly becoming easier to find, and I left the Riverdale gang and that whole universe of characters behind at Pop's Chock'lit Shoppe. They didn't disappear from my life entirely though; I watched the Sabrina TV series, eagerly purchased a video of the animated Josie & The Pussycats show, and Archie's face was on one of my T-shirts… but that was more out of my enjoyment for kitsch.
Ah, and then there was the take on the main Archie comic characters in Kevin Smith's Chasing Amy.
It was funny, twisted… and (I thought) highly disrespectful. It made me laugh though, and it's one of those typically mad fanboy conversations that we've all had at some point. It was crude and, clearly, just one character winding up another on the big screen, so I didn't mind too much. Why should I? Archie and his entourage weren't my concern.
Still, I never quite forgot about him. I also heard over the years that Archie comics had changed quite a bit. They'd been updated, with a more modernised Riverdale that's more in keeping with the real world. The characters had mobile phones, better clothes and had to deal with more current issues. Gone were the goofy, slapstick days when Archie's biggest problem was racing between two separate dates with Betty and Veronica that were happening at the same time. I even flicked through some of the comics, and all the rumours were true. Things had changed.
Sure, I didn't start collecting them again. Actually, in the strict sense, I never collected them; I just bought and read them. But I'd also point out to anybody who sneered at the Archie section at my local comic book store that they shouldn't dismiss them out of hand. I may not have bought them myself, but I did encourage people to start thinking about them in a new way.
Then I heard the news that Archie Andrews, the kid who reminded me of Jimmy Olsen only without a signal watch, was going to be killed.
I've seen things like this before. Superman got killed. Captain America got killed. It's become a bit of a cliché. It's always boosted sales and interest in their titles and I understand that usually it's a combination of good storytelling and smart marketing. Or, to be more precise, a stunt. Many of my favourite characters have been killed over the years and, unlike some of the bigger guns, those ones haven't even come back. But Archie?
Okay, that one I didn't see coming. Granted, it's in a potential future universe and the teenage Archie is still kicking around with his friends in other titles, but it's still a pretty big deal. It also proves that the Archie comics have changed a lot over the years and are definitely worth a look. His death doesn't really affect the regular stories, but there's something about it that's struck me as being far more important:
He died as a hero.
Archie didn't wear a costume to fight crime. He didn't have superpowers because he was an alien from another world, or from being given a super-soldier serum. He's always been just some guy and, in this case, he was trying to save the life of his friend from being shot and took the bullet himself. His motives were pure and his sacrifice was genuine. Something like that says a lot about a person, fictional or not.
Since my first reaction was shock and my following reactions have included writing this, it's probably easy to figure out that it dawned on me how Archie Andrews meant more to me than I first realised. He was a part of my childhood, after all. I did buy the T-shirt, and I did feel lousy at the comments in Chasing Amy… So yes, I guess I wasn't as far removed from Riverdale High's everyman as I thought I was.
I even realised that since he was mentioned in Kevin Smith's film at all just shows how much a part of popular culture Archie Andrews is, and Banky Edwards' response to hearing the character being defiled is a strong testament to me not being alone on this… even if Banky's just a fictional character too, his dialogue was written by a real guy.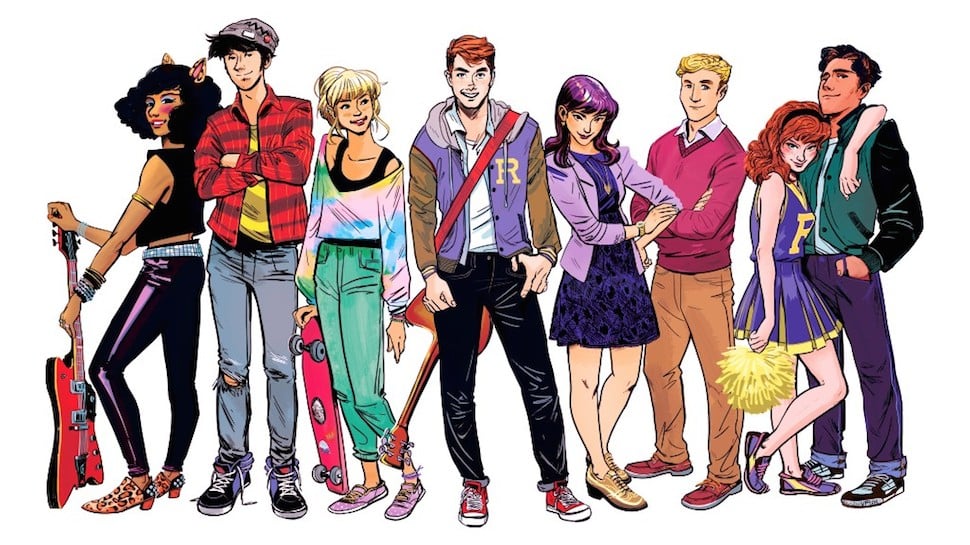 Why we read Archie comic books is up to us. Maybe it's the comedy, maybe the situations he finds himself in, it doesn't matter. There's a part of him that's just like us in some way, because he's normal. He's clumsy at times, silly, makes rash decisions when it comes to the people he likes, and helps his friends – or even saves them – when they need it most. There are no superpowers involved because he doesn't need them to be normal or a hero.
That's why he's the Man of Real, and that's why we should care.
A new era of Archie is dawning. Will you be there for the Riverdale revolution?