RLJE Films has released the first official trailer for Archenemy, which stars Joe Manganiello as an inter-dimensional hero.
The story follows Max Fist, a man claiming to be a hero from another dimension who fell through time and space to Earth, where he has no powers. No one believes his stories except for teen siblings Hamster and Indigo, who want to help him be a hero. After some convincing, the unlikely team takes to the streets to wipe out a local drug syndicate and its vicious crime boss known as The Manager. That's were Max's abilities are put to a harrowing test.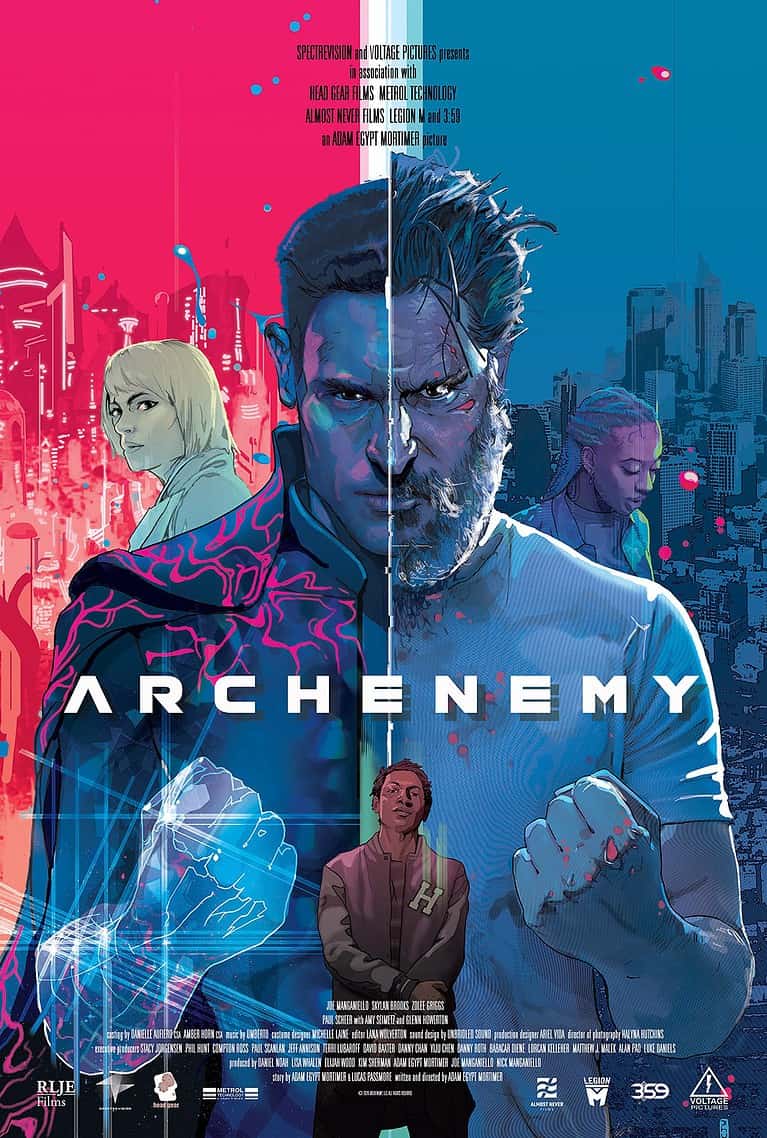 Archenemy is written and directed by Adam Egypt Mortimer from a story he developed with Lucas Passmore.
When speaking about what inspired him to create such a unique hero, Mortimer said…
"I started thinking about Archenemy five years ago, asking questions like: What if Repo Man had a superhero in it? What if Wong Kar-wai directed Superman? If Doctor Strange lost his power, would he turn into The Punisher? What if… Leaving Las Vegas, but Leaving Gotham City? What if you had long-gone glory days like Randy 'The Ram' from The Wrestler but those days were in the past, but in a different dimension on the other side of a black hole? Would that life even be real?"
"Would it be any more than a big-talking bar story that erodes into memory, then delusion, then the spasms of madness? I wanted to see how these questions would affect the film aesthetic of a superhero movie. To see the genre enter its own unexplored dimension, to experiment with how we see, and how that makes us feel."
The trailer begins with Max recounting his glory days. However, his life on Earth is anything but heroic. After he encounters a teenager who is genuinely curious to hear his tale, things change. But when a gang of thugs threaten the teen and his family, Max is forced to take action and things swiftly devolve into a blood-soaked brawl.
Joe Manganiello stars as Max Fist alongside Skylan Brooks as Hamster, Zolee Griggs as Indigo, as well as Amy Seimetz, and Glenn Howerton.
Producing duties are being handled by Daniel Noah, Lisa Whalen and Elijah Wood for Spectre Vision. Manganiello and his brother Nick also serve as producers on the project via their production company 3:59. Kim Sherman and Mortimer are also producers on the film, which was financed in part through Legion M, Head Gear Films, Almost Never Films, and Voltage Pictures.
Archenemy will be available on Demand and in theatres on December 11, 2020.