A huge battle is raging. Aquaman is riding a giant war-seahorse. He charges at the villainous King Orm, who is riding a prehistoric Liopleurodon into battle. The beasts of the ocean swirl and charge alongside our hero, as below these two, a battle of epic scale unfold. It's bombastic and ridiculous – and it's movie magic. I love it.
Aquaman is quite easily my favourite DC superhero movie, and is a damn sight better than many of the play-it-safe, stick-to-the-formula Marvel movies. It's aware of how to honour its source material but also knows how to be a really entertaining movie. It embraces the features and potential of its medium in a way that shows thought and consideration.
Of course, at the end of the day we are talking about a CGI spectacle with fish-men under the ocean. Naturally, there will be plenty of people that turn their noses up at this. However, for me, it's for reasons like this that our movie making has gotten to the stage where it has. A huge spectacle feature as a summer blockbuster doesn't have to be a bad thing just because it's entertaining and little else. There's much to be said for entertainment that can enthral and transport you across worlds for 2 and a half hours. Thank you for coming to my TED talk.
Aquaman is quite easily my favourite DC superhero movie…
When you read Aquaman as a plot summary, you may well think that it's lacking in imagination, but this is proof that the success of a story can lie in the journey as much as the destinations. The story is predictable, and the plot twists, such as they are, are easily telegraphed and should surprise no-one over the age of 8. But, that's okay. The hero's journey and myths that inspired superhero comics were always predictable, but we were excited by them anyway. No one comes into an Aquaman movie wanting to see a plot twist where Aquaman fails and loses, and we cheer when he succeeds. It's not fancy, but it taps into some basic feeling we all share from our earliest storytelling days. Man of Steel, for all its Christ imagery and angst, didn't understand that, and changed what was already a classic story for the worse.
The story, such as it is, is that Queen Atlanna (Nicole Kidman, in a willowy, ethereal role), of the underwater kingdom of the Atlanteans, flees an arranged marriage to a tyrannical king, and washes up on the shores of a simple lighthouse keeper's home. They fall in love, and she bears him a son – Arthur Curry (Jason Momoa as an adult). Sadly, the threat of Atlantis returns and she must return to her kingdom until it is safe. Arthur grows up, and becomes the fabled meta-human Aquaman, who, one year before this movie properly starts, helped save the world from Steppenwolf, in a different movie that I shall not utter here, lest its awfulness infect us all. Meanwhile, Aquaman's half-brother and new king of Atlantis, Orm (Patrick Wilson), seeks to unite the 7 underwater kingdoms, and attack the surface world. Mera (Amber Heard), a princess, comes to find Arthur for help, as he is the only one with the royal right or power to stop Orm. The rest of the character list is rounded out by Willem Dafoe as Vulko, a vizier of King Orm and Arthur's childhood mentor; Dolph Lundgren as Nereus, Mera's father, and Yahya Abdul-Mateen II as Black Manta.
…the story also doesn't get bogged down in typical origin story stuff…
Aside from the earlier scenes of Arthur's parent's romance, the story also doesn't get bogged down in typical origin story stuff. Aquaman begins his movie as an experienced and rounded person, and any background stuff we need to know is covered by a few scant flashback scenes, which are fine, or by expositional dialogue that doesn't sound condescending to the audience (None of this "as we all know, but let's explain to the audience" stuff that I hate personally).
Fitting with the plot, the same simple fact is true of the characters – none of them are especially complicated, and their motivations are simple, but they are powerful, relatable and effective motivations. We know exactly why each person is doing what they do, and these reasons go beyond simple comic-book fare like "wanting to destroy/control the universe/dark magic/strange portal, etc." The characters here have human feelings that we can understand, feelings which are established early on, and it lends weight to what comes as the plot progresses. Orm may not be the most effective villain in what he ends up achieving, but he shares a lot of DNA with Loki, who is regarded as one of the better Marvel villains, even though Loki is slightly overplayed at this stage. Wilson does his best with the role of Orm, and he doesn't quite nail it the way that Hiddlestone did with Loki, but, at the same time, we do have moments of feeling proper emotion from his character that puts him leagues above So-And-So the Destroyer of Xandar and Lord of the Dark Elves or whoever.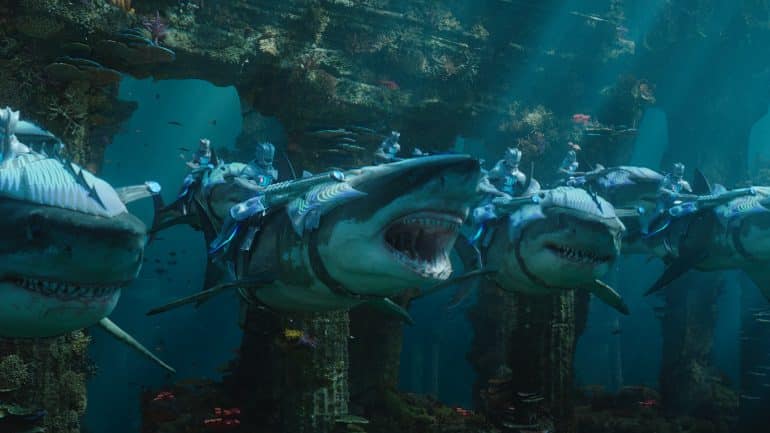 It's the best realisation of the possibilities of an undersea world for fantasy that I've ever seen in a live-action movie.
Where the movie really shines is with the visuals and direction. It's the best realisation of the possibilities of an undersea world for fantasy that I've ever seen in a live-action movie. The ocean is utilised to its best potential here, as a vast, alien, fantastical world that exists beyond our knowing or comprehension. There's a montage where Aquaman first travels down with Mera that has shot after shot that makes the ocean look like an alien world from some alternate dimension, and yet it fascinates me. It's a world that makes the surface world above seem so small and pointless once you're down there. In general though, whether it's above or below the ocean, there's so many shots in this movie that seem exceptionally well-composed and designed to be both visually striking and iconic in either motion or as a still. It's these touches that raise a film from a CGI mess to a wonder of the medium.
There are also so many small touches that make the underwater kingdoms feel unique and interesting and distinct, in a way that reminded me first of Wakanda from earlier this year, but which later on I thought was also similar of the better efforts put forward by George Lucas. Indeed, some of the costuming seems to have come straight from the prequel Star Wars, but its these choices and other additions to the cities that makes them feel lived in – as though real cultures exist here that have real history behind them, and which are not just set-pieces for the movie happening now. This extends to the various armies and soldiers of the different nations, as they all have things that make them feel like different fantasy races, whether they are mer-men or crab-people (Ancient memes surface in my mind: "craaab people, craaab people…").
The action scenes also require some lavish praise, in my opinion.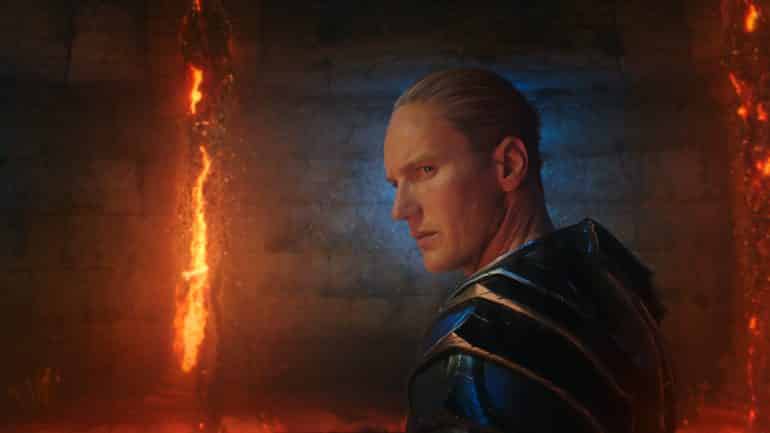 The action scenes also require some lavish praise, in my opinion. Several of them take place either underwater or on land, but in either situation, they are a cut above the usual standard I've seen in such films. There's a great understanding of space, choreography and momentum involved here in all cases. In the water, firstly, it must be remembered that it is similar to Outer Space – the 3rd dimension is available in a far greater way than it is in normal settings. Aquaman understands this, and people move in the water that uses it to its full potential. Fights can now happen in almost every direction, using every part of the body as you twirl and spin and shoot around. It's almost anime-like at times (in a good way). Throughout this, tracking of the characters and their movements happens very well, and we never lose sight of them in what might otherwise be very busy scenes. The same attention to detail happens on land, where the hits feel powerful and kinetic, and in a scene where two heroes are separated and fighting different enemy soldiers in a town, we see the back and forth and interaction as we switch between their two fights and their movement in a way that feels very authentic, and entertaining to watch. It's at times like this that it feels like a strange mix between the choreography of John Wick and the running and fighting of Jason Bourne films. There are only a few fights like this in Aquaman, but they are always spectacular when they happen.
Aquaman does commit some of the same sins as other films in its medium, and the main one is being somewhat bloated.
Alright, that's quite enough of that now – let's have some criticism and nit-picking. Aquaman does commit some of the same sins as other films in its medium, and the main one is being somewhat bloated. Black Manta is introduced at the start of the movie and returns later, and he is thoroughly irrelevant to the plot. He should have been removed and left as a tease for the sequel, as that is effectively what happens here anyway in the end. He looks cool and fights cool, but he really isn't important to what's happening.
There is also a minor subplot where Mera learns that the Surface World isn't so bad, and she slowly starts to fall in love with Aquaman. Look, it's not the worst comic book romance I've seen in a film like this, but it's also strictly speaking not necessary. This ties into my next point – another side plot leads the story on a brief Da Vinci Code-esque search for clues and mysteries on the surface to find the magic plot device. My point really is that the Mera and treasure hunt stuff is fine, but this happens just after we are shown some of the Underwater Kingdoms, and I wanted to stay there and learn and see more, not get yanked up to the surface. Mera may need to learn about humans, but I want to learn about Atlanteans, and I'm the one who paid for a ticket to this movie. In a particularly egregious example, we go straight from the underwater world to the Sahara Desert for an extended scene, literally the polar opposite of what I was invested in just now. This does all lead to the spectacular fight scene in Sicily, so I kind of forgive it for that, but some fat could have been trimmed here.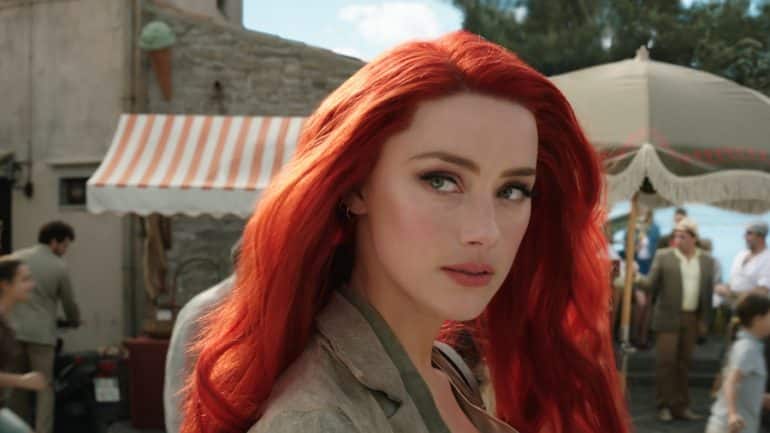 The dialogue is also serviceable, but not amazing. I'm still trying to decide if Jason Momoa is a great actor or not, and whether that is his fault or the dialogue. There are only a few actual jokes, but some land and a few don't. What he does have though is fantastic physicality. There are only so many camera tricks you can use to make Tom Cruise or Vin Diesel physically tall and imposing in their fight scenes and none of that is necessary with Momoa.
I'm still trying to decide if Jason Momoa is a great actor or not…
Last of all are a few nitpick things – The movie doesn't track its geography or timeline very well, within itself. Maybe other people won't care about this, but I do, so leave me alone. Firstly, the Atlanteans supposedly sank below when the rest of mankind "still believed the Earth was flat." Someone throws out the number 1000 years. Fine, but a little too recent in time to be believable. Later, a plot device presents itself with the lost Atlantean nation that lived in a shallow sea that could only have existed between 5-7 million years ago, and this supposedly happened after they sank. Some of the plot device-Da Vinci Code quest uses a clue given by the first king of the Atlanteans, who somehow based the clue on a statue of King Romulus of Rome, who existed about 2750 years ago himself, let alone who knows when the statue was made for the clue. So who knows when anything happened. It is a bit all over the place, but you have to be a nerd, like me, to notice.
The one instance where geography fails is when Aquaman looks out from Sicily towards the Mediterranean and sees a spot of ocean he must travel to, which is directly due south. After some scenes and breaks he ends up there, and it is now a violent, storm-ridden tempest area that looks a heck of a lot more like the North Atlantic than anything else. It is also supposedly enormously deep with massive trenches under it, much like the Atlantic could realistically have too. The Med, by comparison, is a relatively shallow sea, and the distance travelled by Aquaman would have meant that he would be sitting in the middle of Libya in real life if he had gone the direction he had said he would. Anyway, geography is tough, but I would have figured a film about the oceans would get which ocean they were in right.
All in all though, Aquaman really impressed me. In a year where we were inundated with superhero movies that in various ways tried to expand or reinvent the wheel, Aquaman manages to capture some magic with only a few simple attention to detail points – great cinematography and framing in shots, excellent ideas of space, movement and energy in fights, a lot of labour of love and effort put into creating the cultures of this world, and a story that draws on epic and mythic overtones to give us a universal story of heroism. It feels like it was made by people that care, which I think is the most important part of this entire exercise.
It feels like it was made by people that care, which I think is the most important part of this entire exercise.
I watched it on IMAX and, while the 3D wasn't really relevant, the huge screen really helped bring it all together as a spectacle. Some films need to be watched as large as possible, and this is one of them. Watching on your phone or an airplane screen might leave you wondering what I'm on about, but when you see it, as I believe it was intended to be seen, as big and epic as possible, then you might get drawn into this world in the same way. The film was 2 hours 20 minutes long, and that's long but not enormously so – nevertheless, I felt like so much had happened and I had been in Aquaman's world for so long that I had gone on an entire huge journey with him.
The Review
Aquaman
Maybe DC movies do work best when not tied down into a huge cinematic universe. Aquaman had space to tell his story, and show us his world, and it was a delight. Not perfect, room to improve, of course. But that's always going to be the case.