HBO Max has finally given viewers the first official look at its new animated TV series Aquaman: King of Atlantis. And it might be a lot different from what we imagined.
A newly released still from the series shows a more stylised version of Arthur and Meera as they seemingly get ready for a showdown in Atlantis. Judging by the look of the animated characters, the storyline will most likely take on a more light-hearted, comical tone.
Check out the promotional image below.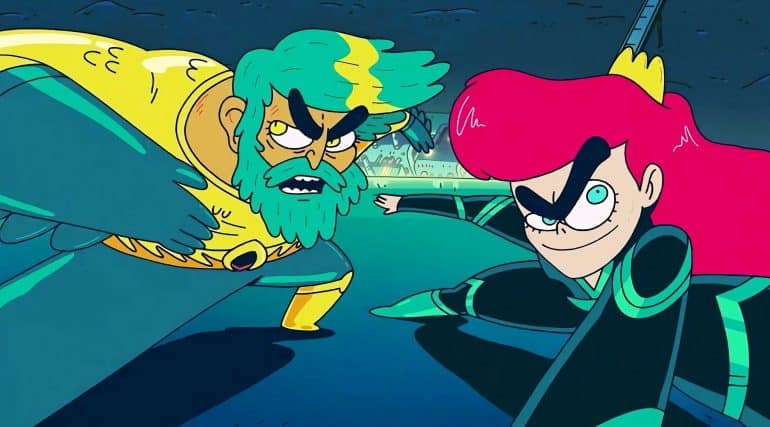 The upcoming animated show will reportedly be a three-part mini-series based on the 2018 Aquaman film. The show follows Arthur as he takes on his first days as the ruler of Atlantis. The King of the Sea will need to prove he is worthy to wield the trident as he deals with various threats, both under the sea and from the surface. Luckily for him, he has his right-hand man, Vulko, and the water-controlling warrior princess, Mera, to help him through the challenge.
James Wan, director of the live-action film, is set to executive produce the show under his Atomic Monster production company. The animator Victor Courtright (Thundercats Roar) and screenwriter Marly Halpern-Graser (Teen Titans Go! vs. Teen Titans) will serve as showrunners and co-executive producers for the animated mini-series.
At this time it is still unknown who will voice the water-dwelling characters for the upcoming animation. It would, however, add to the continuity of the storyline if the cast members from the live-action film voiced their animated counterparts since the animation is said to be based on the original movie.
Hopefully the animated series will help fans pass the time before the premiere of Aquaman 2 in 2022. Perhaps it will even round up a new generation of fans too.  A release date for Aquaman: King of Atlantis has yet to be announced, but there is most likely still some time before viewers get to see the underwater hero on the streaming platform as the show is currently still in production.
What do you think of the first look at HBO's Atlantean characters in the animated Aquaman: King of Atlantis TV series? Will you be watching the animated miniseries while you wait for the release of Aquaman 2?