EA and Respawn Entertainment's Apex Legends Season 8 is here. Here is your chance to win 2000 Apex Coins to get you some of that sweet loot.
Beginning February 2, 2021, Apex Legends, EA and Respawn Entertainment's free-to-play battle royale game, has introduced a new weapon (the 30-30 Repeater), several new items, and a new battle pass with Season 8. Titled Mayhem, the new season also introduces a new legend, named Fuse, a grenade expert who joins the Apex Games after his planet, Salvo, joins forces with the Syndicate.
Since its launch, Apex Legends has proven its popularity with 70 million players worldwide.
Of course, if you're a fan of the game, you already know all this. You probably also already know that Apex Legends launched on Nintendo Switch worldwide on March 9.
To celebrate the new season, we're giving away 2000 Apex Coins to a few lucky winners.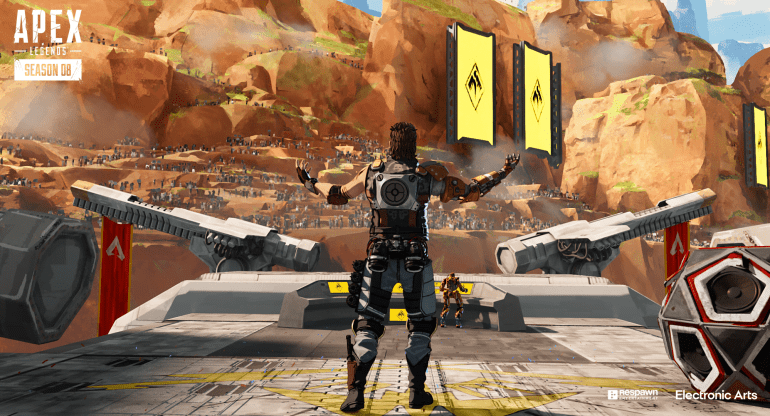 What is Apex Legends about?
In Apex Legends, players team up in squads and drop onto an island filled with randomised weapons and loot — similar to most free-to-play battle royale games.
Teams battle it out on the slowly shrinking playable area on the island until there is only one remaining team left.
Again, like most popular battle royale games, Apex Legends runs different seasonal events, focusing on different characters and zones to keep players engaged.
What are Apex Coins?
Apex Coins, also known as AC, are Apex Legends' microtransaction currency that can be used to purchase Apex Packs (cosmetic loot boxes), specific loot items (skins, weapons, etc.) or even characters (like Mirage or Caustic).
Apex Legends Season 8
In the two years since the game launched, Respawn has continued to innovate title and connect new players through more platforms. Season 8 will be the first time Nintendo Switch players will be able to join in on the fun. The game supports cross-platform play between PC, PlayStation 4, Xbox One, Nintendo Switch, iOS and Android.
How do I win the Apex Coins?
It's simple. All you have to do is complete the following:
[rafflepress id="8″]
The competition closes on 7th April 2021. Winners will be contacted via email on this date. Please use a working email address.
The giveaway is restricted to readers who reside in South Africa only. Terms and conditions/Site disclaimer rules apply. One entry per person. The winners will be contacted via email. The prize excludes travel, is non-transferable and cannot be redeemed for cash.