Many of us, no matter our age, are familiar with a little board game called Monopoly. It's a board game that has taught many young kids about money and the dangers of not having any. While Monopoly is considered one of the most beloved board games out there, there are those who believe that the game's focus on monopolies is poisoning young minds and that teaching them about the continual battle between large empires and small businesses are far more important. Enter Anti-Monopoly.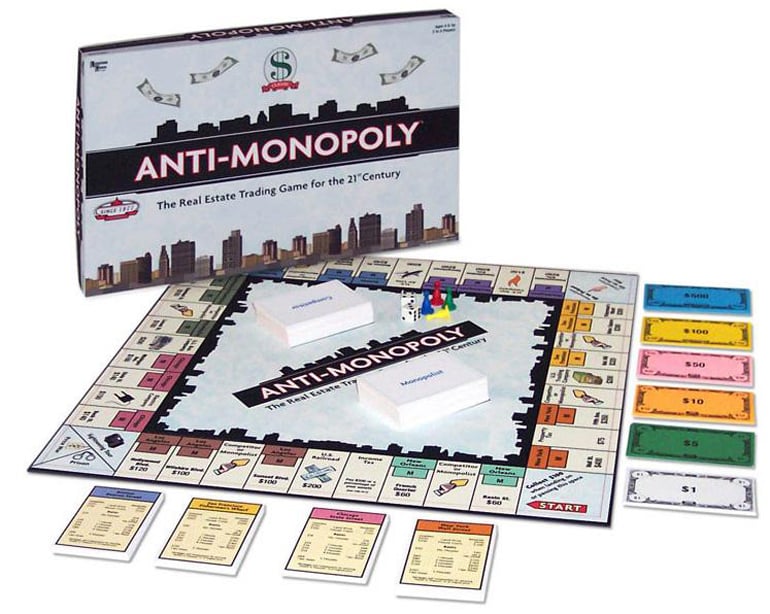 What's Anti-Monopoly About?
Now while Anti-Monopoly may share quite a few elements with its more well-known counterpart, these two board games are quite different. Where good old Monopoly focused on teaching you about managing your cash flow and about eventually becoming a monopoly in order to be victorious, Anti-Monopoly, as the name suggests, turns this concept on its head. Instead, Anti-Monopoly has two factions competing against each other, the monopolists and the competitors.
What's in The Box?
Over the years Monopoly has gone from a board game with components that were sorely lacking in quality to some of the best components in board gaming. Unfortunately, this is not the case for Anti-Monopoly, which while having seen a few iterations printed throughout the years have mainly kept its components the same throughout. The box contains a game board, six pawns (three blue and three green), a deck of competitor and monopolist cards, a deck of property/title cards, the obligatory stack of paper money, dice and tokens representing houses and apartments.
The game board is surprisingly sturdy and has a nice gloss finish. However, it does tend to be on the dull side, thanks to its basic design and bleak colour pallet. The text is easy to read and understand, but the board would have benefited from a brighter/more colourful colour pallet.
When it comes to the player tokens there are no shoes, thimbles or race cars in sight. Instead, players use the standard pawn-like tokens found in most board games. Both the player, houses and apartment tokens are made of a good quality plastic that should be able to take quite a bit of punishment.
As with the game board, both the paper money and cards are sorely lacking when it comes to their design and would've benefitted from a splash of colour or just a more impactful overall design. Having said this, each card is quite easy to read and understand even if they tend to be overflowing with text at times. The cardstock used feels durable, although the same cannot be said for the paper money, which would easily tear if handled without care. This tends to be the case for most paper money used in board games and isn't just a problem specific to Anti-Monopoly.
How Does Anti-Monopoly Play?
As mentioned before, the game sees players divided into two groups or factions, the monopolists and the competitors. Each of these factions has its own rules they need to abide by, just like in real life. Players then move around a board and buy properties, utilities and erect houses. The end goal is to drain the opposing faction of all their hard-earned cash.
As mentioned, each of the two factions has a few of its own separate rules to follow, which is one of the main ways in which the game distances itself from its more well-known counterpart. While players will still be rushing to buy up properties and try to get their opponents to start bleeding money, the game sets out to teach you that there are different ways in which to achieve this.
There are also quite a few different rules each faction must follow. The most important is that the monopolists can only build houses and apartments on properties once they own all of the streets in that city, while the competitors can start building immediately once they've acquired a new property.
Similarly, monopolists can get to charge more for rent, while competitors have to stay fair and charge more market-related prices. This is an interesting concept and is supposed to help balance out the benefits each faction gets. Monopolists also gain more income when they own all the utilities and hand over some of their hard-earned cash to the treasurer (banker) when landing on the Anti-Monopoly Foundation space, while the competitors stand a chance to get some quick cash.
Unfortunately, while these different rule sets do make the game more interesting and, in some aspects, more realistic, I did notice that there were times when it felt unbalanced. For instance, if the competitors don't start buying up the various streets immediately, they might find themselves quickly losing money as they will have to start paying the monopolists exuberant rent.  The game's rulebook even states that a monopolist who owns all four transport companies will be hard to beat as they gain a huge advantage and this is absolutely true.
There are also two ways in which to beat the game. Firstly, by bankrupting all the other players. Secondly, by being the richest monopolist or competitor when the game ends.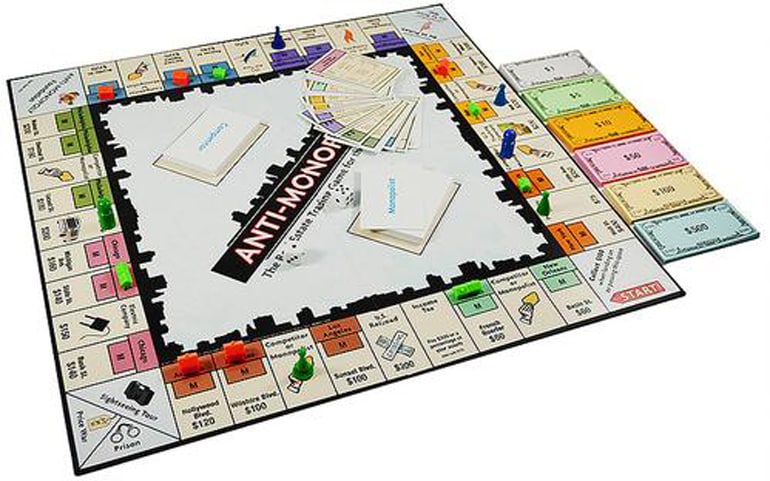 What Did I Think?
Although Anti-Monopoly should be commended for approaching the Monopoly concept from a different angle (some would say a more realistic one), there are a few issues with the game. While the different rules for each faction try to level the playing field, if not approached correctly, it's a bit too easy for the monopolists to start widening the cash gap and taking the lead, especially if they get hold of the transport companies. It's also much harder than it seems to bankrupt everyone, with most of our playthroughs ending on a mutual decision to stop playing.
The game also suffers from the same problem all roll-and-move games suffer from, namely being a luck fest. It's all too easy for a few bad rolls to cost you valuable properties early on.  I would not recommend the game being played with fewer than four, maybe three players, as this slows down the game considerably.
In an industry, filled with all kinds of shiny new board games with interesting mechanics, Anti-Monopoly, just like its counterpart, suffers from outdated mechanics and a dull design which makes really difficult to stand out. Having said this, if the design was revamped and some of the rules tweaked a bit, Anti-Monopoly could turn out to be a thoroughly fun game. Until then, however, it just doesn't have what it takes to compete with the newer board games on the market.