Since it was announced, BioWare's latest game, Anthem, was received with scepticism. After what many have called a disastrous closed beta and a demo which was plagued by all kinds of bugs, has BioWare managed to correct the wrongs? The answer is complicated.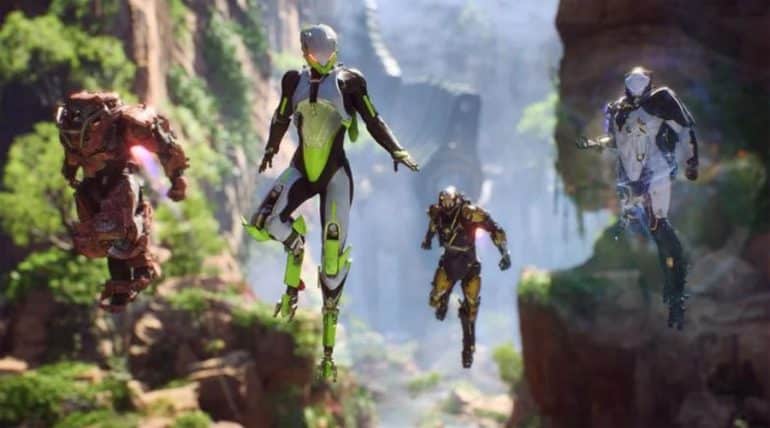 Anthem takes place on a world called Bastion. It's a beautiful world filled with all kinds of dangers, thanks to the mysterious shaper relics that dot its landscapes. These relics have been left behind by their creators and this has caused somewhat of a problem for the people who inhabit the world as these relics' unstable nature means that they in effect spawn all kind of monstrosities while distorting the world's landscapes.
You take on the role of a Freelancer who is part of a group that prides itself on protecting the last outcroppings of humanity. A benefit of being a Freelancer is being able to don one of the game's mech suits, called Javelins.
At launch, the game currently has four different versions to choose from:
Ranger – a jack-of-all-trades.
Storm – a space wizard.
Interceptor – a mech ninja.
Colossus – a suit for those that like to shoot first and ask questions later.
Each Javelin does feel distinctly different in how they play as each has their own unique abilities. It took me a while before I settled on the Colossus, the tank of the group.
The world of Anthem is a gorgeous place filled with cascading waterfalls, floating rocks and deep chasms. And once you stop long enough to take a look at your surroundings, you'll notice just how detailed the environments are. It's also a world that prides itself on its verticality. Flying around in what is essentially supped up Iron Man suits means that getting up high to take down your enemies from above or sneaking through a chasm are all viable options. It's this verticality that helps combat encounters feel unique when compared to other games in this genre.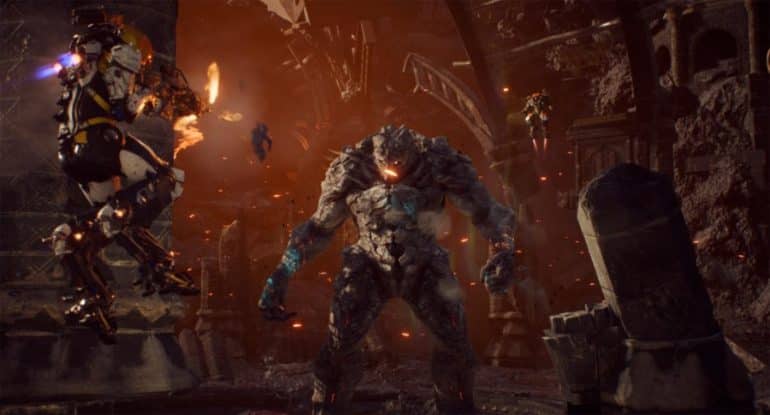 Story-wise, Anthem stumbles at times. Most of the important narrative exposition takes place in Fort Tarsis, one of the last bastions of humanity. You will get to explore its environments in first-person as you uncover various pieces of lore about the world and meet characters that will send you out on quests.
Story-wise, Anthem stumbles at times…
While each character I met did feel unique and had their own story to tell, after some time they became nothing more than a conduit for assigning quests to me. It's a shame really as there were times when I genuinely started to become invested in the story before being pulled out of by a repetitive quest.
There are some dialogue choices but, unlike previous BioWare games, they have no substantial bearing on the story or the world. There just isn't enough depth there. It felt at times as if the game's looter-shooter elements were continually at odds with its narrative, like a toddler who smashes puzzle pieces together to make them sort of fit.
Now the bread and butter of any loot-and-shooter are the game's quests, loot and, more importantly, end game content.
Where I initially enjoyed the quests, I was given and had a ball fighting off various waves of enemies. I soon realised that, as far as variety goes, this was something that was sorely lacking. This lack of variety makes the game feel boring at times. Most of these quests boiled down to, protect this point, collect this glowy thing and put it in this spot or, everybody's favourite, go kill these things.
It felt at times as if the game's looter-shooter elements were continually at odds with its narrative…
Having said this, Anthem's fun combat did help alleviate the tedium a bit. Pumping enemies full of lead, setting off combos (done by using a priming ability and then a detonating ability on a foe), before flying off into cover feels exhilarating, especially when facing off against some of the bigger enemies. Strongholds form one of the best parts of the game as they basically are Anthem's version of a Raid, multiple missions strung together to form one giant quest that culminates in a boss battle.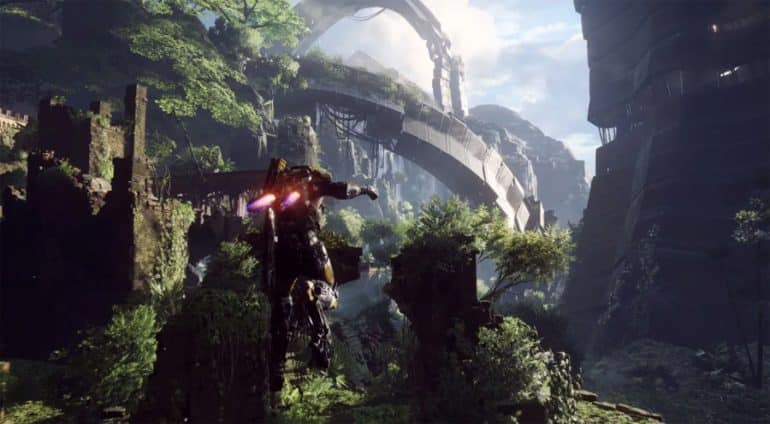 Loot plays an important role in this genre. Initially, I found early game loot drops to be a bit underpowered and disappointing. However, as I pushed on, they got better. Of course, playing at higher difficulties also nets you some sweet, sweet loot. While the loot drops did eventually get better, a bigger problem is the fact that players aren't able to view what loot they picked up or change their loadout while on a mission. This can be frustrating as it limits experimentation.
…the loading screens are far too many and break up the game's pacing…
Finally, I have to touch on some of the big and buggy issues that have plagued the game. I was fortunate enough to play Anthem after the day one patch, which fixed a lot of the bugs and issues other players experienced. Still, the loading screens are far too many and break up the game's pacing (although loading times are improved), and I did encounter quite a few bugs and server issues that seems to still plague the game.
BioWare needs to be commended for getting patches and fixes out so quickly, although many of the issues should have been fixed before launch. It sometimes feels like the game was hurriedly pushed out of development before it was thoroughly tested and this hurts it a lot.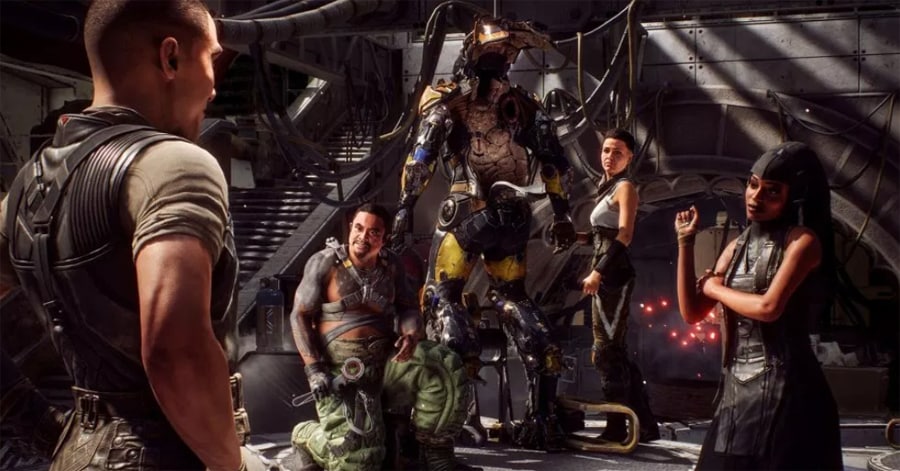 I'd be lying if I said I didn't enjoy playing Anthem. I just wish there was more at launch. There is just something about jumping in a mech suit and flying through some gorgeous environments that get me excited. Having said this, Anthem has loads of problems, from bugs to pacing and even its lack of end game content. These are all issues BioWare can fix and I don't doubt that they will.
The Review
Anthem
Anthem does have it's enjoyable moments. Unfortunately, these moments are plagued with loads of bugs, an overwhelming amount of load screens and repetitive gameplay. Still, the combat is fun.
PROS
Gorgeous visuals
Flying feels great
Combat is fun
CONS
So many loading screens
Bugs
Server issues
Repetitive quests
Review Breakdown
Storyline

0%

Gameplay

0%

Graphics

0%

Replay Value

0%

Sound and Music

0%