If you've ever been struck by a particular fancy to build a trans-continental mercantile empire in the 1800s, please don't do that because it's frowned upon these days. But if you were willing to live out those dreams digitally, then boy do I have a great game for you.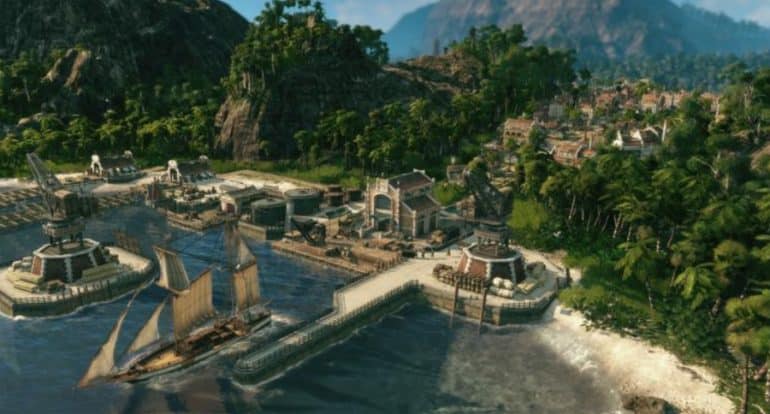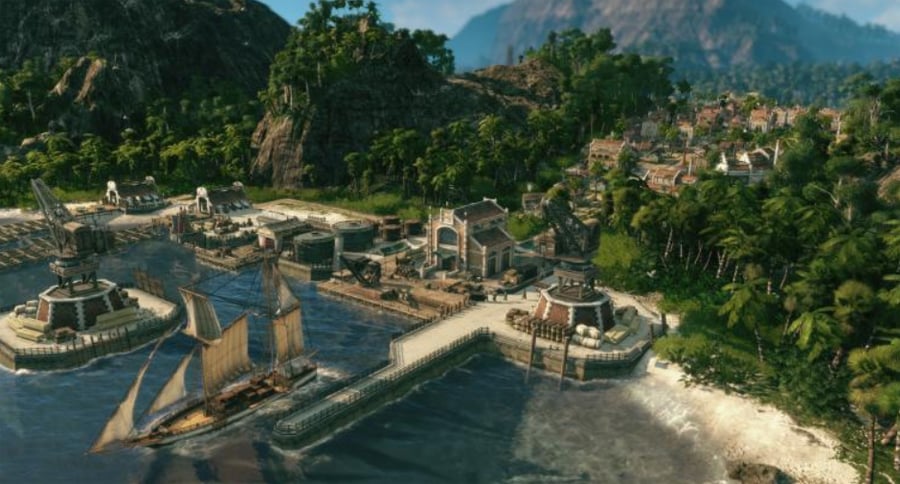 Anno 1800 is the latest in the long-running series of city-builder titles, a genre which focuses on micromanagement of a city to maximize its growth and efficiency. What appeals to me about Anno has always been the setting and time period. In this case, the Industrial Revolution. Anno 1800 takes a particularly non-political stance, which may not be to everyone's liking, but it is probably the safest option. This means that you have the aesthetics and setting and tone of the 1800s, but nothing is set in any real city or nation, and uncomfortable topics like colonialism, racism and slavery are not expanded upon in any meaningful sense.
This does mean that Anno 1800 is sort of the theme park version of the Industrial Revolution and its time period, but it does immerse you in that setting to a remarkable degree. The first way in which it does this is the gorgeous graphics and visual elements –  which are extensive enough to be relatively demanding on some PCs. All the designs of the buildings look great, but what really keeps on bringing me back just to look at the game is the way your citizens move around your city and engage in activities. If they're happy, they might put on a parade. If they are unhappy, they might have a small riot. But, that's life I suppose. The rest of the time you'll see them about their business, at the pub or at the pig farm, or building great big industrial factories. There's a liveliness in this world that I really appreciate.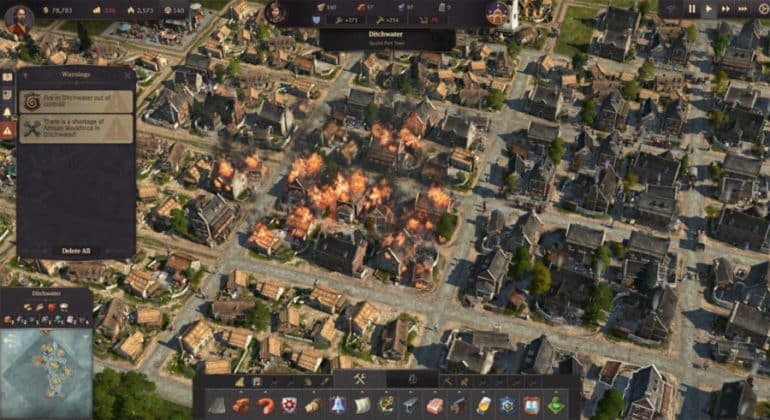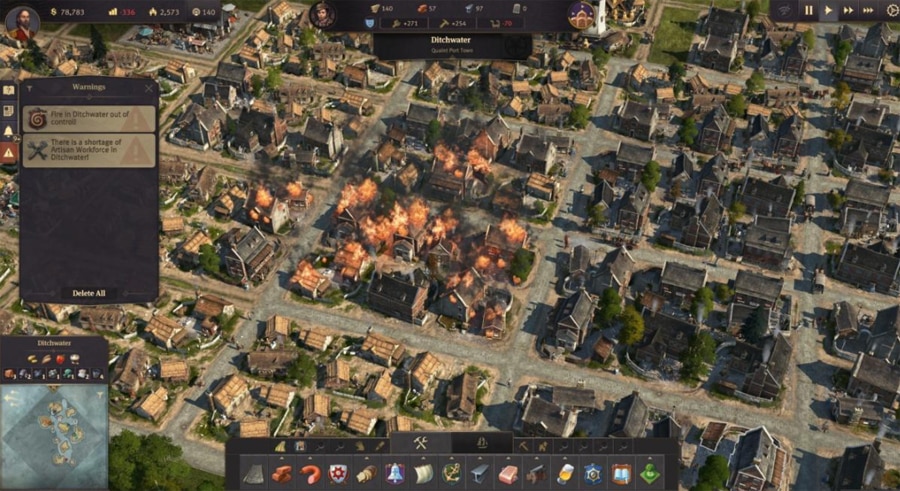 The overall gameplay loop in Anno 1800 has a very gentle curve to break you into all the things you need to consider. You start with an island and can build a few houses that are filled with farmers, who can start farming food and harvesting lumber, and so on. They take their goods to a warehouse, and you can start laying out your city to make them happier. As they get happier, more of them move in, and once you reach a certain threshold, some of them can be upgraded to become workers, and you will be able to build greater classes of buildings and assign workers to more advanced jobs. This is the class system, and as each class is satisfied, you will be eventually able to bring in a more advanced class that allows for even more buildings and activities. This is how you get from a few desolate pig farms all the way to a sprawling urban metropolis with zoos and museums and such. The class system goes from Farmers to Workers, to Artisans, to Engineers, to Investors.
Here's the trick though: each one of those classes demands more and more things to be happy. And those things get more and more complicated. Soon enough, food isn't good enough, and you need to produce some goods for your people. This means not only getting the raw materials but also building the place where they are transformed into goods. After a while, the complexity naturally ramps up. You should not see yourself as a mayor or king – you are a capitalist, and you are trying to maximize the efficiency of your production line, whether that includes people or goods. Your citizens have two main things to consider: needs and wants. You can give them everything they need and still advance, but be warned: if they are too unhappy and unfulfilled, the aforementioned rioting may take place.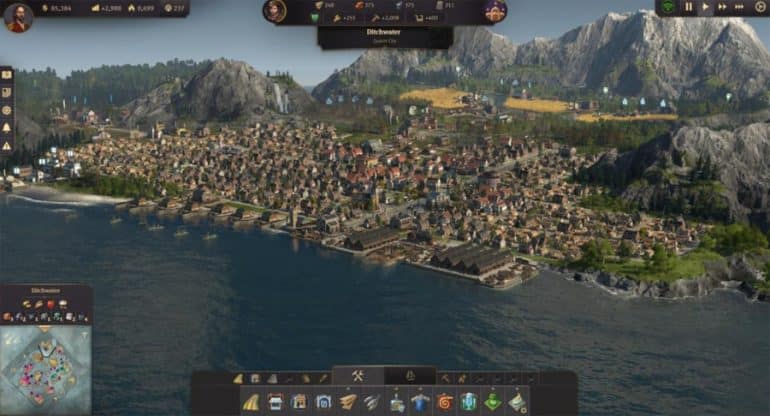 At some point, you will realise that you are not able to get everything you need on your own island, because of a lack of resources. This is where you must now set off to explore and settle other islands. Once there, those islands must go through their own expansion and growth levels, but you are able to send goods there from your main island via shipping lanes. Some of these islands are in the "New World," a vague version of the Americas where certain crops may only be found there, and where the local people can be mildly oppressed. At this point, you are now managing 3 or 4 cities all at once, each with their own demands, needs and problems. This is where you realise the game is getting extremely complex.
But wait, there's more. There are AI players on the map, with their own nations. You must negotiate for space with them. Being either entirely diplomatic, economically aggressive, or openly aggressive through war. All of these choices have pros and cons, and you need to decide what will be best for your cities in any given situation. The warfare is not especially complex, in the form of ship-to-ship combat, but it works well enough. You also engage in combat with pirates and raiders off the coast of your lands.
The way you can design your cities is pleasingly complex, and my favourite part is the way you can design your zoos and attractions entirely in the way you yourself want. You would then go on expeditions to gain attractions and animals, or be given some as gifts by your allies after completing missions for them. This helps with the tourism element in the game, where your city may eventually start attraction tourists, but they will stay away if it's too smoggy and full of unhappy citizens.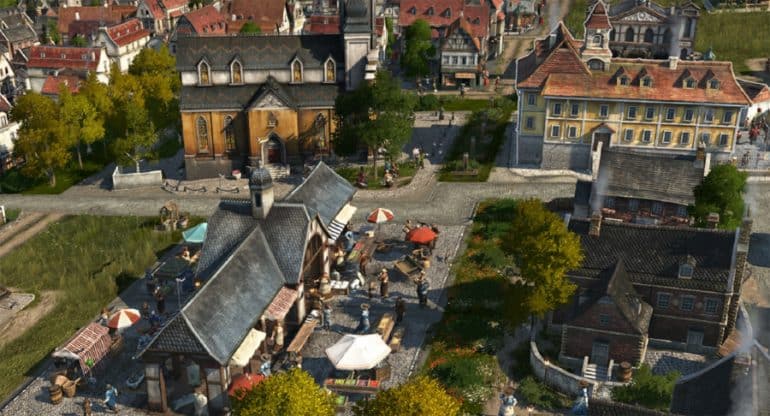 Anno 1800 comes with three main modes: Campaign, Sandbox, and Multiplayer. The campaign is serviceable, with animated character models and mediocre dialogue. There is some sort of story about how your family has fallen on hard times and must rebuild, but its nothing to write home about. But what it really serves as is a tutorial, and it is very good for that purpose if you play through all 4 chapters. Sandbox is your bread and butter mode, where you have a great variety of customization options present when you start up each map, with everything from the starting resources to who your AI players will be, what your win conditions will be, and many more besides. Multiplayer has other humans taking the place of the AI nations on different sections of the map and works well enough if you're into that, but I found the fact that I had to play at the same speed as everyone else a bit of a drag. I much preferred the immersion of Sandbox mode, where I could fill countless hours creating the perfect metropolis of progress and industry.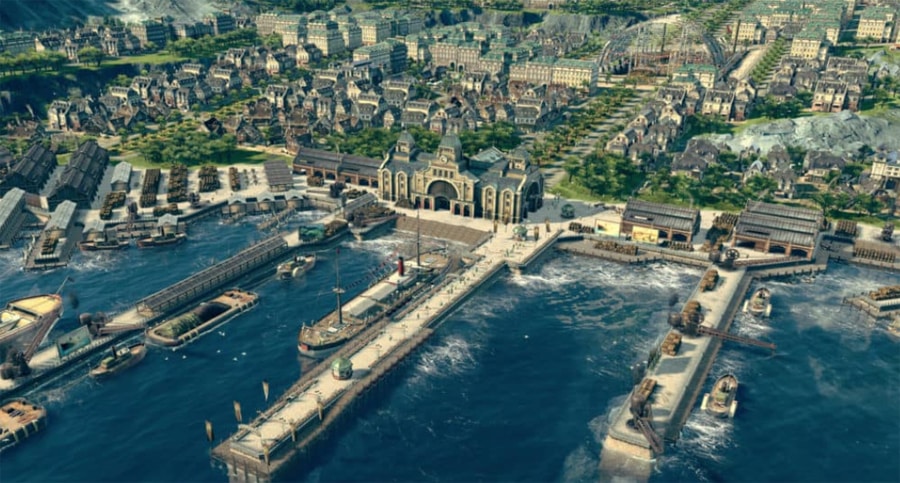 Anno 1800 has tons of features and is one of the best city-builder games in my opinion. Some others, like City Skylines, may be more technical, but the setting and context of Anno 1800 feel like it gives it more purpose. I don't like building a generic city, but I do love recreating the aesthetic and feel of a specific era in history very much. It's purposefully light on anything to do with the real world, so if that is something you can't look past, that's a fair view to take too. The thing is, the game just has so much detail and small things to do that I keep on finding more to excite me. I like watching my citizens do their thing and I try to make them happy, but failing that, at least obedient. I would make an excellent dictator, this game informs me after a while.
City builders are not for every player, as they demand many hours for one game and a lot of self-directed and self-created goals and milestones to aim for. But for what its worth, Anno 1800 is a real time-sink of a game.
The Review
Anno 1800
Anno 1800 might not be for everyone but there is no doubt that it is one of the best city builders out there.
PROS
Tons of features
Recreates the era perfectly
Great soundtrack
CONS
Might not be for everyone
Not planning ahead could be disastrous
Review Breakdown
Storyline

0%

Gameplay

0%

Graphics

0%

Replay Value

0%

Sound and Music

0%