Taking a break from gambling is a smart choice every now and then. If you have been playing casino games at Royal Vegas CA and want to take a brief break but maintain the high levels of entertainment, you could always check out some cool anime series.
Anime is estimated to be an art just over a century old, although getting to watch anime series have only become possible in the last few decades. If you really like gambling and anime, then you're in luck. You can combine both of your hobbies in these anime shows with a gambling theme. If you haven't seen them yet, give them a go soon.
But first, why do we love anime so much? Anime has a loyal following of fans and just like any other genre of screen entertainment, it brings its own qualities. These different qualities mean the reason for watching anime can be diverse. Yet, one of the biggest reason people tune in to anime series is because the characters are often made relatable.
Watching these characters often means learning about ways to deal with real-life situations that viewers may also be experiencing. Aggretsuko is a recent Japanese anime show of a character working in an office and having to deal with workplace issues and bullying. It has become a sensation on Netflix to people of all ages.
This is what makes anime series with gambling themes woven into them so entertaining to people who already like a flutter. They are likely to relate to the characters about their own gambling experiences and casino visits.
What Are the Best Anime Series with Gambling Themes?

So, where can you find anime series that also use gambling themes? There are quite a lot out there, but here are the best of the pack that you need to know about.
Kaiji: Ultimate Survivor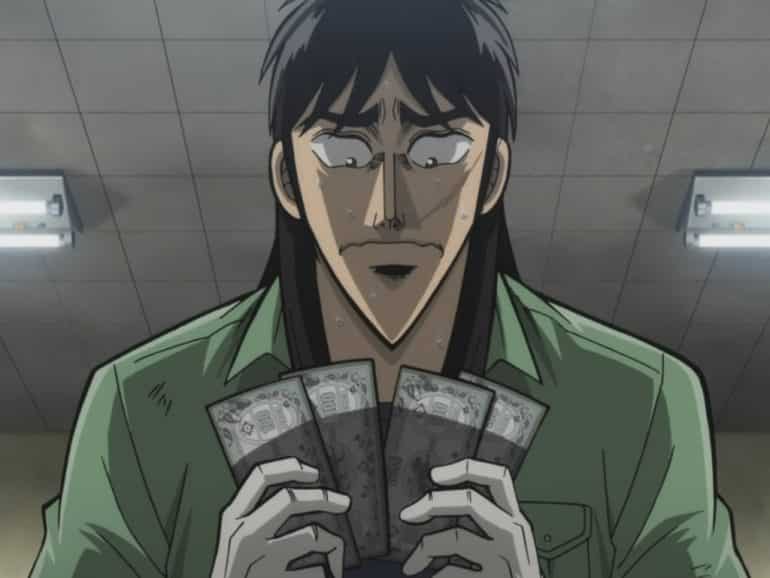 The psychological tension of this popular anime series is enough to keep all viewers engaged. The story is one of an unemployed alcoholic who is in some trouble with loan sharks. To get out of this sticky situation, the main character, Kaiji, must gamble his way to riches onboard a cruise ship. Win and he becomes debt-free and well-off, but lose and he is in for two years of forced labour. Learn more about the series on IMDB.
Legendary Gambler Tetsuya
The story of Tetsuya is one of morals and hardship. Post World War Japan doesn't offer many opportunities, but Tetsuya can gamble out of trouble and make money. Problems arise when he gets cheated out of a game and must consider also cheating his way back to winning ways.
Rio: Rainbow Gate
Another great watch is Rio and her time working at a local casino. Although the narrative is not as captivating or logical as Kaiji's mentioned above, it is a nice watch for anime and gambling lovers. The story is about Rio who brings luck to all the players around her at the casino. The part of the story which isn't as strong is that the casino isn't too worried about her helping the players. Still worth a watch!
This is just a spoonful of the buffet of anime series incorporating gambling themes. There are so many to choose from!