Angel Beats! follows the story of a group of teenagers who have all died and now reside in a purgatory high school, unable to move on into the afterlife. The group is known as Afterlife Battlefront, as they are in a fight against God for the cruel fates they were dealt in their lives.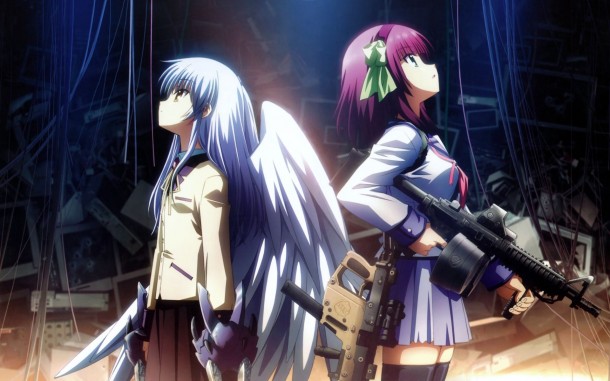 Given the basic premise of the show you might think that this show might be anti-religion or anti-God propaganda and truthfully you would be so wrong. While the show does kick off with the main characters asking the life long question that so many people have asked since toast was invented; Does God exist? As the show continues we discover that all these teens have had terrible lives and faced cruel circumstances. In death, stuck in purgatory, they want answers as to why they had to live a life full of misery, anguish and pain. As such we soon find the true nature of the show, which is one of forgiveness, happiness, redemption and salvation.
Angel Beats! starts off with action and humour, which is fused together by a cool soundtrack, but when you reach the end it evolved into something that's more serene, heartfelt and bittersweet. It really takes one through a myriad of emotions as you learn more about these characters, your sympathy leads you to empathize with them and their fight against God. However, when you reach the end you realize that this show is really about broken, tormented souls, who needed to find peace in themselves, thus finding their salvation in God.
THE LIKES
The show has a good mixture of humour, action and drama that balances out well. Each episode is pretty much self contained, but it still manages to push the narrative forward. One thing I really loved about the show is that even though certain episodes turned out to be quite predictable. In its entirety, however, it's pretty much unpredictable, entertaining and endearing.
THE DISLIKES
One of the biggest problems the show has, is that its way to short. This is certainly one show that needed to be 24 – 25 episodes long, as many characters aren't given the due they deserve and end up being one-dimensional.
SUBS VS DUBS
I watched the show in the original Japanese with English Subtitles, which turns out to always be the better option. The American English Dubbed version is certainly not as a bad as I thought it would be, but certain voices still irritated me.
My advice, stick with the Subs on this one.
ANIME FAMILIARITY
The Beginner/Casual Viewer/Fanatic
Seeing as how the show begins with certain anime tropes and outlandishness it might be a bit jarring for someone whose watching anime for the first time. However, if you stick with it till the end you might find it to be quite enchanting. If you watched a few anime series, Angel Beats! would be perfect to nurture your growing fascination with the medium.
LIVE ACTION ADAPTABILITY
20% – Given the basic plot and how the story unfolds, there's very little in this anime that would work on the big screen or as a TV series. I can definitely see some ambitious film maker borrowing some of its more philosophical and emotional vices and adapt it into a good independent film. Either then, Angel Beats is something that works best as an anime. A live action just wont work at all.
Endearing, charming, gut-wrenching, action packed awesomeness, all in one show that only spans a total of 13 Episodes, makes it one anime not to miss.