Snack World is a game that elevates its sometimes rather flawed and mediocre gameplay to something far more than could have been expected, with its delightful, madcap world and characters. Displaying an absurd sense of humour, Level-5 reminds us that they may very well be one of the most reliably interesting developers for smaller projects like these.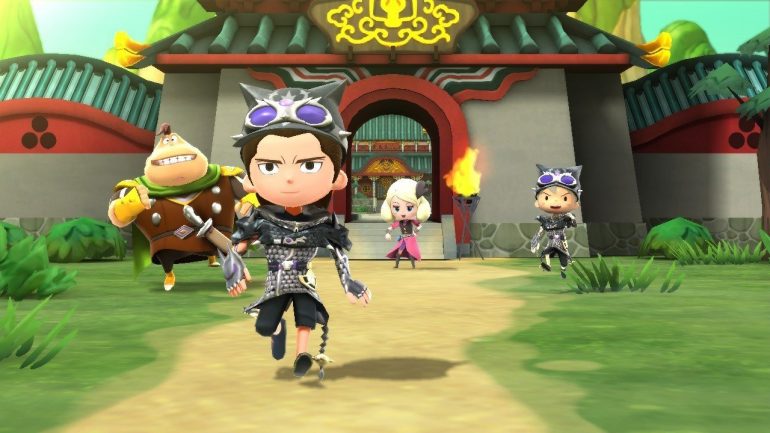 Snack World: The Dungeon Crawl – Gold is a remastered version of a Nintendo 3DS title, and is, in turn, an instalment in a larger kids-cartoon-and-toy franchise that has some popularity in Japan. And while the aesthetic and tone is very juvenile (names and characters themed after food and sweets; plenty of puns being made every minute, etc.), I found myself more and more endeared to it over time.
For me, Snack World had just enough snark and sass to actually make me laugh out loud at times and displays a delightfully adult sense of absurdist humour that would completely fly over a child's head. It's never terribly biting or mean spirited, basically on the level of the first Shrek movie, with just enough extra bite added every now and again (the quest where a sentient robot reveals itself to have a heel fetish ala Tarantino comes to mind).
Snack World is a game that is very much aware that it is a game, especially in the tutorials and set-ups. You create a voiceless protagonist who is found bereft of all memories outside the kingdom of Tutti-Frutti. You begin taking on quests for the local king because that's what adventurers do. The reasons for quests are usually part of the joke and are never really that important.
You take quests because it's a game and that's what you do. You are joined occasionally by NPC allies, but most of the time it's just you and your Snacks. Snacks are what you call your companions that you recruit from monsters felled in the field, ala Pokemon. These monsters always have some sort of pun or theme associated with their names, and finding the right combination of party type and stats will form the bread and butter of your strategy. Once ready, you venture out to complete quests, which take place in randomly generated dungeons. If you die and fail a quest, you still keep all the level progress and items you gathered along the way, playing into the classic grinding nature of dungeon crawlers.
You engage in combat with the use of Jaras, which is the term used for your various weapons. Main weapon types include swords, daggers, wands, spears, axes, shields, and bows. Each Jara has a limited number of both special and normal attacks available before it runs out of charge and you must switch to another one. Managing and upgrading these Jaras is a key part of the gameplay too.
There are a lot of other gameplay mechanisms in Snack World. Enemies have both a type and a colour, and your equipment has both a brand and a colour. There is a fashion system in place, whereby different clothing brands and colours are more beneficial at different points. The game dumps a lot of info onto you, and while there is a tutorial, it can feel a bit overwhelming at the start. Luckily there is an option to auto-select the best gear for an upcoming mission, but it doesn't allow you to auto-select the best Snacks, weirdly enough.
There are online features, where you can receive items from other human players, or even team up with them for quests. The game is clearly intended to be very social, hearkening back to the glory days of 3DS gaming, where many titles sought to create a community of players all joining in for the fun.
The gameplay loop itself can drag on a bit, and the movement and weapon attacks can often feel a bit clumsy after a while. The best fighting comes in during boss battles, where the camera angle shifts down and it becomes much more like a high stakes MMO boss battle. Snack World is definitely a 3DS port, but it is by far one of the prettiest and most visually charming ones, and it doesn't look out of place on the Switch at all.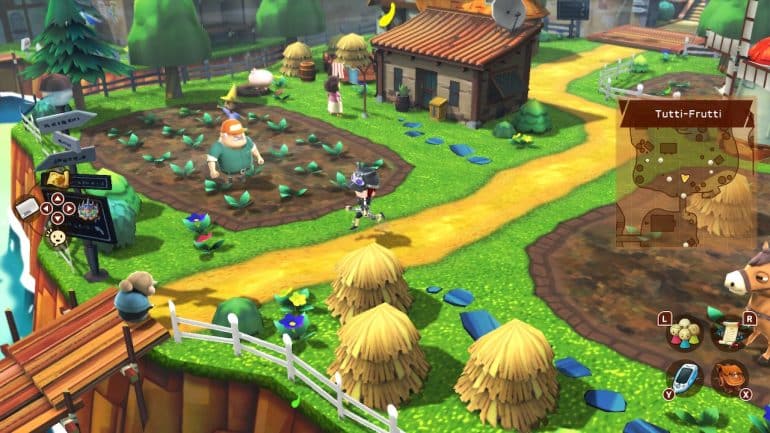 I was surprised by how much I enjoyed Snack World , all in all. It's a game that lacks a certain amount of polish but overcomes that problem for the most part with sheer charm and attitude. I find myself dipping in and out of it more than just playing it for hours and hours, but that works too for some titles. It's not ultimately particularly deep or meaningful, but it is another Level-5 classic, in my mind.
The Review
Snack World: The Dungeon Crawl – Gold
Snack World may lack some polish, but thanks to its charm and attitude it makes for a fun yet not very deep experience.
PROS
Charming, witty world
Snack designs are creative and numerous
Many levels of depth to the gameplay loop
CONS
Combat can feel a bit imprecise
Bit of a grind
Tone might not be for everyone
Review Breakdown
Storyline

0%

Gameplay

0%

Graphics

0%

Replay Value

0%

Sound and Music

0%