There's a head bashed in and an eye is run through with a sharp object. Not-so-innocent teenagers are attacked and wounded. Stop me when this sounds familiar.
Do you miss the grisly slasher horror films from the '80s and '90s? You know, the ones with the college students who are chased by a masked killer? Think Scream, I Know What You Did Last Summer and Urban Legend. Well, you're in luck.
Hell Fest, which honours the knife-wielding maniac multiplex fodder from yesteryear, is an original slasher set within a horror-themed fun park that's surprisingly fun. It aims to be nothing more than a cool slasher flick with loads of gore and, delivering on its promises, that's exactly what it is. If you enjoy the showmanship of horror, then this picture might be for you.
Don't believe us? Read the comments from the audience that attended our early film screening last night: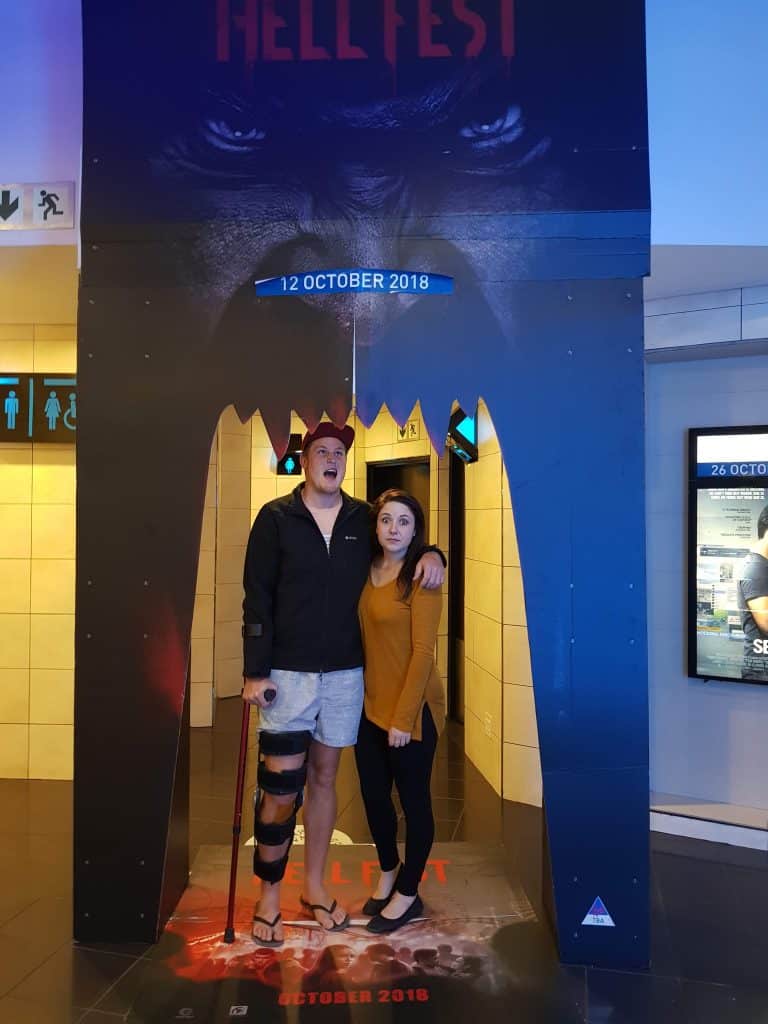 It was a great fun movie and a great night out. – Tristan Winslow
It was great! I loved the graphics. The killing scenes looked so real. – Wesley Kinnear
I thought it was a good throwback to old-school horrors. Well played out and a good ending. – Saajidha Naidoo
The movie was great and delivered that old school slasher experience perfectly. The props, sets and costumes were amazing! – Christo B
I loved the characters and their personalities. Hell Fest was thrilling and gave me some good scares. – Tenneille Francis
The movie was a nice throwback to slasher flicks of old like Scream and I Know What You Did Last Summer. The only thing I found lacking was a lack of insight as to what made the killer start killing. On the whole, an enjoyable movie. – Riyaadh Sadek
The movie was really good. Very thrilling! We had a good scream. The story is not predictable at all and the ways in which they die is cool and really gruesome. – Whitney Knipe
The movie was interesting but not as scary as I thought it would be. That's a bit disappointing. The storytelling is enjoyable. – Jody Josias
The movie was very nice I couldn't stop screaming. I enjoyed every minute of it and I wouldn't mind watching it time and time again. The best horror movie by far. – Moleboheng Tsupa
It was a good movie. Enjoyed it. Needed a little bit more action. – Cohen Perumal
The movie is a classic slasher flick. Great jump scares and even if a few a too predictable. There are some high tension moments and some unintentional funny ones. – Benedict Winkler
While there is nothing spectacular about Hell Fest, it's perfect mindless fun. – Davina Pillay
I loved it, full of suspense and gore. It was also very funny and relatable. Definitely, recommend fans of slasher films go and see it! – Kauthar Maj
Hell Fest had an awesome original storyline. I felt the movie relied on jump scares a bit too much and lacked real suspense, but nailed the creepy feel a horror movie needs. – Dwane Jackson
It was entertaining and the gore was awesome to watch. The suspense kept me on my toes. – Meesha Vanmari
Gory and kept me captivated. – Yolleen Naidoo
It was a great slasher movie, it had just the right amount of comedy and suspense. I hope they release a part two! – Celina Caroto
It was a very nice movie. Extremely scary but nice. – Denzil Thulkanam
The movie was great, a real suspense tester. Would definitely watch it again. – Toni Da Graca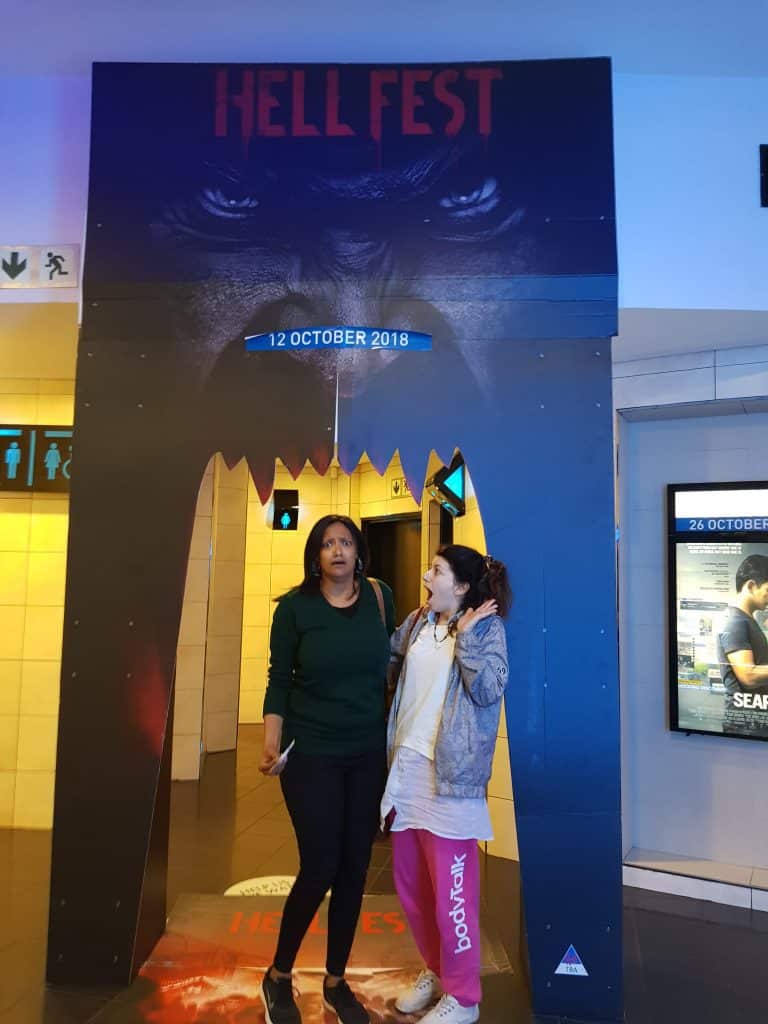 Fun movie. Light entertainment. Target market: definitely teens. We had a blast. – Leon Kleinhans
Most of the movie was a bit of a cliche, just enough suspense and gore to thrill! Here's to hoping that there will be a sequel. – Elsje Potgieter
It was great totally great thanks! I found the movie a roller coaster of feelings- It was funny, entertaining and just the right amount of scary. Interesting ending to the movie made it even better! – Caron Olivier
I really enjoyed it. It reminded me of the old slasher flicks. Nothing about nothing, but just a maniac running around killing people. Thumbs up! – Vanesse Commin
Hell Fest was a pretty entertaining and claustrophobic slasher, although I found it to not be particularly memorable. The ending was pretty effective, which is great to see given the usual face-palm inducing ending these kinds of horror films often have. Hearing my friend scream out loud at one of the jump scares was a particular highlight. – Nicolas Gonzalez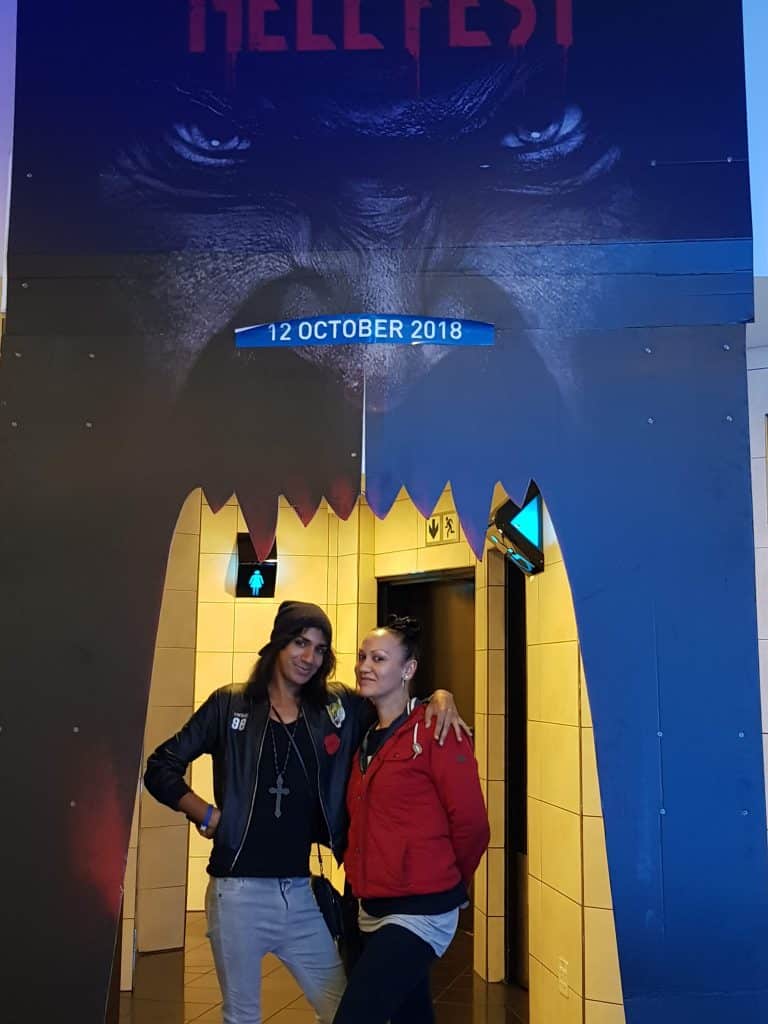 My friend and I both love slashers horrors and loved Hell Fest. She and I had a great time debating the ending. Great on-the-edge-of-the-seat scares. – Sandi Diack
I absolutely loved Hell Fest. Got quite a few scares and the storyline was great and not too dragged out. It's definitely one of the better slasher films. – Patt
Honestly, it was on the low average end as far as the slasher genre goes. A bit more time spent on the characters in the script could have raised this above a very generic movie. – David Torr
I think it was very good. – Van der Berg Yvette
The movie was okay. Slightly predictable but enjoyable nonetheless. – Robin Wallace
Hell Fest hits SA theatres today.
A masked serial killer turns a horror-themed amusement park into his own personal playground, terrorizing a group of friends while the rest of the patrons believe that it is all part of the show.