Twitch star Amouranth shocked viewers by revealing her new "boyfriend".
Twitch streamer Kaitlyn "Amouranth" Siragusa is a familiar face for anyone that has spent quite a bit of time getting in tune with the culture of the platform. Whether it is criticism from other streamers, guest appearances with others, or her stream on the front page, Amouranth is usually trending for some reason.
As a streamer, Amouranth is pretty business savvy and takes her endeavours to their fullest extent. She is also an OF model and her status has afforded her various business opportunities, including some ways to increase the reach of her trolling over the years.
On March 18th, the streamer announced on social media that she would be introducing her new boyfriend that she met in LA. This Amouranth boyfriend reveal came as a bit of a surprise as she has been pretty tight-lipped about her personal life, especially regarding her actual relationships.
When the stream actually began, we saw that Amouranth's "boyfriend" is actually just a mannequin with a "hello my name is" sign plastered onto its chest. This elite level of trolling is something that shouldn't actually be so surprising considering the sudden reveal from the Twitch streamer. Making a Twitter post revealing her boyfriend is already quite odd, but the reason behind this whole stream of events was to announce a new feature to her streams.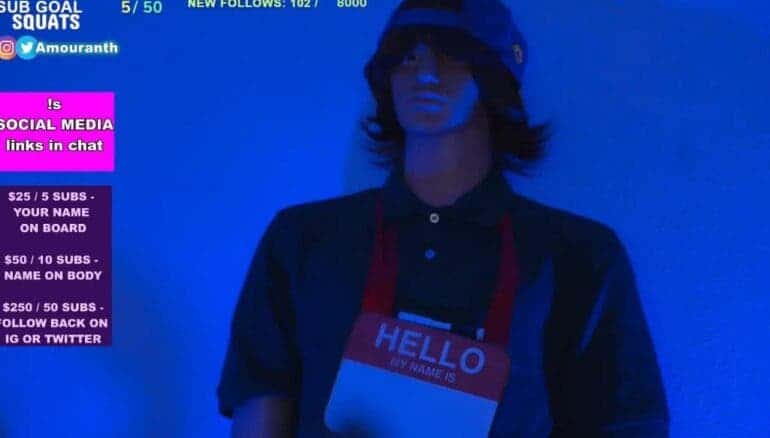 Before revealing the point of the whole "Amouranth boyfriend" tweet and stream, she was sure to lean in on the moment by poking fun at her viewers. During the stream, she sold an idea of the type of relationship she prefers, saying "stop staring at my boyfriend. How f**king dare you. He's my man." And further adding that "he gets to watch me sleep. He gets to watch me lick microphones", trolling her viewers who spend thousands of dollars monthly as a collective to fund her bizarre streaming activities.
In characteristic Amouranth fashion, the mannequin was actually just a ploy to keep the streaming activities fresh. According to her, viewers can now be her boyfriend as she incorporates the mannequin into her streams. The sign on the doll is a part of the streams with viewers getting their names written on the mannequin, allowing them to have a "title" of being the new Amouranth boyfriend for a short while before being replaced with another viewer in the same broadcast.
It's not surprising to see Amouranth come up with new ways for her viewers to stay freshly engaged with her content. In the past, she has been responsible for the emergence of the Hot Tub, ASMR and Yoga pants twister meta. She's responsible for quite a bit of the emerging activities that had a sudden surge in popularity on the platform.
This is currently where Amouranth's stream is directed, but it's only a matter of time before we get to see whatever new venture she has in store. Regarding her actual relationship status and whether or not there has been a real Amouranth boyfriend at some point, she revealed in an interview with Anthony Padilla that she has only ever had one relationship — adding that she was actually inexperienced in her sexual life despite her strong presence on OnlyFans.