When Ambush Bug goes on vacation to Pismo Beach, he takes a wrong turn and ends up in… a planet from Atari Force?! Soon he comes into conflict with the Hukka, the peaceful aliens that were (apparently mostly) wiped out by the Zylons. A confused and deluded Ambush Bug has Vietnam flashbacks and goes to war with them, while his comic book creators discover there are plenty of ways to wipe them out through bad jokes and alterations to the artwork.
Meanwhile, in the main story, Ambush Bug is mourning the loss of his doll sidekick Cheeks… again. However, Cheeks has seemingly come back to life as a zombie, climbed out of his Tupperware coffin and is now cannibalizing stuffed toys all across town. But what caused this transformation? A radioactive bulldozer? Confusion over who lived and who died in the Crisis on Infinite Earths? And how can the comic creators pad the whole thing out to forty pages?!
Let's get one thing clear here: this comic book is a mess.
A glorious, irreverent, silly, dated, offensive, juvenile, hideous mess.
And damn, it's a whole lot of fun if you're an Ambush Bug fan!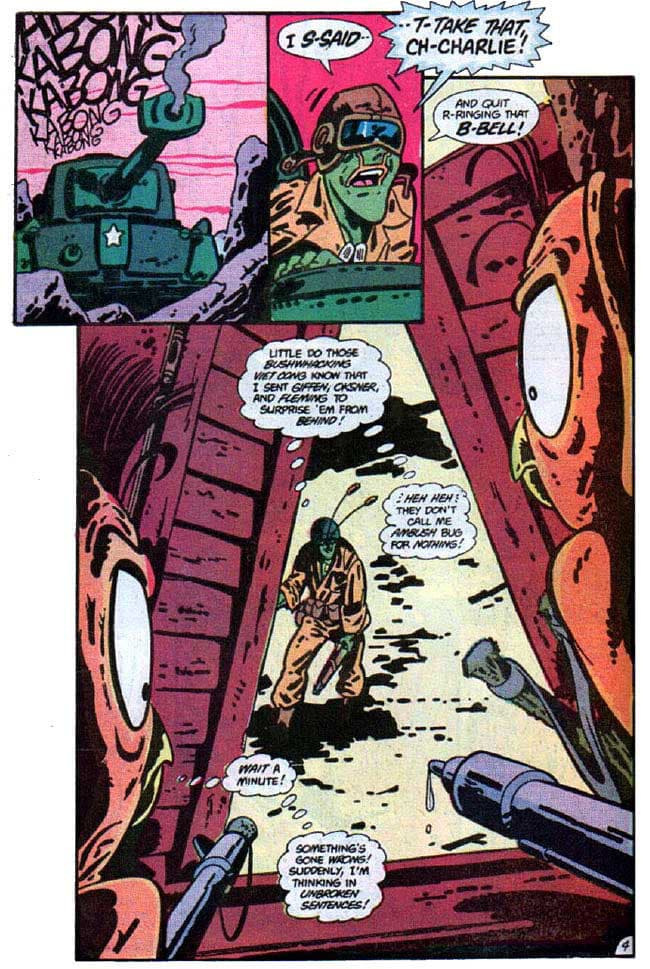 There are plenty of comic book characters who have broken the fourth wall when it comes to comedy over the years, with Deadpool being the current king of the hill. Yet none can do it quite like Ambush Bug, a character who's been the awkward nit-picking conscience of DC since shortly after his creation. From bad-mouthing management and their questionable decisions to lampooning crossovers and society in general, he's the irritating fanboy gatekeeper who's too irresponsible to get things right and too clueless to affect real change.
Some may know him from his brief appearances in Doom Patrol or 52, from his scathing "not-cancelled-but-the-last-issue-got-lost-we-swear" Year None miniseries, from his other limited series and specials, or from the reality-warping final episode of TV's Batman: The Brave and the Bold where he fought to stop the show from being cancelled. He often seems to be a thorn in the side of DC that they can't quite get rid of, and here he brings that same controversial spiritedness to a Christmas special.
The story – what there is of it – is exactly the sort of insanity you'd expect from Ambush Bug. The intro tale of the Hukka is downright cruel to the lovable little creatures, and yet you can't help but laugh at it. It's a tale of the disposable nature of characters (and their comic books) by creators and management, a theme continued in the main story. Or maybe it's just a twisted joke about brutalizing harmless creatures. Either way it works, so it can be either dumb fun, smart satire, or both.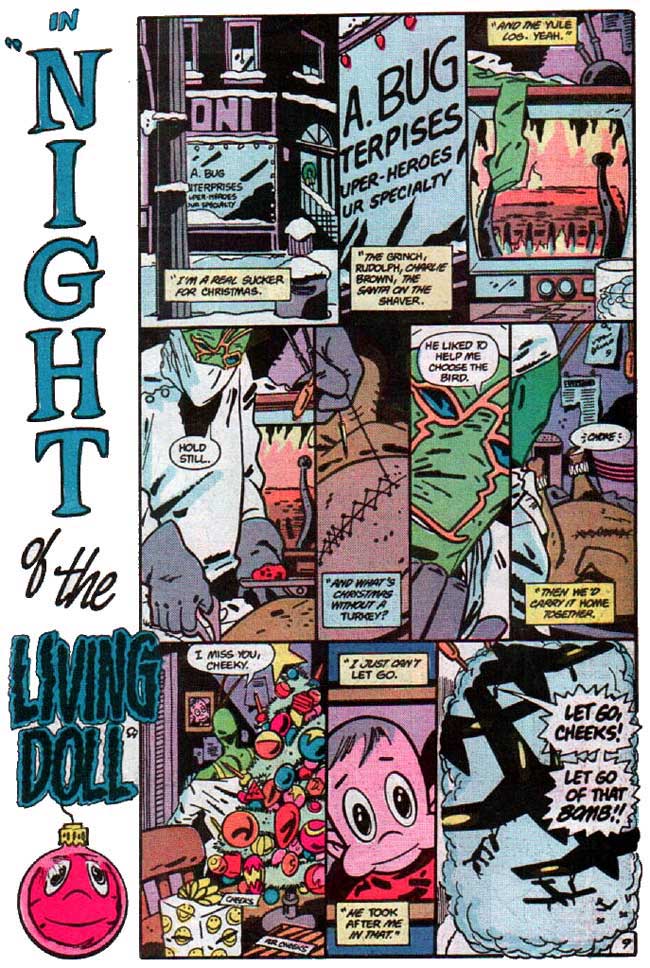 Once again, the "death" of Cheeks is played for demented laughs and once again Ambush Bug can't keep his story straight as to how the doll even "died". But with events like the Crisis on Infinite Earths wiping out so many characters… does it even matter? They'll be back again at some point, because that's how comic books work. The return of Cheeks is prescient of the return of Bucky, Jason Todd and many other "dead" characters who have returned. Is it dated? Sure. But the theme is as relevant now as ever in comics, if not more so.
Again, it's either dumb or smart – or one masquerading as the other. Maybe a cigar is just a cigar, but it's up to the reader to shove it in their mouth, set fire to it and decide.
There are plenty of digs at the commercial nature of Christmas, politics, the comic book industry in general, management, fans… and just about everything else, including itself. It bites the hand of those who feed it, but it also makes incredibly valid points and doesn't take itself seriously. Sadly, not every joke is a winner and by the end of it the comedy has just about dried up and been replaced by wince-worthy bitterness. But when it works, it's madcap manic screwball comedy at its best.
Is this the craziest Christmas special that DC ever released? Very probably. It makes almost no sense unless the reader is a long-time fan of comics in general, and even then it pushes tolerance levels with its absurdity and rapid-fire shifts in narrative. But again, for Ambush Bug fans it's near-perfect, pushing creative boundaries.
The world needs more comics like this. Just not too many of them.