Alan Dean Foster, the author who wrote the novelisations of two of Disney's biggest franchises, has filed an official complaint against the studio for failing to pay him royalties.
Foster has written and ghostwritten popular tie-in novels for Star Wars, Star Trek, Alien, and various other properties. His most recent works include the tie-ins for Star Wars: The Force Awakens and Alien: Covenant. But his books date back to 1978 when he served as a ghostwriter for the novelisation of Star Wars: A New Hope under George Lucas's name.
With backing from the Science Fiction Writers Association of America (SFWA), the author says Disney halted his payments after they acquired Lucasfilm and Fox – who owned the Star Wars Alien franchises, respectively.
An open letter published on SFWA's website states that Disney's publishing branch told Foster's agent that unpaid royalties could only be discussed if the author signed a non-disclosure agreement. This would have prevented him from being able to talk about the situation publicly.
When SFWA contacted Disney on Foster's behalf, Disney apparently said they "had acquired the rights, but not the obligations".
However, contract laws in the United States affirm that the studio would have acquired the rights to sell Foster's books and the obligation to pay his royalties.
SFWA's president, Mary Robinette Kowal said Disney's response was absurd and extremely concerning for the writers they collaborate with.
"It's not right. It's not complicated, morally or ethically, and I don't think it's complicated legally. It just needs to be addressed."
Following the publication of Foster's letter, Disney has been heavily criticised on social media, with the hashtag #DisneyMustPay trending worldwide.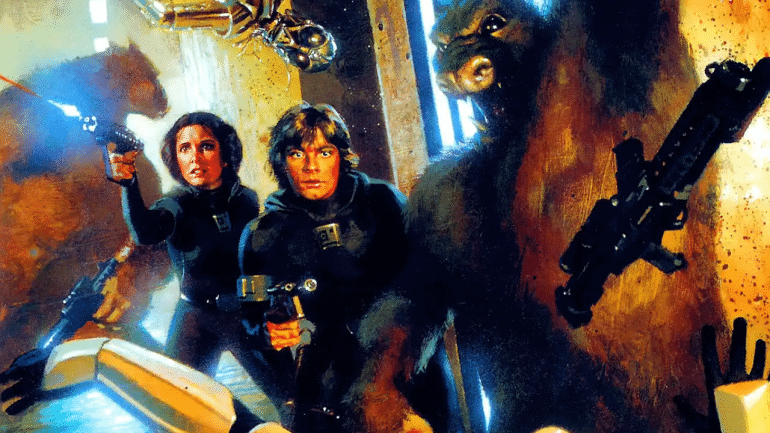 Alan Foster's open letter reads as follows…
Dear Mickey,
We have a lot in common, you and I. We share a birthday: November 18. My dad's nickname was Mickey. There's more.
When you purchased Lucasfilm you acquired the rights to some books I wrote. Star Wars, the novelization of the very first film. Splinter Of The Mind's Eye, the first sequel novel.  You owe me royalties on these books. You stopped paying them.
When you purchased 20th Century Fox, you eventually acquired the rights to other books I had written.  The novelizations of Alien, Aliens, and Alien 3. You've never paid royalties on any of these, or even issued royalty statements for them.
All these books are all still very much in print.  They still earn money. For you. When one company buys another, they acquire its liabilities as well as its assets. You're certainly reaping the benefits of the assets. I'd very much like my minuscule (though it's not small to me) share.
You want me to sign an NDA (Non-disclosure agreement) before even talking. I've signed a lot of NDAs in my 50-year career. Never once did anyone ever ask me to sign one prior to negotiations. For the obvious reason that once you sign, you can no longer talk about the matter at hand. Every one of my representatives in this matter, with many, many decades of experience in such business, echo my bewilderment.
You continue to ignore requests from my agents. You continue to ignore queries from SFWA, the Science Fiction and Fantasy Writers of America. You continue to ignore my legal representatives. I know this is what gargantuan corporations often do. Ignore requests and inquiries hoping the petitioner will simply go away. Or possibly die. But I'm still here, and I am still entitled to what you owe me. Including not to be ignored, just because I'm only one lone writer. How many other writers and artists out there are you similarly ignoring?
My wife has serious medical issues and in 2016 I was diagnosed with an advanced form of cancer. We could use the money. Not charity: just what I'm owed. I've always loved Disney. The films, the parks, growing up with the Disneyland TV show. I don't think Uncle Walt would approve of how you are currently treating me. Maybe someone in the right position just hasn't received the word, though after all these months of ignored requests and queries, that's hard to countenance. Or as a guy named Bob Iger said….
"The way you do anything is the way you do everything."
I'm not feeling it.
Alan Dean Foster