The highly anticipated second season of The Umbrella Academy premiered on Netflix this past Friday, earning praise from critics and fans of the franchise.
The first season ended with a bit of a cliffhanger when Number Five used his time-travelling abilities to save his siblings from being destroyed along with the rest of the world.
Season two picks up after the time jump which scattered the Hargreeves kids in and around Dallas, Texas, over a three year period, starting in 1960. Number Five lands right in the middle of a nuclear doomsday, which (spoiler alert!) turns out to be a result of the group's disruption of the timeline.
As the siblings find a way to reunite and put a stop to whatever caused the doomsday, and that other apocalypse, its seems like fans just couldn't help but be totally enamoured by Aidan Gallagher.
The actor's performance left an indelible impression on fans prompting them to come up with future roles that would be perfect for him. Their endeavours resulted in a social media trend calling for DC Comics to cast Aidan Gallagher as their next Robin.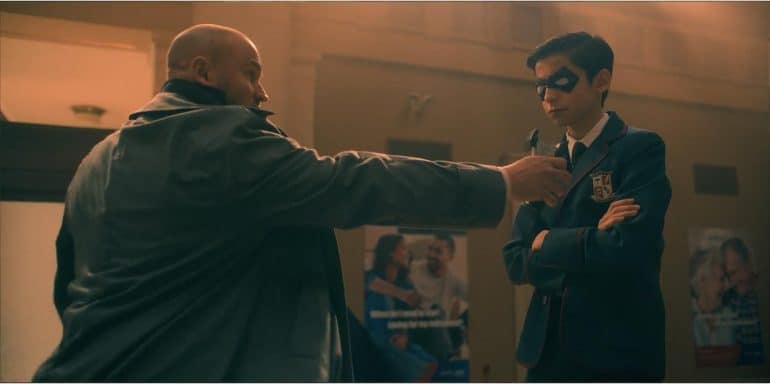 "So I started watching The Umbrella Academy last night and the only thing on my mind is how perfect of a Robin Aidan Gallagher would make," one fan tweeted after watching the show.
Comments from other fans echoed the same sentiments, with some recommending DC use the actor for the Damian Wayne version of Robin in some sort of future DC project. Soon afterwards fan-made images of Gallagher wearing the Robin mask spread across social media, effectively selling people on the idea.
Prior to his The Umbrella Academy fame, Aidan Gallagher had a starring role in the Nickelodeon series Nicky, Ricky, Dicky & Dawn. The series aired for four seasons ending in 2018. His performance on the show earned him two Nickelodeon Kids Choice Awards nominations for Favorite Male TV Star. And since appearing on The Umbrella Academy Gallagher's star power and popularity have grown exponentially.
But as talented as Aidan Gallagher may be, do we really need a new Robin?
In recent times, Robin has been portrayed on screen by Chris O'Donnell in Batman Forever and Batman and Robin. We saw a version of Robin in The Dark Knight Rises, but Joseph Gordon-Levitt never actually donned the costume. And in 2018 Brenton Thwaites brought an older version of Dick Grayson to life in the DC Universe series, Titans.
It certainly looks like the DC Universe could do with a fresh take on a young Robin. But whether or not DC decides to cast Aidan Gallagher as Robin, he definitely has a bright future ahead of him.