Sabrina Spellman's chilling adventures are coming to an end. Netflix has confirmed that the show will not be renewed after part four airs later this year.
Set in the fictional town of Greendale, The Chilling Adventures of Sabrina stars Kiernan Shipka in the title role. The series chronicles Sabrina's struggle to reconcile her dual nature as a half-witch, half-mortal while fighting the evil forces that threaten her, her family and her town.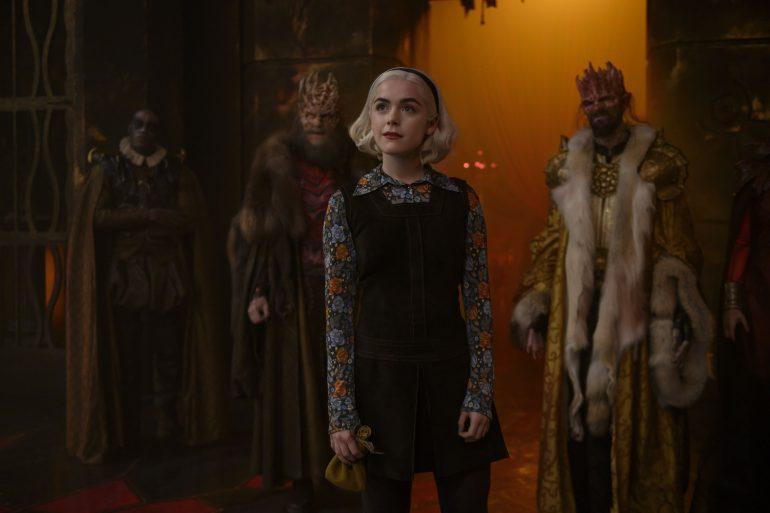 Part four will see Sabrina and her coven do battle against the Eldritch Terrors in order to save Greendale. The coven will have to fight each terrifying threat one-by-one (The Weird, The Returned, The Darkness, to name a few). But all of this is just a lead up to The Void, which is the End of All Things.
As the witches wage war with the help of The Fright Club, Nick begins to slowly earn his way back into Sabrina's heart, but will it be too late? Sure, there's a world-ending destructive force descending – but it wouldn't be Sabrina without a little boy trouble.
Speaking about the cancellation in an interview with Variety, showrunner Roberto Aguirre-Sacasa said…
"Working on Chilling Adventures of Sabrina has been an incredible honour from day one. The cast, beginning with Kiernan as everyone's favourite teen witch, has been an absolute joy. I am beyond thankful to the crew, writers, editors, assistants, and everyone for pouring so much love into this dark dream of a show."
But some fans aren't too pleased with Netflix's decision to end the series. Shortly after the news broke, a petition was launched in an attempt to save the show. "The show is extremely loved by fans and we hope this petition can bring it back from the dead," the campaign read.
At the time of writing, the petition had already garnered 20 379 of their 25 000 signature goal.
The final eight magical farewell episodes of The Chilling Adventures of Sabrina will be available on Netflix in late 2020.
Official images for the new season/part at these links…
It all comes down to one last Chilling Adventure. Our final chapter is coming later this year. Coven forever. ? pic.twitter.com/T0jkwAc1wJ

— Chilling Adventures of Sabrina (@sabrinanetflix) July 9, 2020
— Chilling Adventures of Sabrina (@sabrinanetflix) July 9, 2020