Ad Astra (to the stars) uses the vastness of space as a backdrop to explore our human understanding of connection and separation. In many ways, it didn't even need to be a sci-fi movie and could have been placed in any number of settings. But the visual elements of the cosmos connect beautifully to the overall themes, even if the end result doesn't exactly fire on all boosters throughout.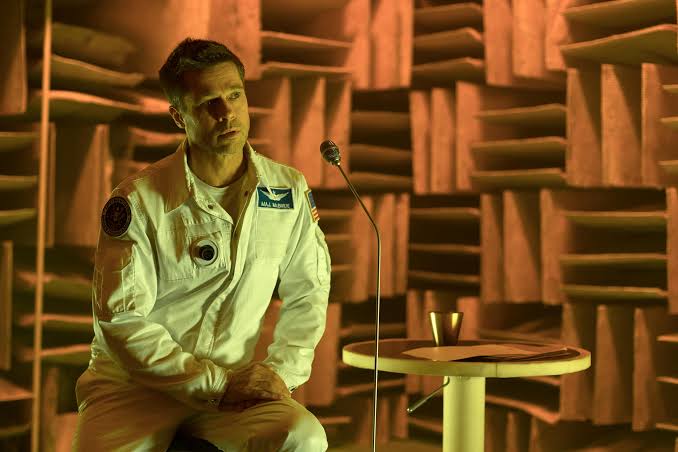 In the near future, space exploration has advanced, with an active tourist colony on the Moon and military bases on Mars. Roy McBride (Pitt) is an astronaut with the US military's Space Command. After a strange energy surge threatens the electrical grid on Earth, he is dispatched to locate the remnants of a deep space mission to Neptune that was led by his father, H. Clifford McBride (Jones), some 30 years prior. Space Command believe that the energy surges have something to do with the anti-matter engine that was installed on the ship led by McBride Senior.
Ad Astra travels from Earth to the Moon to Mars and then into outer space, and each one is a visual marvel. The Moon has become commercialised to the extent that it almost resembles the Futurama episode where a theme park was built on it. There's a particularly thrilling chase sequence on the Moon's surface where Moon Pirates attack the main characters. There's another exciting yet brief sequence where Brad Pitt is attacked by vicious baboons trapped on a floating, immobile research station (no really). However, I will say up front, these two sequences are probably the most action-packed in the whole film, aside from the general rocketry sections.
Most of the time we are with McBride Junior, Brad Pitt's character. There are other characters and actors in Ad Astra, but we feel like we are inside his head and inside his own personal bubble to a great extent. Roy McBride is famous for never having had his heartbeat go above 80 bpm during his time as an astronaut, but we soon realise that this supposed coolness under pressure is more an unhealthy coping mechanism, probably caused by his father's abandonment of the family all those decades ago.
Roy has an ex-wife, more prop than character, and the general point of what went wrong there is that Roy doesn't allow himself to leave his own head to a significant extent, in order to connect with anyone around him. We get a lot of inner monologue from him, and the distinct feeling is that he may (at least initially) come across as a little bit sociopathic, in that he doesn't seem to empathise much with anyone else. But the point is more that he compartmentalises his emotions to such an extent that it appears this way, even when it's not the case.
His father, who most people think is dead already, has been hailed as a hero, and the most famous explorer of his age. Roy loves his father, but as the film goes on, it becomes quite clear in many subtle ways that his father was not necessarily a nice man in many regards. This is not a new theme – loving someone despite their faults, especially a parent – but it is executed well here, as everything about Roy's life, including his career and his mentality, seems to have been shaped by a not-very-good father who disappeared 30 years ago, meaning that Roy has based his entire life on someone that wasn't even there to see it.
I don't want to spoil the details of the ending, but essentially the point is that we need to appreciate what we have now, because if you spend all your time looking out to try and see something better ahead, you'll lose sight of the wonderful things you have right in front of you. I like this approach in a sci-fi film, as a breath of fresh air, changing up from the Star Trek "keep exploring" vibe you get so often.
Aside from the aforementioned inner monologues, there's a lot of close ups on Pitt's face, which is great if you like looking at his face. He carries his emotions across extremely well though, making me wonder how many of the inner monologues were actually needed. The film could have been largely dialogue free for many sections, but it felt like the filmmakers were too scared to fully embrace the potential of that approach and so went with a more standard structure. A bit of a pity, as it could have elevated Ad Astra artistically to that next level.
The truth is that, aside from Pitt making the best of what he has, the film does meander a bit with long periods without much interesting happening. There are some fantastic shots and moments, but it's tied together with parts you need to get through. I liked this film, but I don't think I would watch it again, and I think it is especially good to see it on the big screen rather than on home screens. The scale of it all needs to be appreciated.
I watched Ad Astra at the Nu Metro 4DX cinema, where the seats move to simulate action in the film, and fans, smoke, and mist are sprayed if appropriate. This style of cinema can be quite gimmicky, but I think it works well for Ad Astra. When you're seeing movement in space and your seat is moving alongside you, it does come together quite well to enhance the experience. I think this is the kind of film best suited for 4DX – not non-stop action, so you lose all perspective from the constant moving of your seat, but a sci-fi film where movement in space can be appreciated even better.
The Review
Ad Astra
Brad Pitt carries most of Ad Astra. Sci-fi fans should experience this epic on the big screen. 4DX if you can.