In recent years, there has been a big push towards portable gaming in South Africa. As such, most of the focus and budgets have been on gaming laptops, not all successes. Business laptops have remained steady in terms of sales, driven by cooperations pushing for more and more remote workers, which is only set to increase after 2020. The Ultrabook has always been something of a middle ground between the two – not quite gamer ready due to the lack of GPU, but at the same time not quite adequate for business use. Things are set to change in 2020, however, with the return of the Acer Swift 5, an ultrathin, ultra-powerful laptop that doesn't price itself out of the game.
Acer Swift 5 Build and Design
CPU: Intel Core i5-8250U 1.60Ghz
GPU: Intel® UHD Graphics 620
RAM: 8GB LPDDR4
Display: 14″, 1920x1080px, Ultra Slim, IPS, multi-touch support
Storage: 256GB SSD (optional upgrades)
Interfaces: x1 USB3.1 Type-C, x2 USB3.1 Type-A, full HDMI, Bluetooth 4.0, Wi-Fi, microphone, HD Web Cam
OS: Windows 10 Home 64-bit
In comparison to the Swift 5 unit from 2017, there hasn't been a great overhaul in terms of the design. It keeps most of its same premium design and build even after three years have passed, and I don't blame them. The unit had a sub-1KG weight, which is still the case on the new unit, weighing just 970g. Keeping the weight down and the measurements as small as possible are key to the likability for most buyers, in terms of its portability. The Acer Swift 5 2020 doesn't lack in this department.
The unit also keeps the theme pretty much the same with its magnesium alloy finish, with a textured blue-hued paint job (also known as charcoal blue) and gold accents that pop out in comparison. It still looks just as elegant today as it did back then. There's also a gold version of the unit if you want something a lot more standout.
Given its diminutive size, this also means that the layout of the keyboard has been squashed to pack everything in neatly. While they do manage to pack the full keyboard in, it isn't so much neat as it is clumsy. While the familiarity of the QWERTY layout is straight-forward, it's those peripheral keys that cause most of the issues, forcing me to have to learn an almost completely new layout, where years of muscle memory keeps pushing me towards the incorrect buttons, oftentimes putting the laptop to sleep unintentionally.
When it comes to ports, the Acer Swift 5 is fairly limited due to its size. That said, the designers managed to fit in all the necessary ports for the modern user. This includes the Thunderbolt 3 port, USB 3.1 Type-A and full HDMI on the left-hand side, with a second USB 3.1 Type-A port, as well as a 3.5mm jack and Kensington lock on the right-hand side.
While it may not have offered much in the way of a design overhaul, it still looks and feels the part of a premium Ultrabook. Its lightweight and diminutive frame also make it extremely portable.
Acer Swift 5 Screen and Display
The reduced size of the unit also means that the screen size would be affected. The Acer team bolted on a 14″ (technically slightly smaller than that) onto the Acer Swift 5. The screen has a touchscreen IPS panel for ease of use, and while the lid may not be able to fold around 360° it is still worth having.
The display has a 1080p resolution, which is also great. The default size and text, however, are quite tiny as a result, but nothing Windows' zoom settings can't correct.
The screen is sufficiently bright to work outside in bright sunlight, measuring just short of the 300nits mark. Many other laptops in the same category all featured well above the 300-point threshold, which makes the Swift 5 a bit on the lower end of the scale. That said, I didn't find anything too difficult to read while testing outside.
Performance and Battery
When it comes to performance, the Acer Swift 5 won't let you down either. It may not offer the latest specifications, such as the 2020 release of the 10th-generation Intel CPU, but it's still good enough to provide more than adequate performances. To run down the list of specs, the unit features an Intel Core i5-8250U CPU at 1.60Ghz, Intel UHD Graphics 620 GPU, 8GB RAM and 256GB SSD, all of which runs on Windows 10 Home 64-bit.
Even while running a CPU two generations behind, there wasn't anything it couldn't handle. From multitasking, video playback and a crazy amount of browser tabs open for the stress testing, the unit didn't budge on performance. And that's pretty much all you need from a super-light, super-portable laptop.
In terms of factory testing, Acer lists the unit as sporting an 8-hour battery life. Unfortunately, it doesn't quite reach these levels, but around six hours is more than sufficient for most users. Turning things up a bit in terms of the stress testing, such as multiple browser windows, video playback and the likes, the unit still eked out an impressive four hours' worth.
It is worth mentioning that this is a review unit that may have been around quite a bit of heavy use, so I can average it up another 30-45 minutes.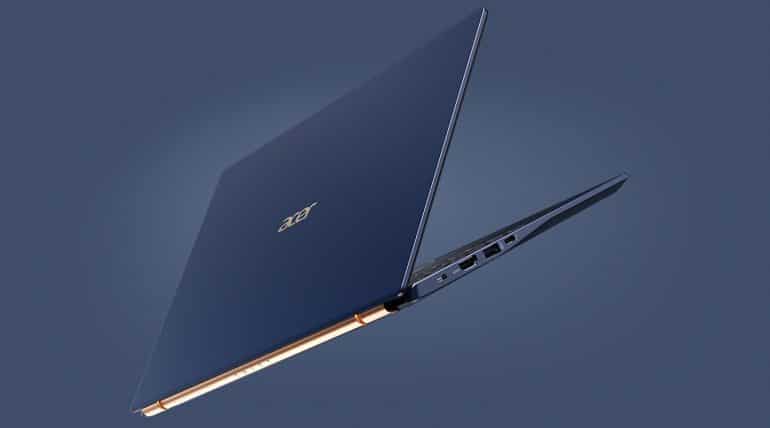 Conclusion
The Acer Swift 5 (2020) is a continuation of the already great Ultrabook, updated with a few enhancements to make it optimal for the modern user. It's tiny, lightweight and can fit into basically every backpack – or even a few handbags if required – for that always-available, on-the-go support.
The Review
Acer Swift 5
At a retail price of R19,999, the Acer Swift 5 doesn't necessarily fit into every budget, but it's affordable enough for many power users.
PROS
Light as a feather
Good performance
Sleek design
CONS
Keyboard layout
Needs higher RAM options
Review Breakdown
Ease of Learning

0%

Ease of Use

0%

Design

0%

Performance

0%

Enjoyment

0%

Value for Money

0%