When it comes to judging the merits of a game, because "fun" is such a subjective term, I like to apply a few personal criteria. The first of these is to try and identify what a game really hoped to achieve and to decide whether it met that goal. When its a sequel, I then like to compare it to what has come before and see whether the game builds meaningfully on its predecessors, or if it shows an understanding of why people liked the series, to begin with. By those criteria, Ace Combat 7: Skies Unknown is an enormous success and a love letter to fans of this franchise. But don't let the number at the end put you off – there's plenty of reasons to jump right in, even if it's your first time in the world of Strangereal.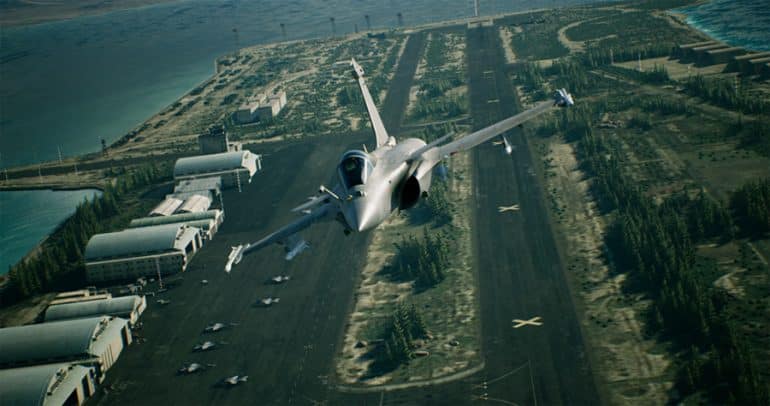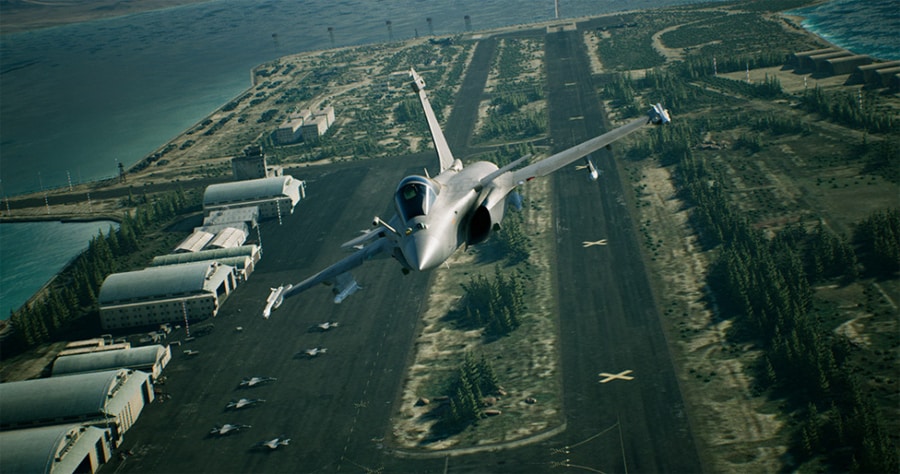 I mention that term there because the universe here is literally called Strangereal, which I find charming, but don't worry, it doesn't get mentioned in-game.
Ace Combat 7: Skies Unknown is the first main series title since 2007, and the first in the franchise itself since 2012. That's a lot of time, and created a lot of anticipation for fans. For those not in the know, let me give you the rundown: Ace Combat is essentially all about being a fighter pilot in a jet plane. That is the primary, and really only method of gameplay on show here, and with a proper Ace Combat game, you always get an accompanying storyline that is occasionally realistic, sometimes melodramatic, and every now and again completely insane. It's a (dare I say it) Japanese style of storytelling, and it's very distinct within this series. All prior attempts to ground the plot, even more, have been met with lukewarm reactions from fans.
That ultimately is the overall appeal of this franchise: it's realistic, up until the point where it wouldn't be entertaining anymore, and then it makes itself more "gamey" to cover for that. It takes boldness and intuition to make those calls at the right times, and it works well here.
The story involves a world that is similar to ours in terms of people and nations, but which has different continents, names and places. The obvious reason for this is that you would look bad if you made a real country the villains, and you get more freedom this way. There are a LOT of terms and names to learn – and it doesn't always help that so many of them sound similar.
The main plot features a conflict between the nations of Osea and Erusea, the latter of which exists on the continent of Usea, and it doesn't get any easier from there. There's a whole lot of history here, like any real world, but essentially the major plot points revolve around a space elevator and control thereof, and by the end, it does get a bit crazy with superweapons and the like. The story is delivered to you via cutscenes and briefing menus, and for what its worth, I did enjoy having it there, rather than having contextless mission screens and challenge maps. Different people will get different value out of the storyline here.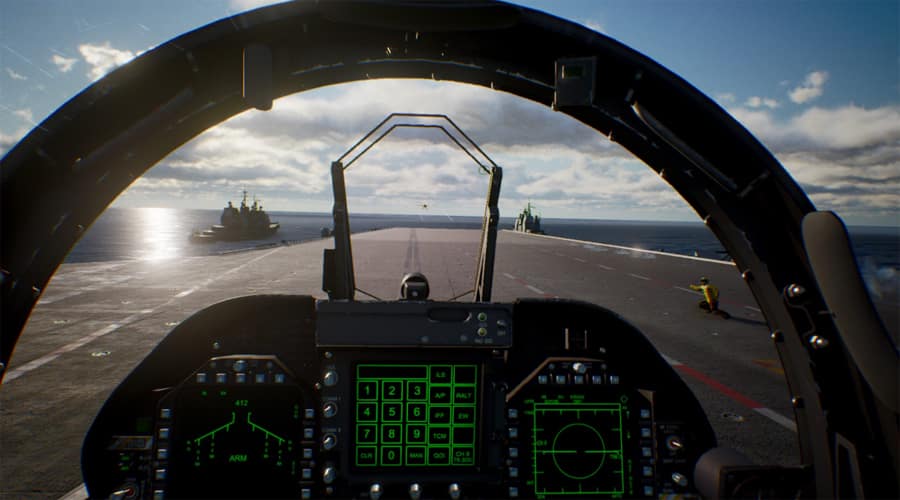 The gameplay, naturally, is what we're here to talk about though. You control a fighter jet in a 3rd person viewpoint and engage in dogfights with other planes, drones, etc, or otherwise, you must assault and destroy elements and defences on the ground. You have allies and other squadrons with you, who are there to add camaraderie and to shout out Top Gun-ish catchphrases, but they are charming enough.
There are two main control systems, which are labelled as Simple and Normal, but which are both easy enough to manage. The only difference is that Simple mode controls more intuitively on a gamepad – you turn right, and it goes right – whereas Normal controls more in the way a real plane would be controlled, where you must manage the yaw of the plane manually. Either works fine though.
Between missions, you can upgrade parts of your plane, buy new planes, or swap out different weaponry with in-game currency that you earn, and it is pretty fun as a collecting element. The planes naturally make some difference but the biggest change when you're at this stage is the weaponry you can equip – generally your plane will have two main kinds that you swap between, and these can vary between ones better at taking down groups, ground forces, nimble enemies, and the like.
And that's about it – in many ways, it's a simple game, in terms of actual gameplay. But what these words don't capture is the absolute thrill you feel the first time you outmanoeuvre an enemy in a dog fight or swoop down from above to pick off a straggler, or the awe you feel when you surge above the clouds and see the sun again. This is what I mean about a game achieving its goal: you feel like a fighter ace, breaking the surly bonds of gravity below you. You often don't realise how valuable the third dimension is until you can move completely freely within it, and Ace Combat 7: Skies Unknown gives you that feeling. With great graphics as well – although they do look a bit better on PS4 Pro than on the basic model. The PC version releases soon, and I haven't seen a graphics comparison there yet, but I imagine it may well be impressive.
The first few combat missions are fairly basic, but around the 3rd or 4th, they really kick off in terms of excitement and difficulty. One criticism of the game is that checkpoints are a bit too far apart, as you can die and have to replay 20 minutes of the mission, which isn't that fun. The missions themselves manage to avoid becoming too boring, outside of a few examples, as there's often a twist or additional obstacle to deal with. I found the shooting at ground targets missions a bit weaker, as the ground itself doesn't look awfully well realised or full. The sky itself is much more appealing in this world.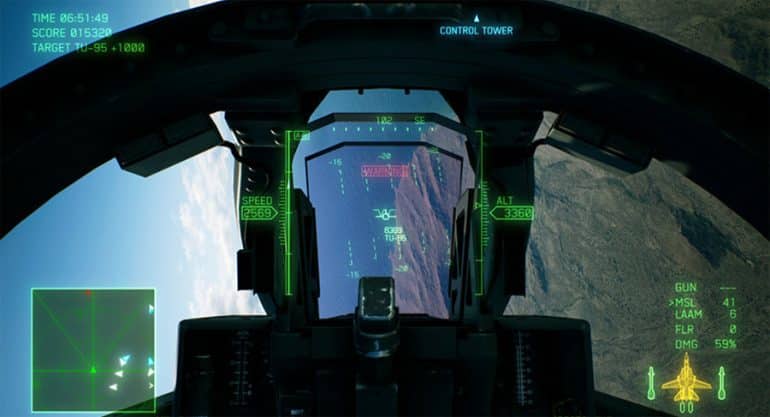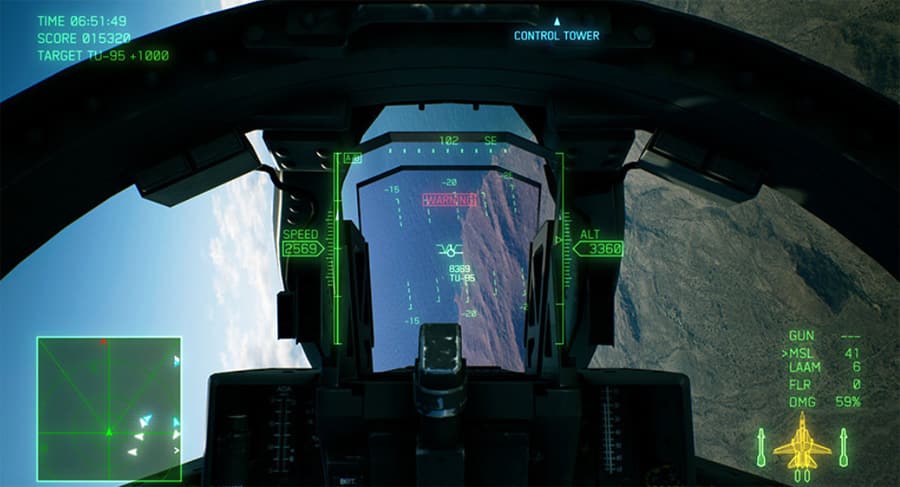 There is a PS VR element on the PS4 version. It's not like you can play every mission using the headset, but instead take on a few simplified ones. Nonetheless, it is an amazing little experience, for what it is, and it definitely puts the PS4 version above the Xbox One version, if you have a choice. Just having your head in that space and looking around and feeling truly like a fighter pilot is (possibly) worth the price you paid for the VR headset. Maybe if you got it on Black Friday.
All versions do also come with an online multiplayer mode, which does little beyond a Free For All and Team DeathMatch mode, with 8 players max. I didn't make much use of it, but if it's there, and you want more depth out of your game after the campaign, why not go for it. I can definitely imagine the fun in scragging your friend in a tense dogfight.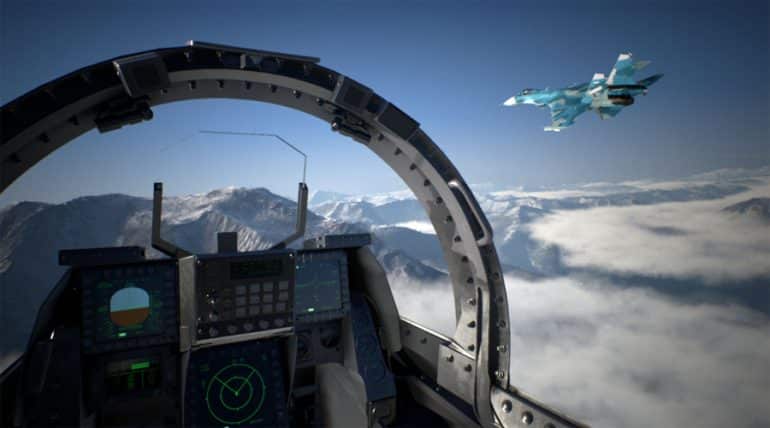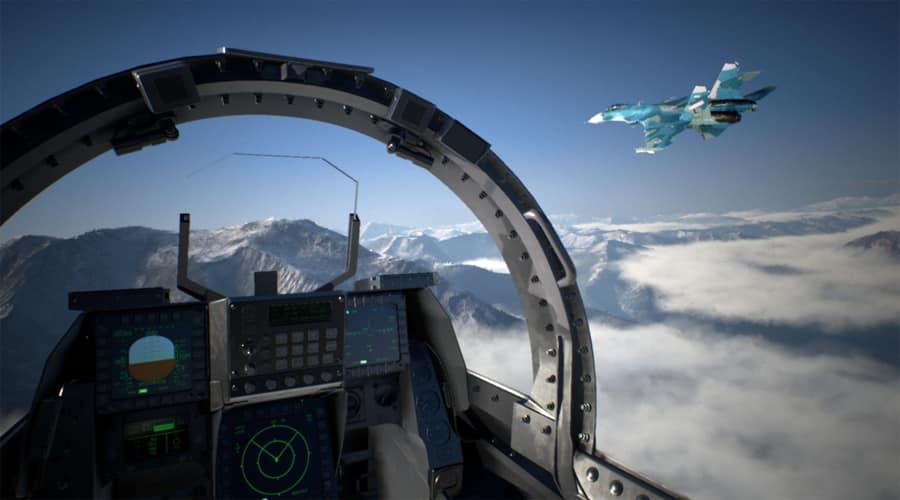 Ace Combat 7: Skies Unknown is a game that's very hard to dislike because it's so honest and open with its design philosophy and desires to satisfy fans. It's a game made by people who respect their series and who actually like games, and it shows in their work.
The great thing about Ace Combat 7: Skies Unknown is that it is in such a small genre, so unless you have some issue about only playing WW2 fighter sims, there's no reason why you shouldn't pick this up if you are already a fan of the genre. It doesn't massively innovate the franchise beyond Ace Combat 6, but enough time has passed that we can appreciate the desire to stick to what the series is best at and take to the skies once more.
The Review
Ace Combat 7: Skies Unknown
Ace Combat 7: Skies Unknown sticks to what the series is best known for and builds upon it.
PROS
Thrilling action
You feel like a fighter pilot
CONS
Graphics can be iffy at times
Some missions can be less exciting
Checkpoints can be too far apart
Review Breakdown
Storyline

0%

Gameplay

0%

Graphics

0%

Replay Value

0%

Sound and Music

0%