With most games on the market focusing on which guns are the loudest, who can jump the highest, survive the longest, or just finish a level the quickest, it is rare to find a game that tasks you with slowing down, breathing, and just experiencing its world without fear of dying or taking a wrong turn. Abzû is one such game.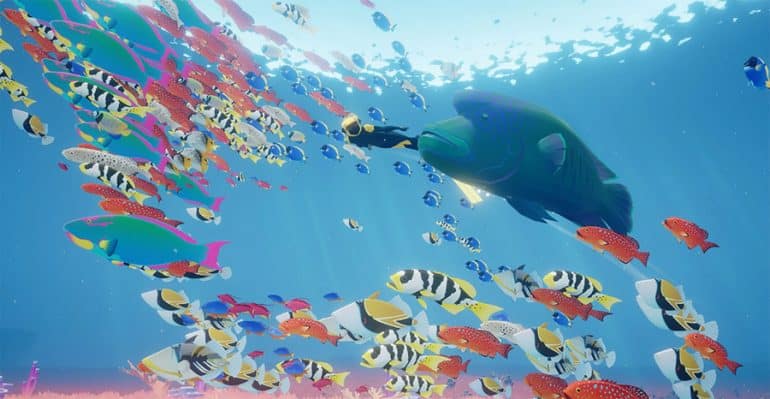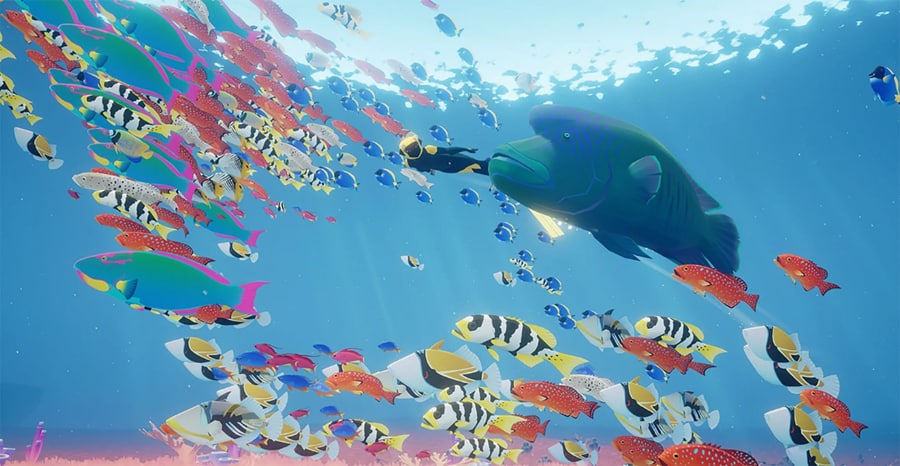 Having already released on PC and consoles, this underwater exploration game has finally arrived on Nintendo's Switch.
Abzû sees you taking on the role of an unnamed diver tasked with exploring the vast ocean and uncovering its secrets. While there is no tutorial to speak of, the game slowly eases you into its world of bright greens, blues and reds as you come to grips with guiding your little diver through the underwater environments. It quickly becomes apparent that the game is more concerned with you just exploring the space you find yourself in, rather than giving you enemies to evade and checkpoints to reach.
Visually, Abzû is a breath of fresh air. Its minimalistic style, coupled with the use of bright colours which are contrasted by darker tones, makes for a gorgeous looking game.
It's no coincidence that the Abzû might remind you of the Journey as the team that developed the game is lead by Matt Nava, who was a formerly an art director at thatgamecompany. There are quite a few similarities to be found between these two games too, not just in their visual stylings but also in how the game slowly reveals itself to the player.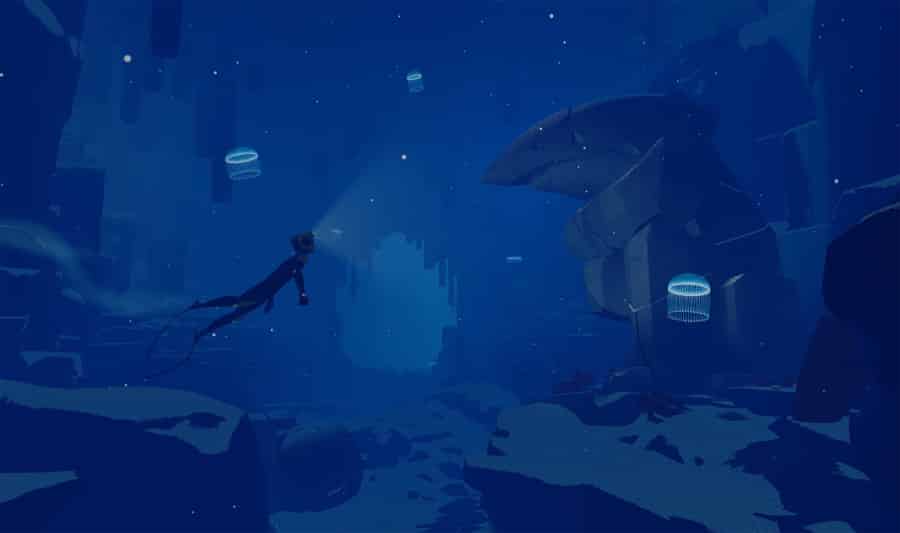 As mentioned, your little diver can interact with their environment in a very limiting way. You can speed up, interact with certain objects in your environment using one button and even get a free ride by grabbing onto one of the larger sea creatures you'll meet. Just as the game's art style, these interactions are limited but still impactful.
There's a certain charm about rotating and moving your diver on all three-axis and it does take a bit of getting used to. As you explore your surrounding, you will find little areas where you are able to meditate, which will allow you to view the surrounding species of fish up close. This can be particularly relaxing.
Rather than being completely open-world, the game gives you the illusion of being able to freely explore the vast ocean realm. Each environment is connected by a linear path that takes you to the next environment where you'll get to explore, solve a few simplistic puzzles and then move on.
If you think that this sounds a bit repetitive, then you won't be wrong. While exploring the game's breathtaking environments do evoke a sense of wonderment, I did feel at times like I was basically just doing the same thing over and over. Again, this is not necessarily a bad thing as the game's unique underwater areas helped keep me intrigued and moving forward.
As you'd probably expect from a minimalistic exploration game, Abzû doesn't force feed it's narrative to the player. Instead, the story behind its mysterious environments is slowly revealed to those who are willing to explore its world. It's a narrative told through environmental cues such as strange murals and crumbling ruins. There is no dialogue, no ancient texts and no NPC's to help you understand what exactly happened to the ancient civilisation whose ruins you are exploring.
Helping immerse you further into this underwater world of beauty is Austin Wintory's majestic score, which perfectly compliments the game's striking visual style. The ebb and flow of the music help evoke emotions of excitement, foreboding and even mystery as you travel further into this underwater world. It's a musical score that perfectly encapsulates what the game is about and one of the highlights of Abzû.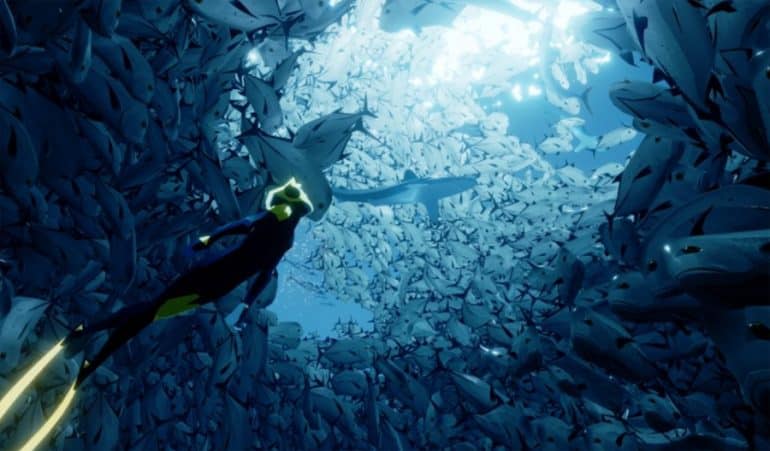 Abzû can at times be a very cathartic experience as you guide your little-unnamed diver deeper and further into the unknown. While the game's focus on exploration rather than high octane gameplay might not be everyone's cup of tea, it's refreshing to play a game that places so much focus on just being in its world rather than forcing you down yet another corridor. It's a game that is less about actually playing it and more about just experiencing it.
The striking art style coupled with a truly emotional soundtrack makes Abzû a game worth trying, even if it's just to relax and experience its beautiful environments after a hard day of fighting off hordes of enemies.
The Review
Abzû
Abzû is a game worth trying even if it's just to relax and experience its beautiful world.
PROS
Gorgeous art style
Majestic soundtrack
Relaxing gameplay
CONS
Can feel repetitive at times
Slower pace might not be to everyone's liking
Review Breakdown
Storyline

0%

Gameplay

0%

Graphics

0%

Replay Value

0%

Sound and Music

0%