The set of Todd Phillips's Joker — today's location — is the Shakespeare Avenue steps in the Bronx, New York—is relatively intimate for a studio movie about a timeless comic book character. Apart from the calibre of its star and filmmaker at its helm, the production is bare-bones: a few lights, cameras, actors, and crew. No cranes, no two-story trailers, and not a green-screen insight. This is largely due to the director's insistence on creating a different kind of comic book movie, one with an aesthetic that might shock audiences with its rarity when it hits cinemas this fall.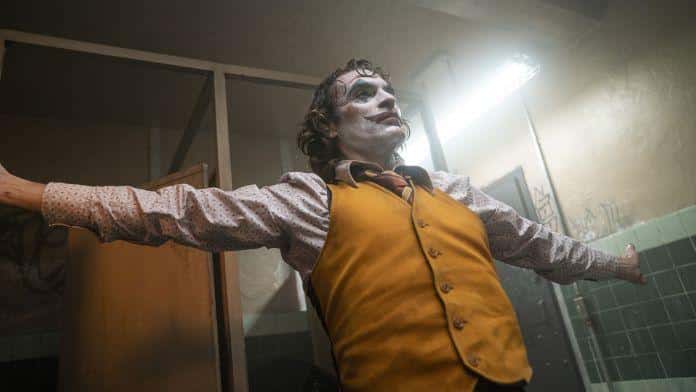 "I really connected to all those films from the `70s and `80s—whether it's Network or Taxi Driver or Serpico—because they were character-based," says Phillips. "And it didn't hurt that some of the best actors of our time were in all these movies." Actors like Al Pacino, Dustin Hoffman, and Robert De Niro, whom he tapped to play the role of a late-night TV host in Joker. Phillips is attempting to apply the same thinking that produced those pictures closest to his heart. "They don't get made as often nowadays. There's just so much noise out there, you go, 'How do you cut through and get people to show up to a character study?  Maybe they would if you did it about Joker.'"
A key to Phillips's plan was landing the right actor to play the famed antagonist, birth name Arthur Fleck in his iteration. He and fellow screenwriter Scott Silver knew they wanted Phoenix from the beginning, even going so far as to pin a photo of the actor's face to the wall above their computer. Still, they were sceptical about their chances of actually working with him.
Phoenix, known for his intense and authentic performances in character-driven films, historically avoids tentpole roles. But Phillips's Joker script stood out to him. "I thought it was bold. I thought it was a challenging character for me as an actor, as well as a character that would challenge the audience and their preconceived ideas about the Joker. I thought it was really complex."
In the film, Arthur keeps a journal. Writing in the journal himself, Phoenix recalls, "There were a few pages where I just wrote 'step after step after step.' Over and over, line by line." This production feels similar, in a way. One can sense the many steps artists like Phillips and Phoenix have had to climb to reach this point of creative freedom with such popular material as Joker. A non-traditional vision for a DC film, with a star whose performance reaches incredible depths.
With Phoenix attached to play Fleck, and with the aid of veteran New York City producer Emma Tillinger Koskoff, the production was ready to dive into the dark, grungy world of Phillips's Gotham: a reality removed from any comic book canon or cinematic universe you know. "I was looking to figure out a way to make this a very real world," says production designer Mark Friedberg. "It isn't a magical world. It isn't an imagined world. It's a world we know."
Phillips, a native of New York City, knew from the outset that he wanted to shoot almost entirely on location in his hometown. He set the story in a version of Gotham around the year 1981. The old-world architecture of weathered neighbourhoods on the city's outskirts becomes a character in itself, engulfing its anti-hero like a feeding beast as he slogs up the stairs once again. "A lot of movies that are shot in New York want to see the bridges and the iconic buildings that everybody knows," says Friedberg. "We're trying to make a unique Gotham, a dark, gritty, tough city."
A fellow New Yorker himself, the designer draws inspiration from his childhood and the places he grew up, an environment he describes as "rough" and "dysfunctional." Fleck feels like a prisoner in this sense; just another rat trapped in the world's largest maze. "Todd's idea was to set Arthur in a part of Gotham where his daily journey involves trudging up public stairways and through alleys. This confuses his world in a good way."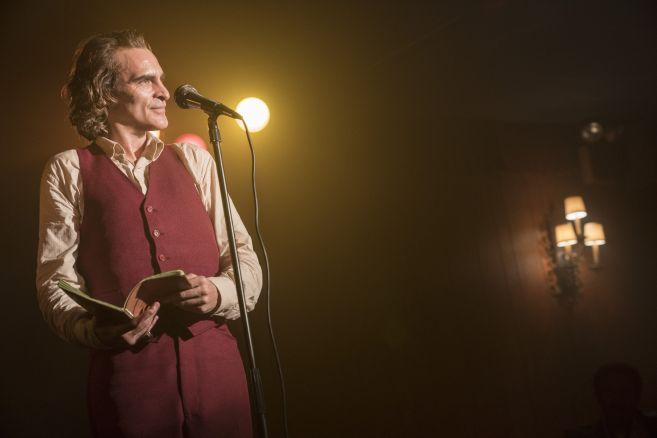 Another key component in creating the aesthetic for Phillips's Gotham is clothing. Costume designer Mark Bridges has Phoenix in a soggy overcoat and oversized trousers. He flops along in a large black pair of shoes, hauling them up each step like a scuba diver wearing flippers as he salvages the last few millimetres of a cigarette. There's a subdued circus-look to it (Fleck works as a party clown) that feels both surreal and organic to the soot-soaked city he inhabits. "Ultimately, my work comes down to telling a story," says Bridges. "So, the fact that this particular version of it grows very organically, that appealed to me…I don't think you can go wrong when you're telling a story with costume that way."
Part of the challenge in dressing the Arthur character for any given scene is the component of the actor's weight loss. Phoenix dropped 52 pounds in preparation for the role, consigning himself to an extreme diet of little more than an apple per day in an effort to achieve his sickly, hungry frame. "I honestly don't know how he does it," says Bridges. "It's part of my collaboration with him, too. How do we hide it when we want to? How do we play it up? All that hard work of reshaping his physique, how do we show that off to its best advantage?"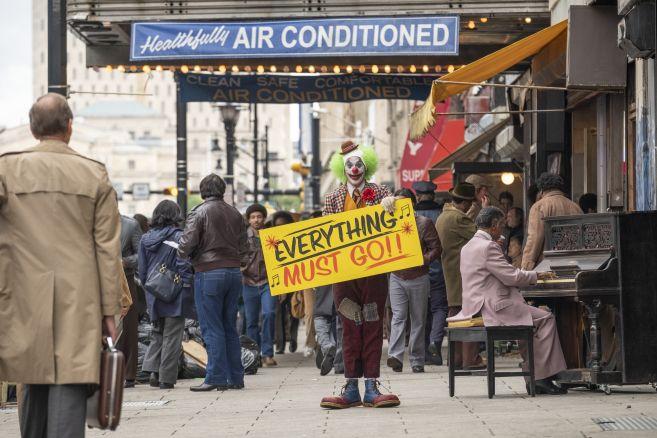 This theme of control can be found throughout the production of the film. There's an emphasis on the full exploration of classical filmmaking techniques, and an obvious hesitancy towards more modern visual effects. Still, Phillips and VFX Supervisor Edwin Rivera look to utilize the technology in a way that best serves the film's more naturalistic sensibilities. "It's all fairly straightforward, basically figuring out where we want the city to be part of the story," says Rivera. "But I think the balance will always be, in this particular film, using visual effects to help create the mood, but not the subject matter, of any one scene. I want everybody to feel it but never look at it."
Because the film takes place around the early 1980s, much of Rivera's job involves removing buildings or structures that do not fit the period from certain shots. In addition, he's tasked with giving Gotham a unique look, one that will help to distance it from the actual New York City that existed in 1981, without sacrificing the authentic qualities the city inherently possesses. "It's making things look dreary, weather-worn, tired…it's not going to be front and centre, most of the work, but I don't think it's any less important in creating the base for any particular scene."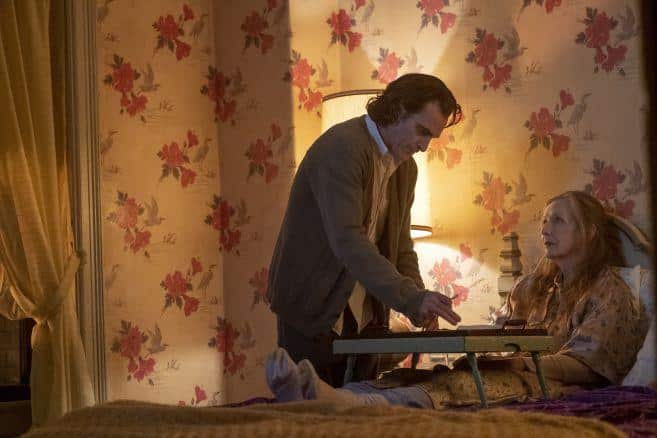 Perhaps the most essential factor in crafting a character study such as Joker is the relationship between its star and director. Phillips and Phoenix seem nearly inseparable, aside from when cameras roll, and Phoenix must heave himself up the stairs once again. Seems exhausting, but the seasoned actor carries on without complaint. He and Phillips have prepared for this scene—like every other scene in the film—in an intimately collaborative way. "After we finish shooting, we'll call each other and text for hours and talk about the next scene," says the actor. "On the weekends we'll meet and go over the scenes that we were shooting that week.  We'll get to set early. I just feel like we're unified in this process."
One scene, in particular, called for a heavy amount of improvisation. Phillips and Phoenix went to the set alone and spent a few hours just discovering what their protagonist should do, a process that seems to fit the pattern of artistic freedom on this production. "Something else emerged," says Phoenix. "It's a turning point for the character and it was a turning point for me and Todd working together. We both got excited about it in the same way. It felt like, 'this is totally unexpected.'"
The monitor displays a wide, upward-angle of the stairs. Cinematographer Lawrence Sher, a longtime collaborator of Phillips's, catches Phoenix with the lens of his 65 Alexa as he makes his way up the steps yet again. The scene takes place towards the beginning of the film as a down-in-the-dumps Arthur treks the long walk home from work. A seemingly benign moment, the visual in fact offers a subtle insight as to what the character faces going forward. "There are a lot of tools you have as a filmmaker to paint with," says Phillips. "Music, set design, costumes and wardrobe and makeup… Locations is a big one."
While the metaphor is, as Phillips admits, "not the most subtle," it is this kind of visual storytelling that he believes will help separate Joker from the pack. It's fundamental moviemaking. Getting back to the basics. Telling a story about a character that's larger than life and using classic tools of filmmaking to do so. It is, as the director has stated, "liberating."
That feeling is palpable on set as Phillips calls cut for the final time today. As Phoenix descends, his director watches, offering one last remark: "Great actors playing great characters. To me, this is what movies are about. This is why we make movies."
© 2019 WARNER BROS. ENTERTAINMENT INC. All Rights Reserved. Joker is being released by Empire Entertainment in South African cinemas on 4 October 2019.