There was a time where cartoons were based on toys and toys were based on popular cartoons. In the '80s and '90s, the two went hand-in-hand.
Here are some of our favourites.
'80s and '90s cartoons & toys
Growing up in the '80s and '90s meant that most of my Saturday mornings consisted of stuffing my mouth full of multi-coloured sugar-coated cereal while watching some of the best cartoons that were ever created.
It's no secret that cartoons from that era were mostly concerned with doing one thing and that was to separate your parents from their hard-earned cash by making you want every single toy of every single character in every single cartoon show.
Let's head back to a time when theme songs were catchy, heroes were overly buff, and mutated animals were the order of the day.
This is a list of some of the awesome 80s and 90s toys based on cartoons that need to make a comeback.
1. Dino-Riders
As kids, nothing got our little hearts beating faster than Dinosaurs and laser guns. Of course, the wizards of '80s marketing knew this and cleverly decided to combine the two to spawn the awesomeness that was Dino-Riders.
Praised for their attention to detail, the toys featured Dinosaurs outfitted with a myriad of lasers and weapons. They came in various sizes, from small bipedal dinos to the majestic diplodocus and scary T-Rex with their arsenal of deadly weapons. Unfortunately, the release of the Ice Age range signalled the beginning of the end for Dino-Riders.
Don't you think that it's about time that Dino Riders made a return?
2. The Real Ghostbusters
In the early '90s, toy manufacturer Kenner decided to jump on the ghostbusting bandwagon. Thanks to the popularity of The Real Ghostbusters cartoon, not to be confused with The Ghostbusters show with the talking gorilla, there was a slew of merchandise and toys released based on the show.
What made these toys and the cartoon stand out from the crowd was the fact that they were genuinely creepy and unnerving to a kid, which, of course, made watching the show and owning the toys even cooler. 
Figures such as the old lady that can transform to reveal her gaping maw haunt me till this day. There was also an awesome Proton Pack and, of course, the Ecto-1.
3. Bionic Six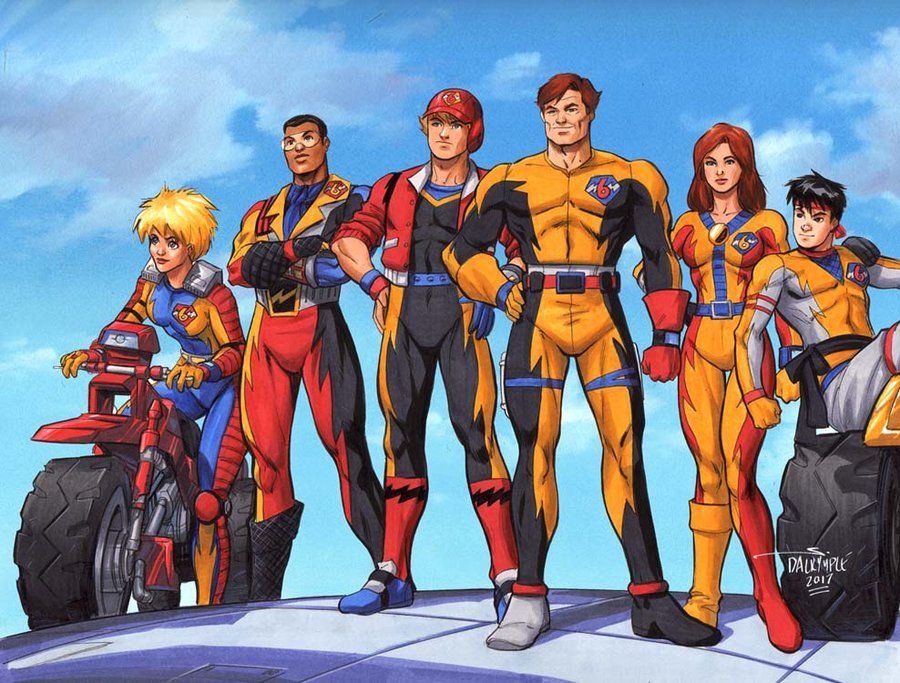 Back in the '80s, a new superpowered family entered the fray (and no, I'm not talking about the Fantastic Four). Dubbed the Bionic Six this family of cybernetically enhanced superheroes were tasked with saving the day from various bad guys including aliens and the obligatory mad scientist. Strangely the toys were created by the same company known for some terrible NES games called LJN.
Unlike other toys, on the market, the Bionic Six action figures were manufactured out of a combination of plastic and die-cast metal. Making them not only quite rugged but also heavy as hell. 
This was one of the best cartoons at the time. With superheroes currently, all the rage wouldn't it make sense for the Bionic Six family to make a return?
4. Bravestarr
There are very few kids who that can't recite the Bravestarr theme song. "Eyes of the hawk, ears of the wolf, strength of the bear, speed of the puma." Based on the adventures of Marshall Bravestarr, the show, basically, merged westerns and sci-fi into one glorious cartoon.
Not only did it have one of the catchiest theme songs around but it also had a pretty awesome range of toys. Granted, these toys were huge, bulky and lacked basic articulation but, as with most action figures of the time, each had a unique action feature and came with a Kerium Nugget (the rare ore from the cartoon) as an added bonus.
It would be great to see Marshall BraveStarr and 50/50 make a return not only as updated toys but maybe even a new cartoon show. Maybe even a live-action movie.
5. ThunderCats
I am fully aware that ThunderCats has gone through a few updates over the years, some better received than others. However, bringing back the old toys, albeit slightly updated versions, would be welcomed by fans of the original series.
Just as with the Bravestarr toys, each Thundercat had their own unique feature. I still remember being amazed when I first saw Lion-O's eyes light up after plugging the battery pack into his back as a kid. And who can forget the transforming Battle Tank? Thanks to the large size of the figures, it had to be huge.
6. G.I. Joe: A Real American Hero
As far as toys based on cartoons are concerned, G.I. Joe: A Real American Hero has the formula down. What made these figures so memorable, besides the totally radical cartoon, was that each figure oozed personality.
The fact that a figure like SnakeEyes, who was left mostly black to cut costs, became one of the most popular G.I. Joe characters ever is a testament of just how great and well thought out these toys were. Sure, the range went a bit crazy towards the end but it still remains one of the toys I spent the most time playing with and the most money collecting.
Sadly, I never had enough put away to afford the majestic G.I. Joe Aircraft carrier.
7. Mighty Max
Proof that bigger isn't always better, the Mighty Max range of toys prided itself on packing as much playability into their tiny sets as possible. Basically, the boy version of Polly Pocket, these toys consisted of miniature playsets that could be folded up into one single unit that usually resembled some strange monster's head. The playsets included plastic figures of Max and one or two enemies for him to fight against. The sets were also quite intricate for something so small and had various movable parts and hidden compartments.
The cartoon might not have been good, but the toy sets were something that could have easily been placed in a pocket and taken along to a friend's house to play with. Thanks to new advancements in technology, these tiny sets could be packed with even more features and detail if bought back.
8. Biker Mice from Mars
Having recently re-watched one or two episodes of the cartoon, there is no doubt that Biker Mice from Mars jumped on the success of the "mutated teenage animals" craze that first begun with The Teenage Mutant Ninja Turtles.
Although the show was nowhere near as good as that of everyone's favourite mutated reptiles, it did have its own charm. The toys, on the other hand, were actually surprisingly good, closely resembling their cartoon counterparts. Naturally being Biker Mice meant that the toy line had some truly awesome vehicles that could shoot missiles and this was back when losing an eye to a toy was considered cool.
Are there any toys based on cartoons or cartoons based on a toy you'd like Netflix to reboot?